During a long, difficult day, what motivates us to get the work done is knowing that what we are going home to. But some transition between the stressing office and home is needed to relax and recharge ourselves to be our best selves with the people we love. And the times when recliner was a luxury are gone. Nowadays, everyone has one of the comfortable leaning chairs at their service, even in studio apartments.
We understand not having to compromise on comfort after all what for do we work so hard all day long. After long tiring work hours, furniture to wear off stress is well deserved, right. But having so many options in the market, the confusion and doubts are inevitable.
And anyone would want to be sure once before the spend couple of 100 bucks hard-earned money. No one wants to find out they spent money on some compromised furniture that lays in the corner of the new house cause it is not the comfort you had in mind, plus it doesn't go well with the furniture and plummets the look of the house. From kitchen cabinets to the bedroom wallpaper everything has to be top notch.
(If you already have a recliner, and it needs repairing work. Please check our article on how to fix a recliner, a mini guide that can help you in the easy fixing of your recliner. Fixing is cheaper and, without a doubt, more sustainable. And if you get a new one, you can still read it, to learn how to maintain it for increased durability)
Today's review is about a well-aged, grown, and developed Company that has been synonymous with the ultimately comfortable recliners from as long as one can remember and become a "lexicon of American life" the iconic brand – Barcalounger.
In this article, we are going to explore and learn about the Company, Barcalounger, their product range, Barcalounger recliner review, Review from Amazon international customers, details about their warranty, some most frequently asked questions, and conclude. We want to help you come to an informed decision in the easiest way possible just like you do for us when it comes to participating in writing blogs for us. So, let us get to it then
About Barcalounger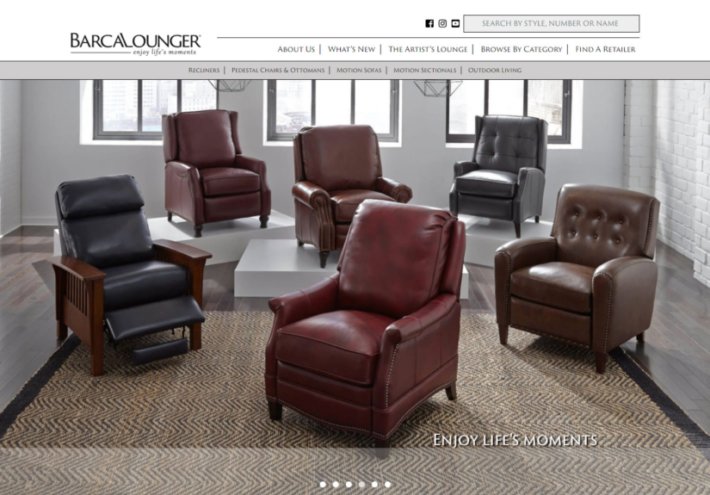 Barcalounger is one of the oldest furniture companies in the U.S.A. From as long as its existence, it has always been associated with comfort and relaxation as if it is a synonym of Barcalounger.
The Company is best known for their recliners whose journey go back to 1940 when Edward Barcelo got a license to manufacture motion chairs patented by Rd. Anton Lorenz, which is "scientifically articulated." Shortly after which word spread like wildfire, and the name stands to date for ultimately comfortable recliners.
This Company with a history that goes far back and its deep roots has had its ups and downs and has clung to the core values throughout to keep the dream alive and help you and generations "enjoy life's moments." It has had your back as you come home and unwind after a long tiring day. It has helped people feel recharged just as they can relish the things and people that matter the most.
About the Barcalounger Product range
Barcalounger houses a diverse variety of products. They have many styles and features to offer, may not be able to give as many personalization options as the other high-end companies, but through a variety, they try to provide the best choice range in the price range. They have subcategorized the product range available in the following-
Casual comfort Recliners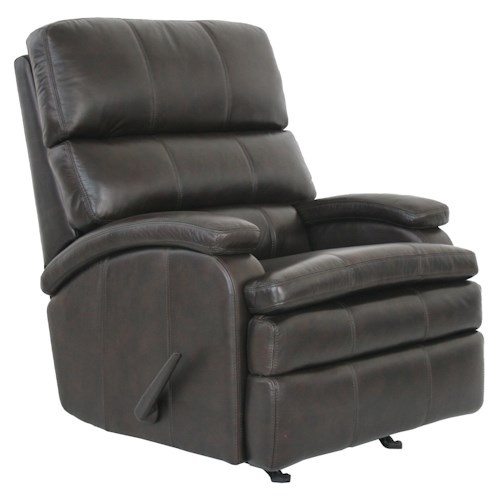 This category includes a wide range. The following are included Wall-Proximity recliners, Handle Activated Recliners, Rocker Recliners, Swivel Glider Recliners, Power Recliners, High/Low-leg Recliners, Big and Tall, and some others.
A quality builds with some great features and design that is there to last. This collection, with a perfect balance of aesthetics and function, blends in with the contemporary design and provides service that keeps its customers loyal forever.
Vintage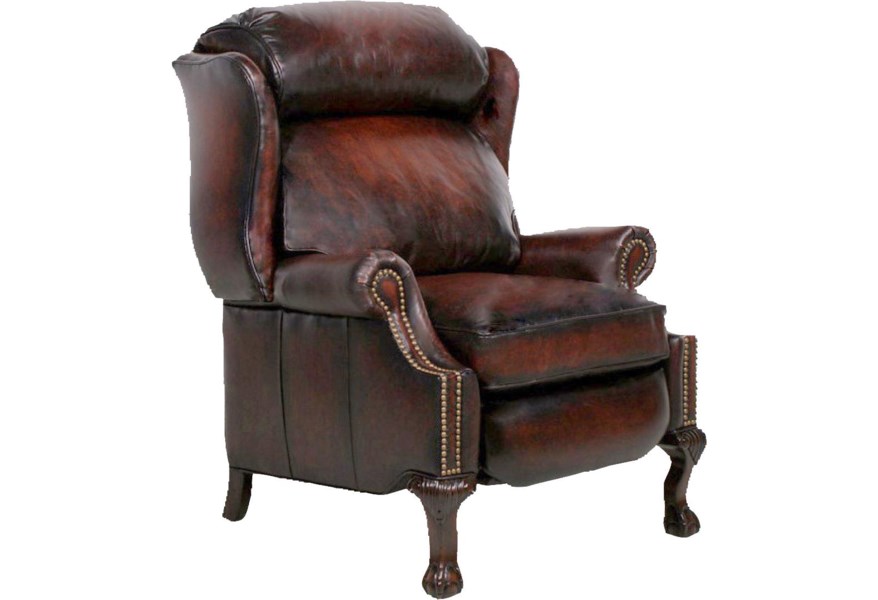 This features the timeless and what they call "evergreen" designs that Barcalounger has had in its long-standing history. The best part is we get to buy the old design updated with the latest technology, which makes it better undoubtedly. This is the most refined collection on this list. It is sophisticated and elegant to see and the best fabric/ leather to touch. This collection is one of the reasons for its popularity.
Modern Expression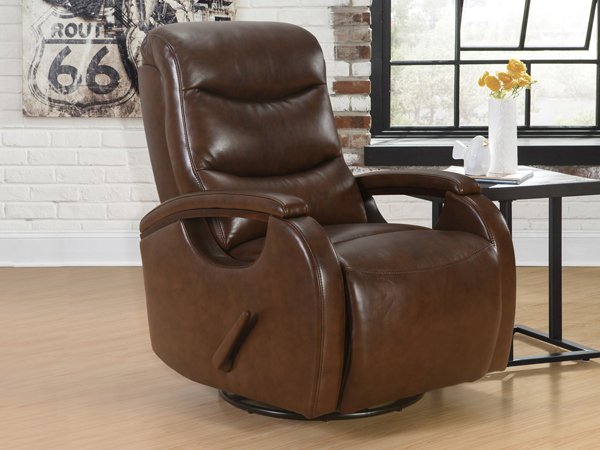 This collection features increased utility. For people, especially women who used to think recliners choose comfort over fashion and design, this is the one. They have transformed the classic recliner form to fit the homes of today's generation. This collection also has added a list of features with the help of all the modern mechanisms.
Pedestal Chairs and Ottomans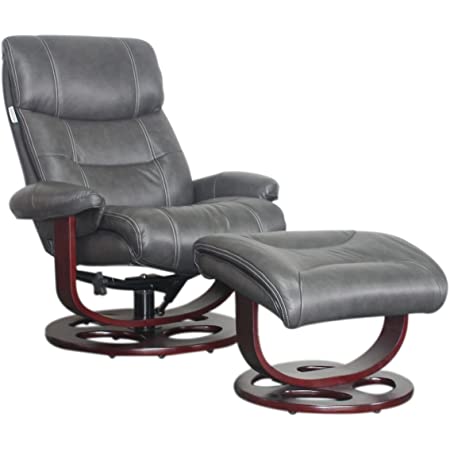 This range for the people who are looking for luxury and sophistication in their spaces. These chairs can be useful for people with back problems. Also, this range has some of the most relevant and modern looking pieces that let you put your feet up—something to enhance the experience in one's house.
Lift Chairs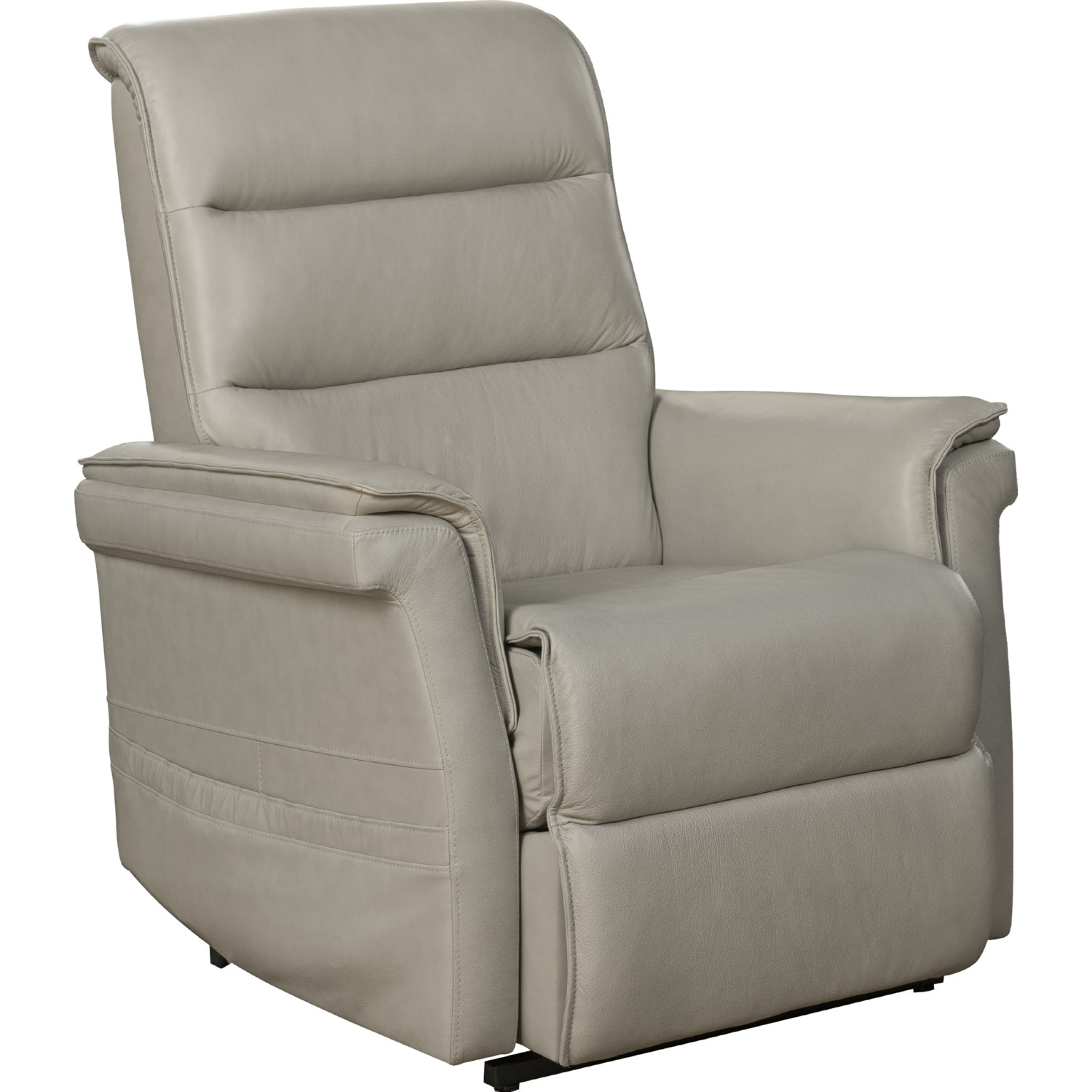 If you have not heard about them, hold on. You are about to be shocked. Lift chairs act as a medical aid for people who have difficulty in the transition of standing and sitting. The chairs have a powerlifting mechanism that pushes the chair up from the base and assists the person to stand up. Technology and innovation are coming together to the rescue of the obese and ill.
Motions Sofas
There remains no difference between children and adults when it comes to fights that settle who gets to sit on the more comfortable chair. Remember how Rosita the chair dies in the comedy show F.R.I.E.N.D.S, yes exactly. This is a solution addresses that more than one recliner together for a family to sit and enjoy. It is accomplishing the vision of the Company.
Barcalounger Recliner Review
There are four central pillars that the dream and vision of the Company are supported by. They are as follows.
Comfort
Recliners have many health benefits, as the legs are in level with the heart of the above. Barcalounger features one of the best lumbar support out there, which makes it comfortable. Some customers say they are surprised how they sleep better in a recliner than in bed sometimes. And that is not our view. It is all customer words.
Innovation
Innovation is what started the Company and reached its top. However, with the competitive prices, the Company cannot afford to provide personalization features like others but still manages to bring as many as possible in the price range.
Quality
This has been a selling point for the Company forever, they have kept their quality standards high, and the material that they use is genuine.
Styles
This was never the primary motive, but with time, things had to change. When it comes to a recliner in general people, find it difficult for it to blend the massive piece of furniture with the décor. Some of the product range designers have tried to get the bottom of the issue and fix it. In general, the Company provides a wide variety to fit your specular needs.
Amazon Customer Reviews
Reviews from consumers might help more as you can relate more. Let us hear it from them itself. These detailed reviews are for Barcalounger Longhorn 2, but we get a general idea
Steven L. reviewed the product with five stars and writes, "This is an excellent chair at a fair price. If you like the traditional Barcaloungers made in the U.S.A., these are a little stiffer. Overall, the Longhorn met my expectations."
Tom Graham reviewed with four stars and said, "Nice chair but need electric decline option" and says he would like to retrofit this option.
And another customer writes, "I owned an original Longhorn model of this chair made in the U.S.A. It lasted me over 20 years, even though I did not take proper care of the leather. I ordered this new model about two years ago, and it took 4-5 months to be delivered. The original Longhorn was very heavy and solid.
The new Longhorn II is very light and weighs about 1/3 as much as the original. The leather is of low quality, and the chair seat gets stretched and butt-sprung very quickly. The original was much more expensive but was very high quality. Longhorn II is not."
The overall rating is 4.2 stars out of 5.
Here are reviews on another recliner by Barcalounger
A customer has rated the product 3 stars and writes, "The chair is lovely and just the right size for our room, but I can't use it for a recliner, cause I am not strong enough to make it recline. Hubby loves it!"
Another one who gave a 4-star writes, "This is a very nice chair. I have a very feminine apartment and wanted a comfy recliner that would not look like a recliner. This is perfect. It is a nice cream colour, the lines are nice, and it does not look like a man cave chair at all. The only problem I have is that when I fully recline, I have to get a pillow for my head since there is no padded headrest, but I would rather do that then have the ugly man cave look. It is soft and durable."
And a customer who reviewed it for one star says, "Couldn't get the legs to work, unfortunately. However, the Company was super to work with. The chair looks good; mine may have been that one-off."
Overall, it has 3.4 out of 5.
Most of the people on the net seem to rate Barcalounger between 3.5 and 4.5 on average and are satisfied with the service, especially with the material and easy setup. That was from the customer's view.
Barcalounger Warranty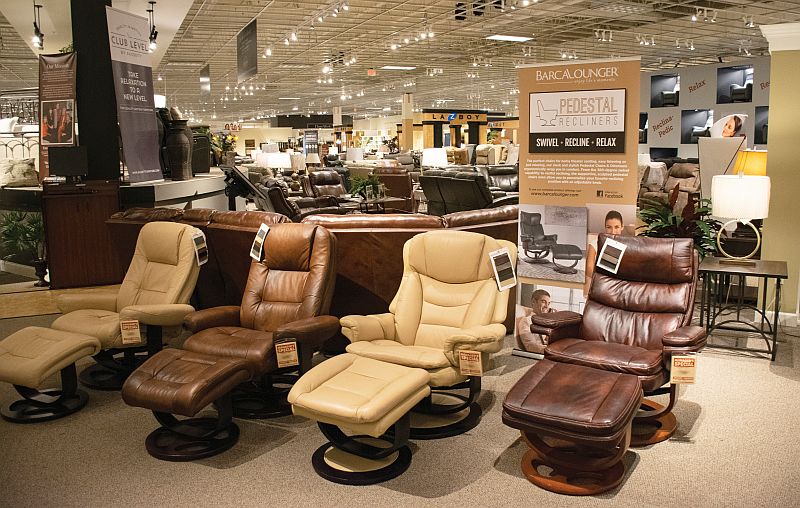 While buying furniture, warranty is essential for multiple reasons, and some believe the warranty shows how much confidence a company has on itself, on their building quality and material. It is a way of showing that they are into quality or quantity. While speaking about the warranty of recliners, it is split according to the part we are dealing with.
Mechanism and Spring: Company warrants protection against artistry or material defects for three years.
Frames and Parts: Based on reasonable usage and stock conditions, the Company warrants protection of 2 years against material defects and artistry.
Cushion Cores: If Softening and flattening of the foam core is not considered a defect under normal conditions, the Company warrants protection against loss of resiliency of cushion cores for two years.
Power and Electricity: 1-year Warranty against Defective power recline motors and electrical components.
Filling Material/Leathers and Fabrics: A 1-year warranty is provided on the above mentioned. For this one, there are some reasonable incidents in case of which damages would not be covered by warranty due to the variation and fragility of the material. Please refer to the website for precise details.
Make sure to talk and confirm the details of the warranty with the dealer before making a purchase.
Note
The sales receipt should be saved to validate/ claim the warranty. No product registration is required. In all parts – As long as it remained upholstered in the original covering. After the first years, it covers replacement parts only and does not cover any labour or shipping costs.
Frequently Asked Questions
Are Barcalounger chairs good for your back?
If a chair does not support your lower back, it can result in pain and back problems. This depends on the lumbar support, and as per the testing and customer reviews, Barcalounger provides better lumbar support that most recliner chairs in the market.
These chairs can help sciatica and even be helping in their prevention. Regular chairs can be harmful as they lack proper support; recliners can help; some recliners give better support than others so that they can vary.
Does Barcalounger have Options in Vegan Leather?
No, if we know, Barcalounger does not have a range in vegan leather. And they use genuine leather in their products front and back. The bonded leather chair is what they advertise, and sadly, for animals, that is one of the reasons they are popular.
(we do not support animal cruelty. We want to inform you about the facts from research)
Is Barcalounger Still in Business?
In 2010, the Company filed bankruptcy. It closed its facilities in Rocky Mount, North Carolina, Virginia, and Martinsville. They restarted manufacturing in 2011 at the plant in Morristown, Tennessee. A private equity firm, Hancock Park Associates, owns it.
Does Barcalounger Outsource their Chairs from Other Countries?
No, Barcalounger does not outsource their products to maintain their reputation and quality that they have tried to maintain from many years now. It is manufactured in the U.S.A. itself. As mentioned above, the recliner is manufactured in a plant in Tennessee. If you find a dealer that promises a Barcalounger chair, but it is outsourced, it is not genuine.
Final Thoughts
Lastly, we would say overall, Barcalounger recliners are reliable. They provide the value for the price. Maybe if you could raise the budget with a significant amount, you can find something better, but in this competitive price range, they are doing a good job.
There are some rumours that they import the lower price range from other places and that their quality has gone down since bankruptcy, but till our knowledge, they haven't compromised their comfort, the initial quality used to be better, but it's not that bad now either. And the other about whether it is built-in America make sure your dealer is genuine; if s/he is, there will not be an issue.
On that note, we would like to conclude the Barcalounger recliner review. We hope the article bought some new information in light for you and we could help you make a more firm and informed decision. But this much is all we could say the decision is yours and we hope you do not stress much about it, and whatever you decide, remember to put your feet up and relax.
Happy Reclining!