When you finally land in your dream house, you want everything to be perfect from setting of the dining table to the placement of recliners. A large amount of money is generally spent on the remodeling of the kitchen, but you can save your money if you choose wisely.
If you want to stay within your budget, all you need is a waypoint cabinet review. Here is everything you need to know about waypoint cabinets. You will further know not only about variety but also quality.
Waypoint is a relatively new company started by the American Wood mark, which is now becoming a popular option for home furniture. American Wood mark is among the top 3 cabinet makers in the U.S. Their cabinets are sold across the country and are admired because of their quality.
In this guide, you will also be made aware of the history of Waypoint, the types of cabinets they produce, reviews of their cabinets. Warranty policy will also be focused on this Waypoint Cabinet review.
About Waypoint Cabinetry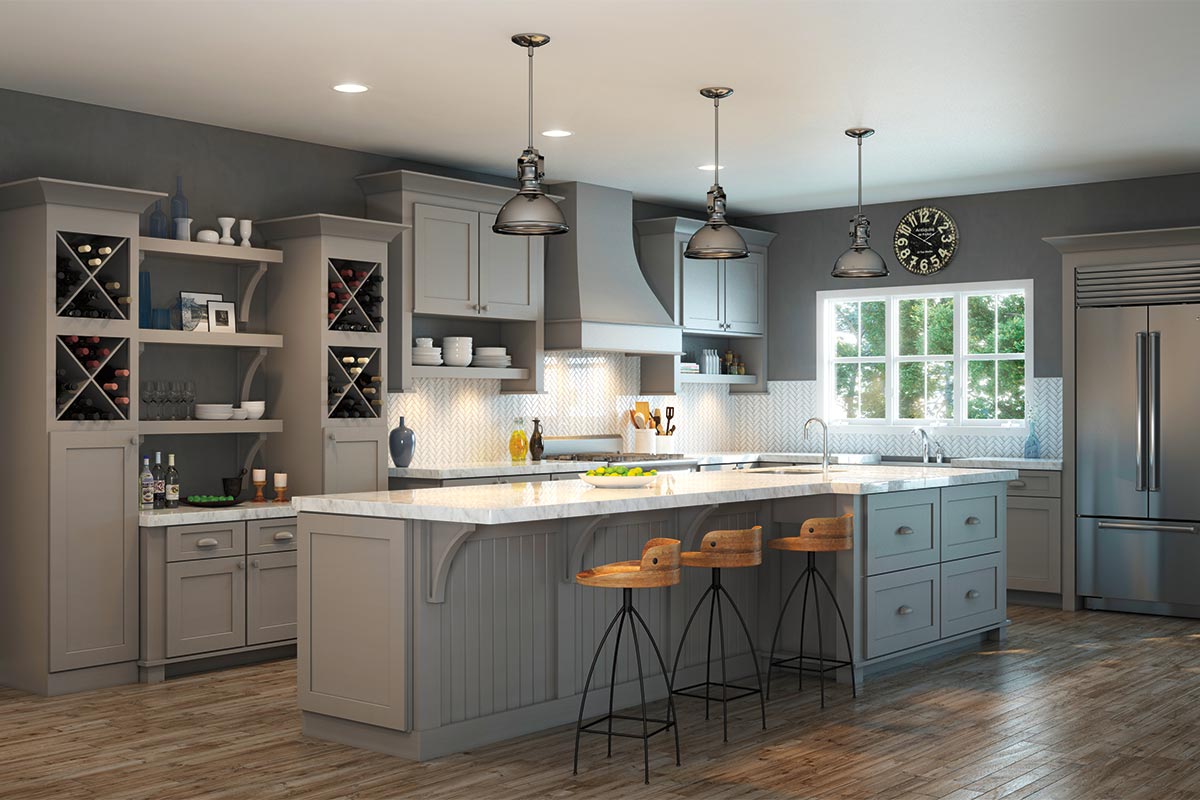 Waypoint Cabinets is based in Winchester, VA. The main idea behind this company was to make the whole procedure of buying cabinets less complicated and tension-free. The whole process is made easy and focuses majorly on three steps.
Variety of choices
High-quality products
Fast construction and quick delivery.
American Wood mark in nationwide known for its craftsmanship and quality and is considered as one of the best cabinet makers in the country. These cabinets are sold exclusively through Independent Kitchen Specialities.
These cabinets are ideal for a mid-range budget. Their designs are elegant and are produced effectively. If you are considering giving your kitchen a tremendous look, then you indeed will find Waypoint Living Spaces perfect.
Variety
Waypoint offers a large variety as well as a diverse variety of cabinets. Everyone has different needs and expectations from furniture, and to fulfil these, and you surely need options. The wide variety of cabinetry options provided by Waypoint includes all kinds of design tastes.
Whether you want a wood species, or your focus is color or your door profile, Waypoint cabinets take care of everything.
Waypoint Visualizer
Waypoint Cabinets have designed a handy online tool to review different door styles, finishes, and other related details on different kitchen floor plans. This helps users to save a review and find what looks perfect in their kitchen.
Material
There is an extensive type of wooden species offered by Waypoint Cabinet Reviews. There are multiple options to choose, including:
Maple: these cabinets are predominately white to creamy white accompanied by few reddish-brown tones. Maple cabinets have a subtle and smooth appearance.
Oak: they have a unique grain pattern and comes in a wide range of color, from white to pink and reddish tones. It also has some streaks of green and yellow color, giving it a perfect vintage look.
Walnut: Walnut cabinets have an alluring grain pattern and muted brown hues giving it a chocolate color.
Cherry: this type of wood is known for its deep red undertone. It varies from white to deep brown. The close-grained appearance and uniform texture ease the finishing, and we get the perfect product.
· Painted: this waypoint cabinet review will also feature some painted cabinets.
The above-stated material comes in a wide range of patterns and finishes, which can be further customized according to your requirements.
Quality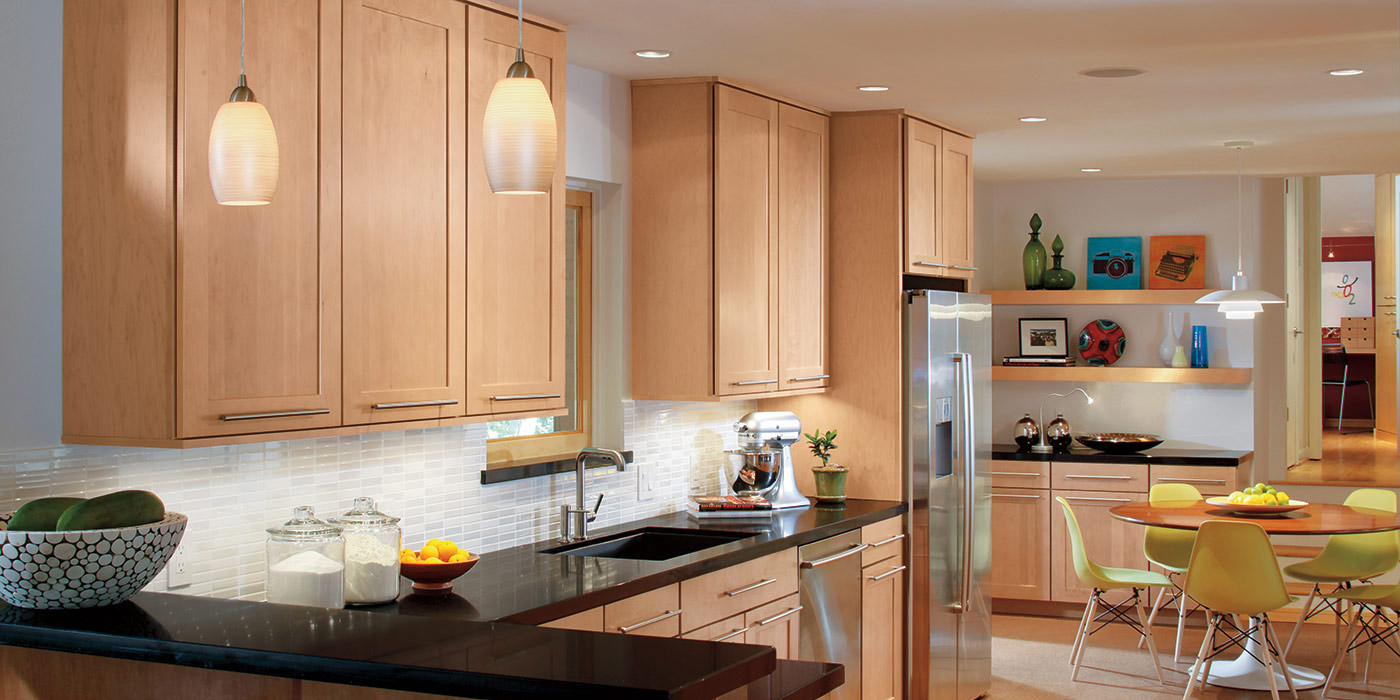 In this Waypoint cabinet review, the quality of the product is one of the primary considerations. The real beauty of any product does not lie only on its look but also how long it lasts. Waypoint Cabinets make sure that consistent quality is maintained.
They make this sure starting from the manufacturing process, the quality of cabinets is not negotiated. Their customization and delicate designs give a hint of the excellent quality of Waypoint Cabinets.
Cabinets that are Built to Last
These cabinets are manufactured with excellent craftsmanship using the best quality material available across the nation. The quality of the joints is also maintained. They are pressure fitted, then nation and finally double dowelled construction. Half-inch furniture corner blocks achieve the integrity of the cabinets.
The top, bottom, and floors are half-inch furniture boards, making cabinets strong enough to last for years. American National Standards Institute's standards are also met during construction. The depth of these cabinets usually is 24 inches, which is ideal for storing any goods.
Hinges and Glides
Waypoint Cabinets hinges and glide come with cushion close technology. This ensures there is no slamming while closing the drawers. These cabinets have a six-way adjustable hinge that also has a cushion close. They have 105 degrees along with an on/Off switch to adjust the pressure on lighter doors.
When you check the waypoint cabinet review, make sure you check beauty along with quality.
Style
When we talk about styles, Waypoint has tons of options ranging from different finishes to vintage designs. They also offer customization according to the user making the whole cabinet buying experience smooth and splendid. Offering more than 50 finishes and designs, they offer you stylized protection for your cabinetry.
The other incredible feature of these finishes is that they are applied by hand ranging from light, medium to dark. The waypoint cabinet option also includes handmade moldings. These decorative features of Waypoint cabinets boost the design of any area, whether it is a kitchen or bedroom.
Durability
Waypoint cabinets offer durability in their every aspect of cabinetry. It is difficult for general cabinets to face daily wear and tear as they are opened and closed more than 10000 times in a year. These features stated in the Waypoint Cabinet review make cabinets one of the most durable furniture in the whole country.
3/4­‑inch by 1 5/8­‑inch solid hardwood frame, which is Kiln dried.
For increased stability and durability, they have half inch's corner blocks.
5/8-inch solid dovetail drawer that is provided with a base of plywood.
Cushion Close for soft opening and closing
Excellent finishing with a purpose to protect the wood.
Concealed hinges.
Waypoint cabinets are best in their class and take every step to provide value to the customer. These cabinets also include many modern features to guarantee high durability. They even take care of hinges, which are often ignored by regular cabinet makers.
Standards
Waypoint Cabinet's credibility can also be tested by the certifications provided by organizations dedicated to standardizing quality. Waypoint Cabinets meet all the standards set by the American National Standards Institute. It also meets all standards set by Kitchen Cabinet Manufacturers Association. These certifications are solid proof of Waypoint's quality commitment.
Environment Protection Standards
As Waypoint cabinetry is one of the major leading producers of cabinets in the U.S, it conducts its business in a way that environment is also protected. This company complies with all KCMA standards, which proactively identify all kinds of environmental risks. Waypoint has also received certification on all its products.
These certifications comprise compliance with a broad range of activities ranging from air quality, product resourced, environmental balance, and relations within the community. It also encourages environment-friendly forestry practices, keeping ANSI standards in mind. Recycling and reusing of materials are also considered to reduce the environmental impact of hazardous material.
Customizability
These cabinets are highly customizable according to the need of users. Once you get to know them, you can also write about it in your home improvement blog if you want to feel like a blogger for a day. The customization can be done of various objects of the Cabinet such as:
Sliding shelves and drawers
Pull out spice rack
Vertical dividers
Other storage areas within the Cabinet.
Trusted providers provide the essential materials to make a perfect cabinet for you. Whether you want a traditional vintage kitchen or a high-tech modern kitchen, you can customize your cabinets and find the right option for you.
All these cabinets are designed and customized to bring out natural coloring and, at the same time, protecting it from all sorts of wear and tear. The attention to details provided by these cabinets is far more than impressive
The other customizable feature is that these cabinets include extra shelving, full-height pull-outs. The glass door options and metal frame options are also available full height to your choice. These glass doors are best for the display cabinet and come with light fixtures.
The other decorative fixture includes antique handles. These small things add a character to cabinets, completing the look of your kitchen or bedroom. The main reason for the popularity of waypoint cabinets is their options. I have limited space but want an efficient house, and then Waypoint Cabinets are the best choice.
Organization
There is a one-inch increment space along with 24 inches storage space to meet your specific needs. Custom storage is very crucial for a new kitchen.
Warranty for Waypoint Cabinets
Waypoint Living spaces boast about their cabinets by offering a lifetime warranty. This warranty also covers all sorts of damages. Waypoint cabinets are embedded with a KMCA seal that ensures a lifetime warranty of the product.
This warranty covers all aspects of artistry as well as material defects if you own the product. But for your knowledge, you should ask the dealer that what is not covered in the warranty of cabinets. This will surely help you to have the upper hand in case anything goes wrong. You can also consult their websites for other legal details.
How to Get Your Waypoint Cabinet: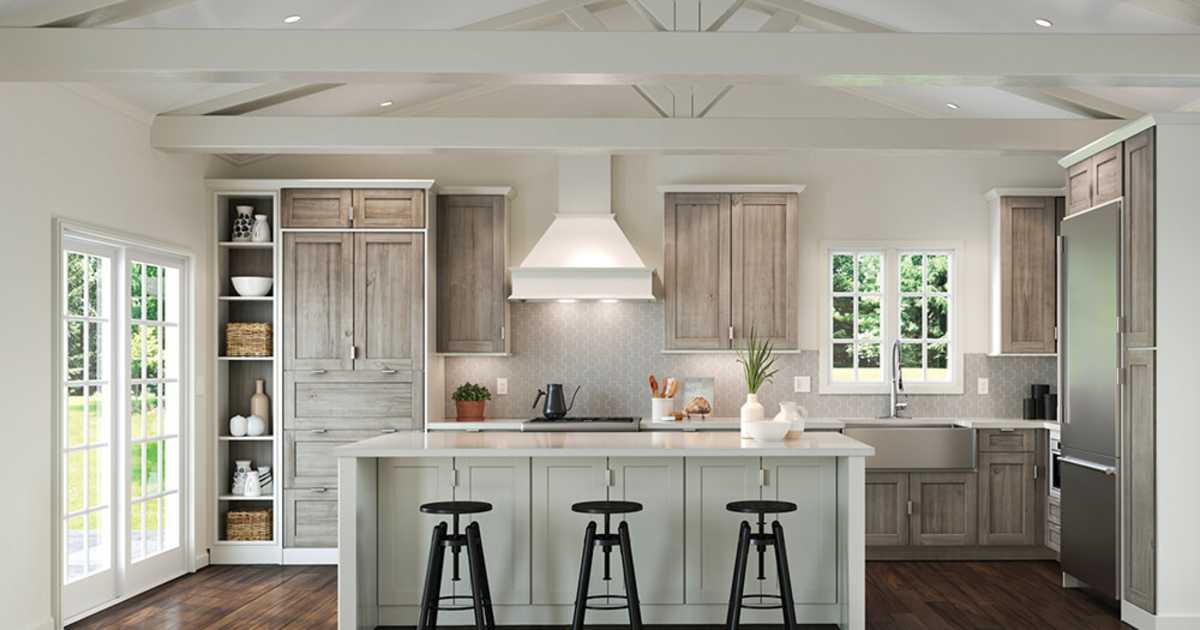 You Should check the website https://www.waypointlivingspaces.com/ for dealers located in your area. This is well ensured by the company that the installation is done right from start to finish.
Waypoint Cabinet Reviews by Some Customers
Because of the excellent quality offered by Waypoint Cabinets, its competitors are not able to come even close to it. Their cabinets are well appreciated across the country. However, there are some instances reported by customers who faced slight difficulties such as small screws, which lead to falling of door. Unfortunately, there is no perfect cabinet maker, and often these types of mistakes occur, but with Waypoint cabinets, they are almost negligible.
For some extra surety, make sure you check each unit thoroughly upon delivery so that there is such an issue generated. This will take some time, but it is an intelligent thing to do. Overall, the customer seemed to be satisfied in their Waypoint Cabinet Review.
Every customer agreed that the price at which cabinets are offered by Waypoint is up to the value. The construction style and designs make these cabinets are the perfect choice for your house.
Our Final Suggestion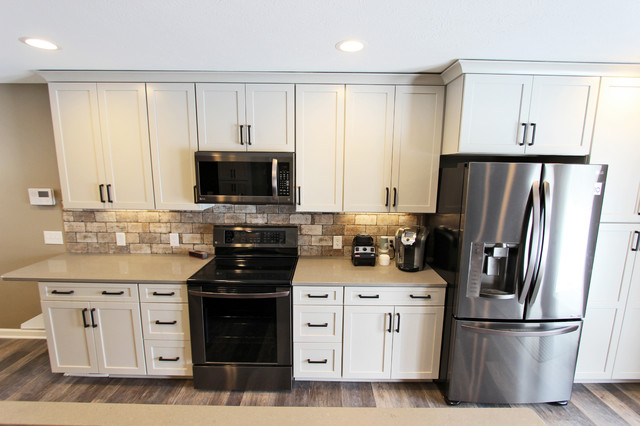 Waypoint cabinets produce cabinets that are midrange and understand very well that what customer exactly wants. The beautiful fusion of traditional designs with modern functionality gives Waypoint Cabinets an upper hand from the rest of their competitors. Waypoint may not be the most adventurous, and designs may not be unique. But with excellent customization options, you can reach to your custom cabinet within your budget.
Waypoint offers an exact value of its product and produces cabinets that can survive even in busy households. Check out some other products:
Now indeed, you are informed about options that can remarkably enhance the beauty of your kitchen and boost its design.
Make sure that you take full advantage of the durability and excellent quality of Waypoint Cabinets!