When shopping for furniture, budget-conscious customers tend to pick the Swedish behemoth Ikea over any other brand because it offers furniture that is affordable as well as innovative and stylish. Their products are not complicated; you can quickly build it yourself.
They have a vast collection of products that are designed to fit most home styles. Kivik is a sofa series manufactured and sold by Ikea and built with 'memory foam' that adapts to the body and are designed to be extra comfortable. Read further to know the kivik sofa review.
The Kivik sofa is engineered to allow relaxation with a reasonably generous look. It may not be the most beautiful furniture to look at. Kivik sofas are plain and simple. They come in a variety of shades such as blue, black, and beige that can complement any space.
If you have children or pets in your house, kivik sofas can be the right choice as they hold up well. They have plush cushions and wide armrests, perfect for everyday use.
Since this sofa range does not look very beautiful physically, its strength lies in the comfort it provides. However, if you are a fan of pastel colours and sophisticated look, you may like how they look too. Let us dive into a detailed kivik sofa review so that you can judge for yourself.
Kivik Sofa series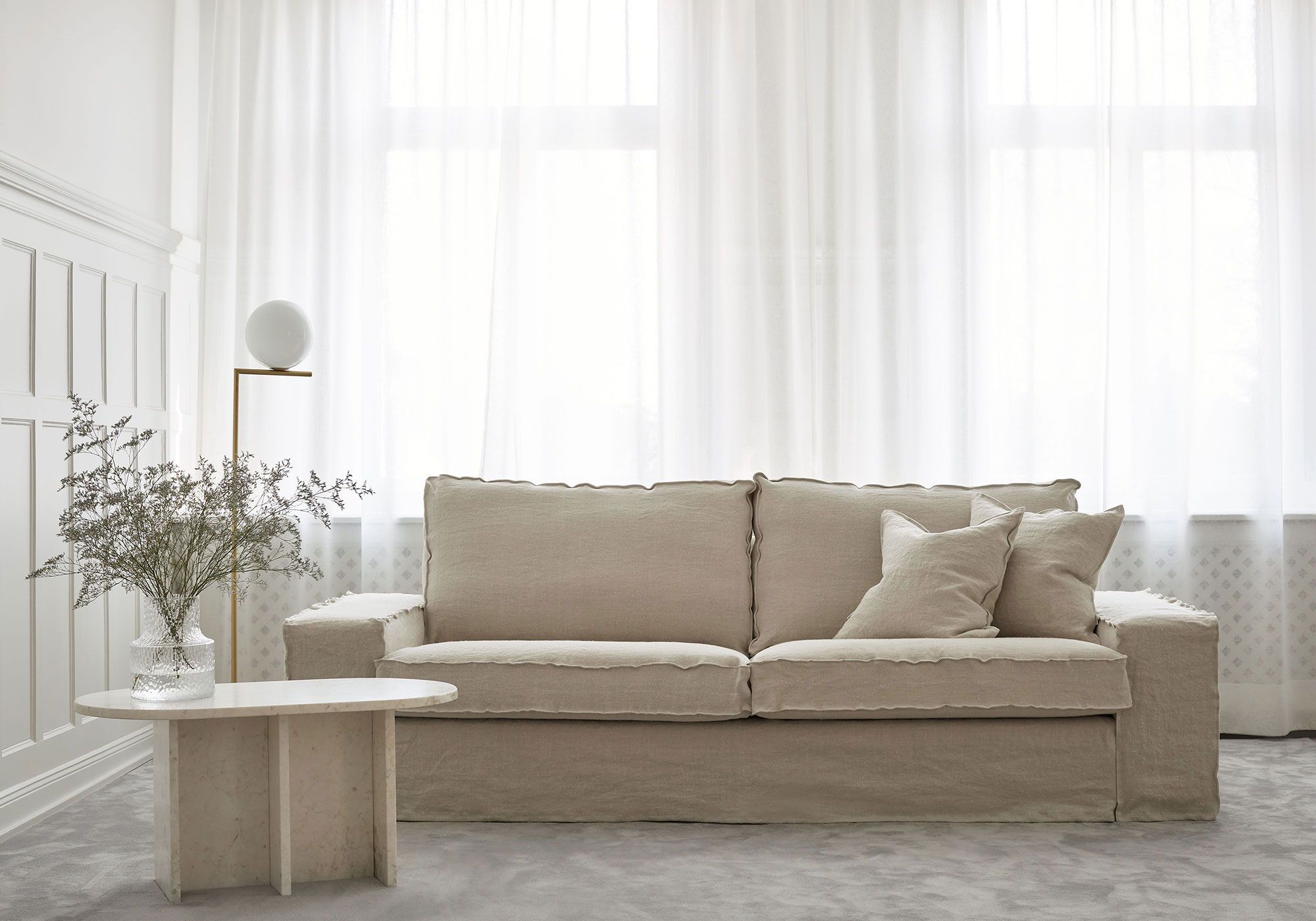 Specially designed to be comfortable, the kivik sofa series offers big sofas with a choice between a 2-seater and a 3-seater. All the products have space to fit extra people. They are a reliable option for families, and since they are affordable, they are trendy. Their arms are wide and relatively low, which can also be used as a headrest.
The cushioning is ultra-comfortable with memory foam, which molds itself as the shape of the body, providing the comfort tailored for the person.
Comfort
Each and everything about kivik sofas are exceptionally comfortable. The cushioning with a magical seat material will make you feel as if you are sitting on clouds. The fabric can easily be removed and washed. The seats are not very firm with cushions at the back to facilitate support. However, keep in mind that the smaller seat sofas may make the seat feel less supportive.
Kivik sofa reviews indicate that the 3.5 seat model is very roomy and soft. 2 seat models may be uncomfortable for the person sitting in the middle as there are two seat cushions. Almost all sofas in the series are very spacious, perfect for sprawling on a Sunday afternoon. Kivik sofas are the best choice if you want to 'Netflix and chill.' The kivik ottoman has a storage space area below the cushion.
Except stand-alone chaise and ottoman, all other sofas in the series come with a depth of 37⅜ and a height of 32 ⅝ (minimum). The fabric offers a soft feel and is tightly weaved. The comfort level of different sofas in the product line varies.
Quality
The quality is not the same as high-end furniture brands. Having a good reputation in the industry, Ikea has experts and professionals that review specifications carefully. Even if the products are durable and well-built, the quality is not very competitive. Ikea's 10-year warranty guarantees that the sofa will hold up fine.
Kivik series has cushions made up of polyurethane, polyurethane memory foam and polyester wadding, and back cushions are filled with polyester fiber puffs. Back and seat frames are composed of fibreboard, plywood, and solid wood. Kivik sofa reviews state that it stands up well to wear and tear.
All the materials used in the series meet California's safety and sustainability regulations, and the sofa is delivered with good packaging.
Style and Customization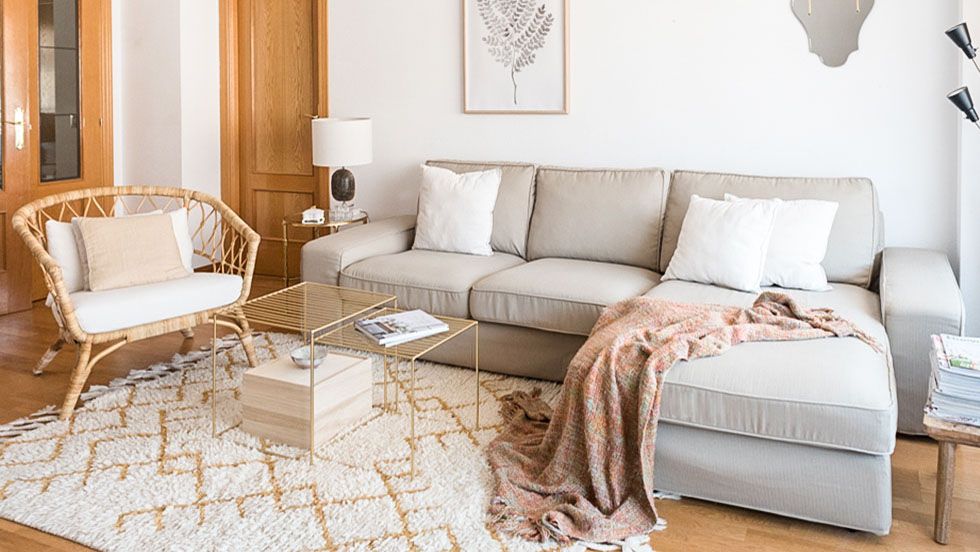 The kivik series is casual, and the low-lying frame gives a warm and inviting feel. The sofas look elegant and straightforward, and the simplicity is what makes you admire them. Instead of the outrageously bold aura, the sofas are subtle and have a non-intrusive quality that lets them blend into any room. You may want to add something like a footstool to complete the overall look.
Ikea kivik sofas are designed for casual lounging. Generally, people prefer to buy neutral and subtle colours like beige, cream, and shades of blue as they can go well with any space. However, there are other options too. You can customize the style and fabric as per your preference. Ikea products have a modular design, so the arms are removable, and you can reconfigure or use add-ons.
The kivik sofas come with either Orrsta light grey or Orrsta red fabric options, and both are composed of poly/cotton blend. The series is also available in Bored grey-green (soft-tight weave of polyester and nylon) and Hillard Anthracite/ Beige/Dark Blue (loose weave blend of cotton, polyester, rayon, and viscose). In addition to this, the series also offers sofas in dark brown and black leather fabrics with fixed covers.
Kivik sofa reviews reveal that cotton fabrics may prove to be less durable as wear faster than other fabrics, so customers should pick a more durable material. Using separate sofa covers can contribute to increasing the durability as well as preventing strains on the fabric.
Value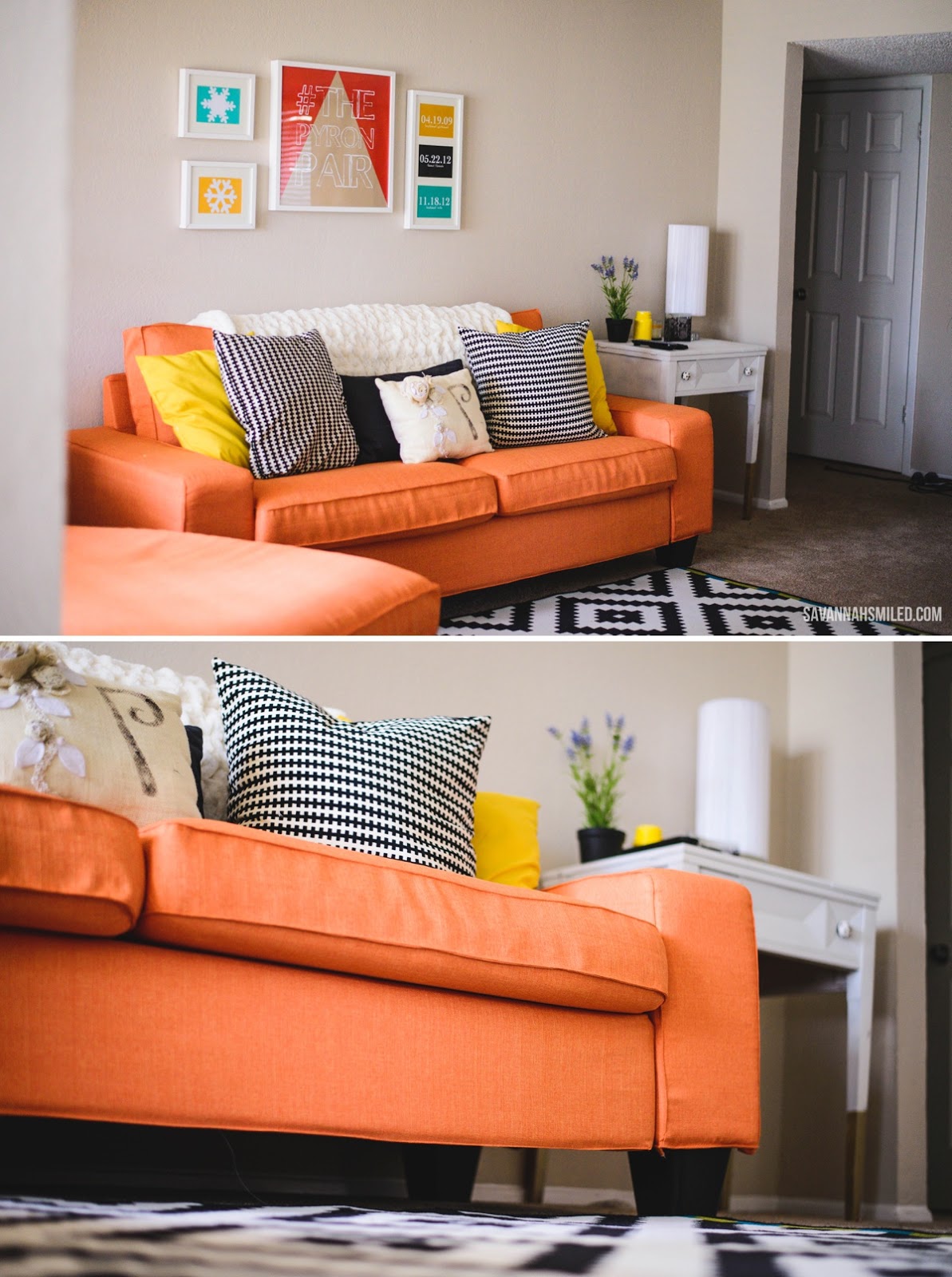 People who are furniture obsessed and want their couch to be the centre of attraction will undoubtedly be disappointed with the kivik sofa series from Ikea. Ikea sofas generally are bold and unique, but this series is made with a different motive.
They are designed for casual modern homes looking for an elegant and comfy couch. So, it is advisable to know your needs and preferences before going for this product line.
The sofas are spacious, well-built, and are compared to Elran sofas for their comfortability. They do not come with a hefty price tag, which makes them attractive for shoppers with a budget.
The kivik 3.5-seater sofa starts at $599 with extra shipping and tax, which makes it an affordable and popular option. If you are looking for high-end furniture with a not-so-high-end price tag, Ikea kivik sofa series is worth the money.
Delivery and Assembly
All products from Ikea are well packaged. Likewise, the kivik sofa series comes in numerous boxes. You can select a 12-hour delivery. According to the configuration and size, it could take some time to assemble the sofa (45 minutes to 5 hours).
In-store pick-up is free, $39 plus tax is charged for home delivery. If you do not want to assemble the sofa yourself, you can call Ikea, and they will send someone for $62 to $80 plus tax. Ikea offers a generous 365-day return window with no questions asked.
Any downside?
A significant downside with all the Ikea products and the kivik sofa series too is that you must assemble it yourself. While many people enjoy it since the instructions are simple and easy to follow, some people may find it frustrating.
The cushions are vacuum sealed and require at least 2-3 days to inflate fully, which again is not an easy task. But Kivik sofa reviews from customers worldwide tell us that even after a year of use, they look brand new and feel comfortable.
Many customers in Kivik sofa review have pointed out that due to the memory foam, seat and cushions may seem deformed, so you will have to fix them several times.
What are the customers saying?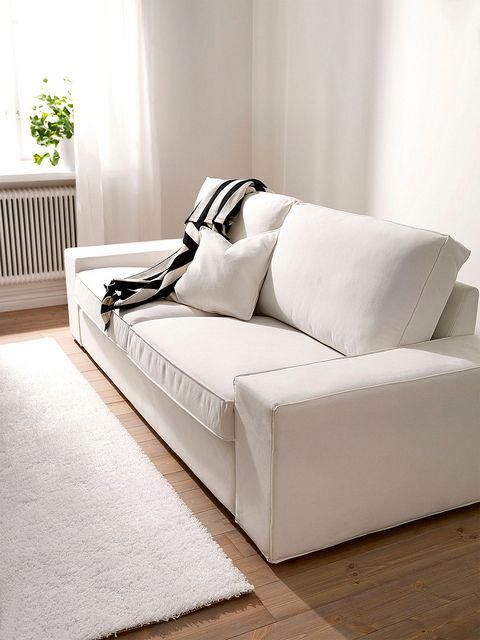 Ikea kivik sofa reviews are filled with positive feedbacks in various articles and websites.
Ultra-comfortable and great quality
I bought this sofa five years ago, and it has more than withstood the test of time. It is the best and most durable piece of Ikea furniture I have ever owned. Great size, both length and seating depth, and the comfort level has remained A++ through the entire time I have held this sofa. I bought it in dark brown leather, and it is both easy to clean and durable. Highly recommended."
Many customers seem surprised by how durable the sofa turned out to be. They also admit that they have saved money in the deal. The sofa has similar qualities to other expensive ones in the market.
There are a few negative feedbacks as well:
Uncomfortable
I bought it a few weeks ago, and it was unbelievably hard. Please do not waste your money, the firmness of the kivik displayed in the store is far from what was delivered to us. I am considering returning it, but I must pay the pick-up fee.
Looks like a 10-year-old couch after three months
Bought this couch in September after months of searching for the perfect sofa. The size, shape, and color of this couch are great. However, its resilience is not.
We noticed after the first week that the covers started sagging and wrinkling, and the rear seat cushions were drooping. Now, after three months of moderate use, the back-seat cushions are in a constant sag and do not stand up on their own. It looks like we have had it for ten years.
Maybe we got a dud, I am not sure, but there is a 0% chance of me recommending this couch to anyone else at present. Such a shame as out of the box, it was beautiful.
Very disappointed by a long-time Ikea shopper and advocate.
You get what you pay for. When selecting the fabric and styles, make sure you visit the Ikea showroom and see for yourself. For houses with children and pets, the kivik series is terrific. To make the plain sofa look funky, you can add bold-colored cushion covers. If you have similar ideas, become a home decor blogger.
The best part about this series is it does not create a hole in your pocket. You can save enough money to buy a matching footstool. Study the kivik sofa reviews online before you buy one and explore other options as well.