Do you know a good kitchen starts with the perfect equipment? A lot of your time is spent in front of the sink in the kitchen and so finding a great kitchen faucet is significant just like finding a great cabinet that matches your furniture. Earlier, kitchen faucets were thought to be just any ordinary element of a kitchen.
But now everyone knows about the critical functions they perform in the kitchen space. Just not utility, even the style, design, and looks of faucets have evolved through the years, and making just a single choice can be complicated.
What are the Brands you Should Consider While Purchasing a Kitchen Faucet?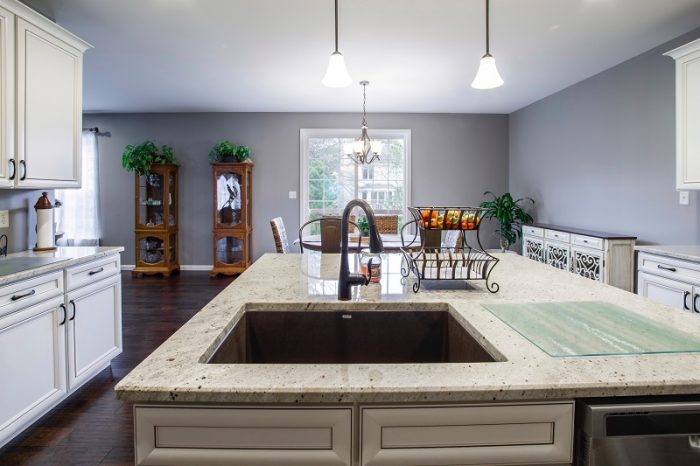 We know as customers, you are flooded with options and spoilt with choices of brands that can offer you kitchen faucets. But honestly, we will not suggest you consider any other name apart from Moen and Kohler.
These are the two best and famous names that specialize in kitchen faucets and are loved by homeowners across America. A wide range of their kitchen faucets is attached with brushes and sprays so that you can wash dishes and pans in no time.
There are a lot of options in their materials, designs, features to provide you the best choices.  The key to finding the right model for yourself is determining your usage of the sink and the features and comfort that can help you do your kitchen tasks.
Are you still confused? Do not worry! We are here to guide you with a detailed review of Kohlervs.Moen. Do not miss out on anything! Note down every single requirement and start the hunt for great kitchen faucets and you can also write about your journey through a blog by becoming a part of our home improvement blog.
Let us start comparing these two brands based on multi-faceted factors: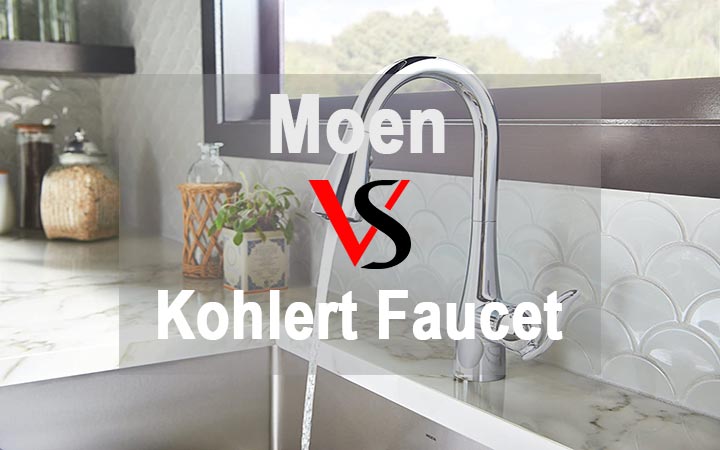 Background Kohler vs. Moen
It has been 140 years since Kohler has been in the plumbing business. It is a super prestigious brand and has gained a lot of customer loyalty throughout these years. The company is enormous with thousands and hundreds of associations with manufacturing units across the globe and has built a lot of trust in the market.
Their products are highly user-customized and innovated by experts to add the best value to their kitchen faucets. They are very experimental when it comes to trying new materials and were the first producers of stainless-steel sinks and accessories in the market.
They are a truly premium quality brand with more emphasis on durability and craftsmanship than looks. You will find other gorgeous-looking faucets, but they will not be long-lasting as Kohler faucets.
Moen is a comparatively younger brand but still has been ruling the market for decades. While the brands have their hands-on manufacturing a wide range of products, kitchen faucets are their USP. There are a hundred facilities of this brand around the world and has a massive customer base.
Innovation has played a massive role in growing this brand as they have contributed a lot of advancements in the production of kitchen faucets for making them corrosion-free.
They are known for manufacturing long-lasting kitchen faucets with the best quality of materials and construction methods used to ensure top-notch quality. They have captured the position of market leaders with their most comprehensive options of faucet designs and beautiful, spotless finishes.
Craftsmanship Kohler vs. Moen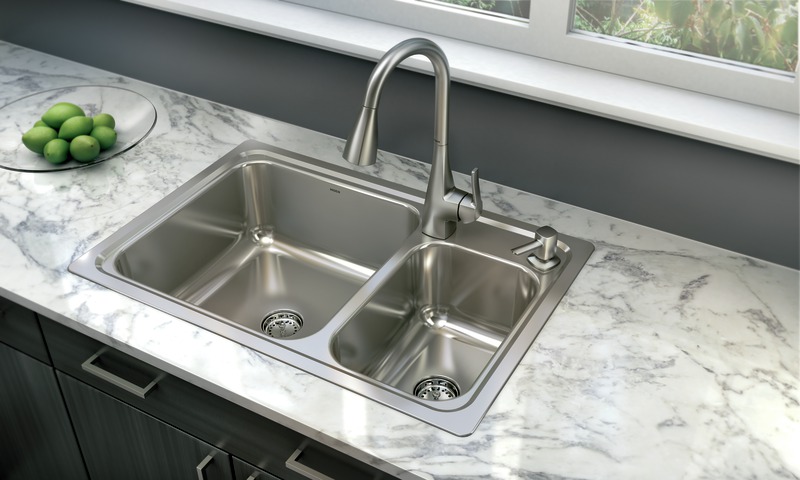 The products of Moen are cutting edge when it comes to technology and is a perfect combination of industry-made and hand-made features and components, which adds to the quality of their faucets. A lot of their production is outsourced to Asia, but this does not compromise their quality. They do a lot of checks for ensuring robustness.
Kohler has the widest sub-brands of products, and all of them are unique in their ways. They use the latest construction techniques and the updated machinery to produce their faucets. They do not outsource their construction outside Asia, and their sub-brands have been manufactured entirely onshore, which further ensures quality. They maintain high quality and perform robust quality checks just like Moen. Want the best value of money? Their products are your best pick.
Finishes and Designs Kohler vs. Moen
The focus of Kohler has always been on functionality and durability more than styles and designs. But they still offer a vast collection of lovely faucets with bold shiny finishes in a vast range of shapes and designs that will suit any décor. These are not some of the exclusively gorgeous designs you will find in the market, but they are robust and will resist any discoloration or tarnishing.
Moen offers you a unique Spot Shield technology in their faucets that provides excellent resistance to water spots or fingerprints. Thus, Moen faucets look as new and shiny as new, even after years. There provide you a massive range of more than a hundred options, each of them having uniquely beautiful designs. If class and looks are your priority when it comes to the kitchen equipment, you will not find a better choice than Moen. But it does not mean the faucets are not robust or reliable.
Style Kohler vs. Moen

Kohler is a colossal brand that can offer you quite a wide range of styles to choose from. Their collection is so versatile that every homeowner will find the best style for his home. Fan contemporary modern styles?  Kohler can offer you a lot of stylish, cutting-edge designs that are an utterly striking fit for modern kitchens.
Moen is no less when it comes to a stylish range of products as well. They, too, offer a wide variety of styles that complement a wide range of kitchen décor styles as well. If traditional designs that are a great display of class and elegance are your taste, Moen kitchen faucets are just for you. Even their modern designs have a twist of traditionalistic style that creates a great fusion.
Sensor Technologies Kohler vs. Moen
Kohler has an in-built Response technology that features a built-in sensor on the other side of the spout. Imagine your hands are messy, or they are loaded with dishes. Wave your hand in front of the sensor, and water flow gets activated. Sounds super convenient? It also has an auto-shutoff feature that minimizes any water wastage by automatically resisting the flow of water after four minutes of inactivity.
Moen uses a touch-less Motion Sense Technology that uses two sensors, one at the spout and other at the base for extra efficiency.  The technique used here is the same as that of Kohler but still twice as efficient and precise due to the presence of dual sensors. Place your dish, hand, or any object nearby near any of the sensors, and the water starts flowing almost instantly within two seconds. But like Kohler, it does not have the auto-shutoff feature.
Spray Features Kohler vs. Moen
There is a comprehensive, fantastic range of models including Sweep, Berry soft, Ring, and Boost spray. Though not every model has every feature, the latest ones do. These spray designs save a lot of water and clean your dishes quite effectively.
Want your containers to fill fast? Water flows through really fast through the Boost spray that will fill your containers in no time. For better cleaning, you can consider the Sweep spray pattern that increases the force of water flow to a large degree. If all you want to do is wash your fruits and vegetables, the Berry soft spray pattern is a good deal.
Moen also offers a wide range of spraying methods like the extraordinary Power clean, Boosted Stream, and even the Boosted Spray. Just like Kohler, even here, the Boosted Spray and Boosted Stream sprays are great for your sink since they make cleanup a lot more fast, efficient, and fills up pitches or pans fast. The Power Clean Sprayer has a 50% more powerful, concentrated spray than regular faucets that can clean up the entire area in no time without leaving a single spot.
Product Range Kohler vs. Moen
Both the brands Kohler and Moen, in this case, featuring the biggest collection of kitchen faucets in a wide variety of options like pull-down faucets, touchless, widespread, center set, regular, and a lot more.
It does not matter whether you are a lover of modern designs or still a fan of traditional classics; both these brands have a lot to offer you. The looks and finishes are varied, and you are spoilt with choices to pick one to complement the aesthetics of your kitchen décor.
Pull Down Designs Kohler vs. Moen
Kohler uses a magnetic docking system, also known as the DockNetik system. Powerful magnets are in the body of the pull-down faucets. When the spray head is not in use, the magnet helps the wand to be in a precise place. Want to pull down the spray head?  Could you give it a gentle tug? The magnet gives a firm grip to the spray head so that with time it does not droop down.
Moen features a specially designed unique Reflex System with an easily maneuverable spray head and an extremely flexible hose which can provide you multiple options when it comes to easy operation on hands. The spray head retracts smoothly due to this technology and quickly returns automatically to its initial position.
Kitchen Faucet Recommendations Kohler vs. Moen
Kohler K-560-VS Bellera Pull-down Kitchen Faucet
This faucet has a traditional style and an elegantly curved neck attached to a single handle. Though the design is not overly complicated, it still looks great and has a good performance. The temperature and water pressure are controlled by a single handle that allows you to multitask. The metal body has a "vibrant stainless finish" that makes it spotless.
Features:
Triple Function Spray Head
Magnetic Docking
Long-Lasting Quality
Kohler K-10433-CP Forte Kitchen Faucet
This stylish but straightforward model offers a lot more than what it seems to. It has a silver mirrored body that makes your kitchen look spotless and features unique spot and stain resistance, which means you hardly must care about the maintenance. If you are a busy homeowner with a tiny sink in the kitchen, this model is your savior.
Features:
The dual Function spray head
Easy maintenance
Great durability
Moen 7594SRS Arbor One-Handle Kitchen Faucet
This one is a great transitional model with a single curved handle for superb control and is extremely durable and stylish. The sprout approximately measures 11 inches, which makes it a perfect choice for large sinks. The stainless-steel body with a single-hole mount is the simplest one to install.
Features:
Motion Sense
Reflex Technology
Dual Spray Mode.
Moen 7430 Chateau One-Handle Faucet
If class and elegance are your styles, look no further. The clean-cut silver look with a contemporary design looks pretty good in any kitchen. This model is an excellent blend of classic charm with great features. It has chrome-finished polish, which is stain-resistant and a single handle to facilitate temperature control.
Features:
Durable Construction
No stress installation
Aerated Stream and Side Spray Feature
Pricing Comparison Kohler vs. Moen
Like any other familiar brand, you will find a wide range of pricing when it comes to Kohler and Moen models as well. Moen models are a little cheap when it comes to pricing than Kohler. The Kohler faucets will cost you around $350-450, whereas the Moen models are available in the market between $200-300 as well.
Warranty
Both Kohler and Moen have limited lifetime warranties and offer exceptional customer services.
Final Verdict
We feel that when it comes to quality, both brands have done equal justice in producing high-quality faucets. Both use innovative technologies and breakthrough craftsmanship to make the lives of their users more comfortable to transform their kitchen. So now it is entirely your choice to make.