Whenever you go shopping, buying from the best is the best strategy. A segment of American Wood mark Corporation, Timberlake Cabinetry, dominates the manufacturing of kitchen cabinets in the United States of America and Canada. They are one of the cheapest cabinet manufacturers with also 30 years of experience in the market.
They claim to deliver "on-time and complete'' cabinetry, with semi-custom units being produced all over the country. If you are looking for Kitchen cabinets and thinking of going for Timberlake Cabinetry, here are Timberlake cabinets reviews to help you!
Timberlake cabinetry caters to the small budget needs, and they have taken over numerous houses by now. However, their production and distribution are restricted to the United States, and they do not outsource to Asia.
Founded in 1990, the company is relatively new, but it enjoys a significant share in the home storage industry. And they deserve it because they ensure maximum customer satisfaction through good quality in low budget.
Timberlake Cabinetry's biggest USP is that it focuses purely on cabinets. They also offer custom orders with variable Depth, inverted frames, and premium finishes. They have nine regional service centres, many manufacturing plants, so they are probably not very far away from where you stay. They are not very innovative, but they offer quality and durability.
Their cabinets are organized into three series:
Portfolio Select
Portfolio
Value Built
Portfolio Select
This is the top-tier series with features usually expected in custom-built series. It provides hardwood doors and better shelving. With thick backboards, it is the highest quality tier in the series but is also the most expensive.
Portfolio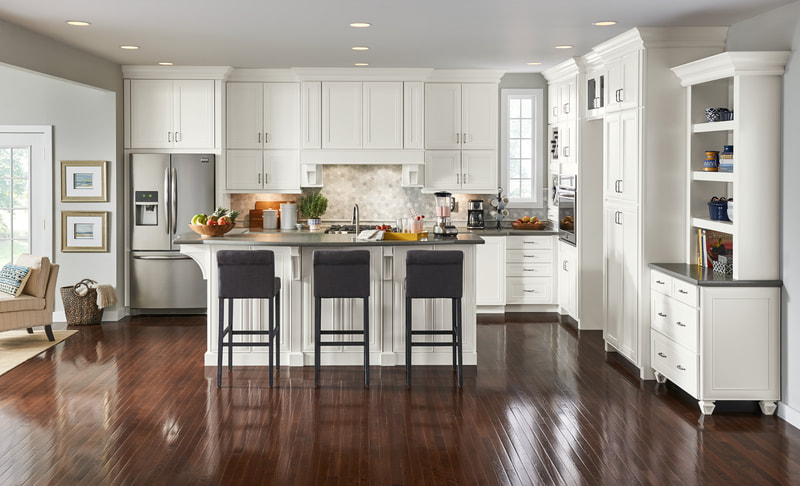 This is the most popular range because it lies in the middle and gives a wide range of style choices with smart features. According to the Timberlake cabinets reviews, customers who are not willing to spend a lot of money but can also not compromise on quality and reliability go for this segment.
Value Built
Being the lowest costing Timberlake cabinetry, this series is specially designed for value-conscious home buyers. Products offered in this section are very economical, Timberlake cabinets reviews state that it is wiser to spend a little more money and go for upper segments.
Cabinets from all these series come with Engineered wood cabinet sides, solid hardware face frames, Beauty Guard, and Tufftech interior finish. Portfolio Select comes with full-extension hidden glides while Portfolio and Value Built series have Side-Mounted Drawer glides.
Portfolio Select also has Solid wood doors as compared to veneer doors by the other two segments. All the cabinets have adjustable shelves and come with a 5-year warranty except Value Built series, which has a 2-year warranty.
To ensure timely delivery, Timberlake Cabinetry has categorized the process into four parts:
Design and Quote: First, they provide layouts and professional kitchen designs and ask for product specifications and expectations.
Measure and Order: Then, they measure kitchens for accuracy and confirm installation before the scheduled date. They ask customers to provide a 'release' date 15 days before delivery and installation dates.
Deliver and Install: They claim to deliver cabinetry on the predetermined schedule date and install it the next business day.
Punch-Out and Transfer of Ownership: Lastly, they inspect each job thoroughly and perform full punch out and transfer of ownership.
Cabinet Sizes
With marginally different specifications in different series, Timberlake Cabinets are available in a range of sizes. However, the standard base units have the same measurements – 24 inches of Depth, 34 ½ inches of height, and 6-48 inches of width. Cabinets can be upgraded or customized according to the required specifications.
The Portfolio and Portfolio Select lines offer 21-inch-deep drawers in comparison to 18-inch drawers in the Value Built series.
Cabinet Quality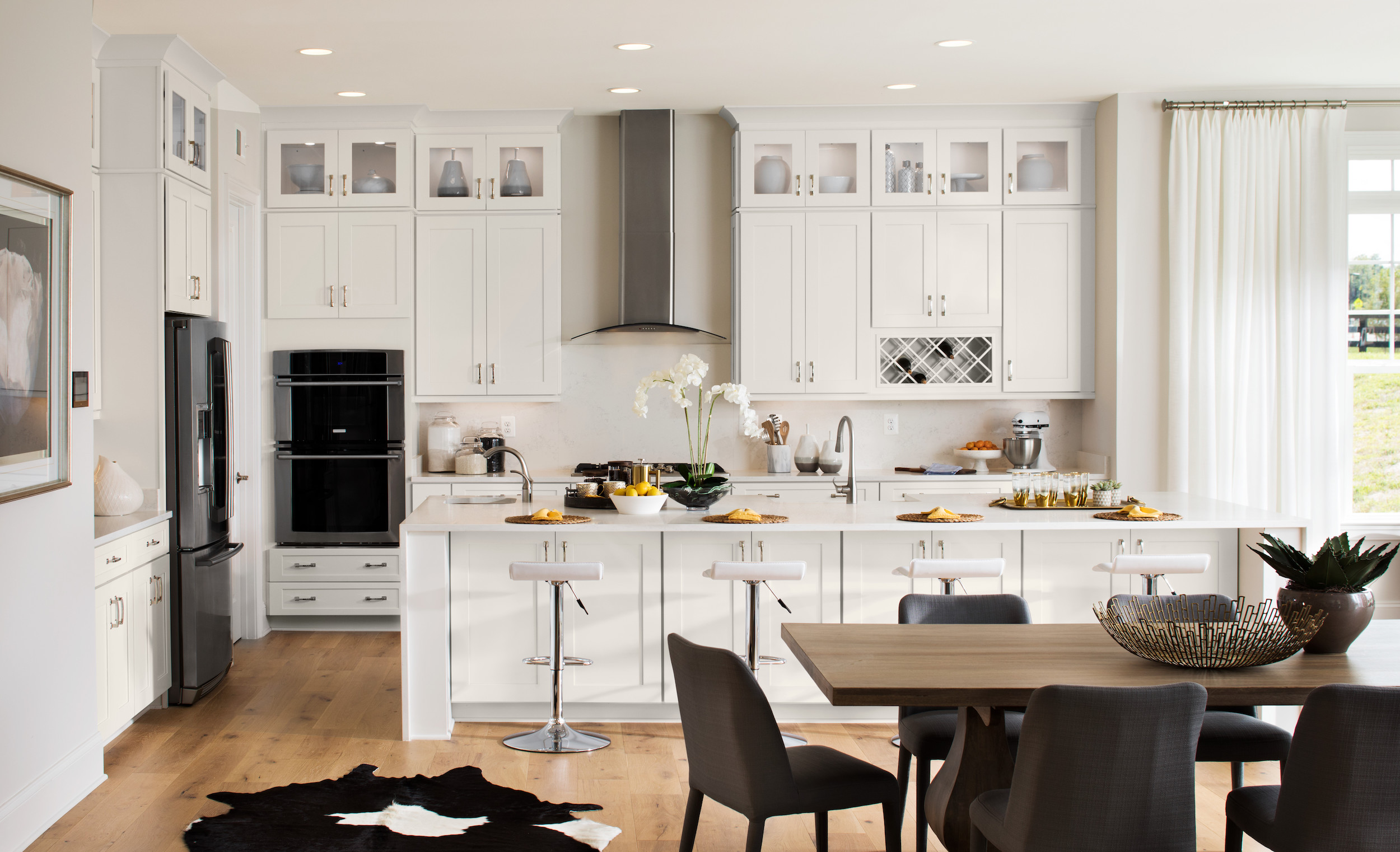 Having years of experience in the industry, Timberlake offers high-quality materials, craftsmanship, and service. The cabinets are built to order, meaning that each unit is created as it is called. Hence, no compromises are made in quality or alterations. You can also request an utterly custom-made cabinet with some additional cost.
The latest technology and well-tested techniques are used so that cabinets last long. Tufftech and BeautyGuard finish ensure easy cleaning and prevents wear and tear. Timberlake cabinets reviews are never negative when it comes to quality. American Woodmark itself is very particular about quality. They impose high standard quality control checks on every unit that they produce.
Their wood selection is exact and rigorous. Almost 95% of the wood used by them is certified American hardwood and sourced locally. Since Timberlake's production is restricted to America, it does not outsource any level of the manufacturing process and oversees every stage. Their reputation in the home storage industry and Timberlake cabinets reviews are enough to judge their quality standards. Its association with American Woodmark is another cherry on the cake!
Cabinet Doors
Timberlake Cabinetry has a wide variety of doors to offer. However, hardwood doors are provided only in the Portfolio Select series. Entries can be customized in different ways. You can select the Hinges, Depth, Shape, and paneling of the door as per your preference. Dovetail finishing provides an undeniable sophistication to the doors, which is available only in the Portfolio Select series.
There are alternate options for cabinet doors as well, such as glass doors. Glass doors are in trend these days. Entries can also be customized through material type. Dark and Light options can be considered following the furniture in the kitchen.
Cabinet doors influence the overall look and feel of your kitchen to a great extent, so make sure you go through all the options available before selecting one. You can also look for Timberlake Cabinets reviews to see what other customers went for.
Cabinet Finishes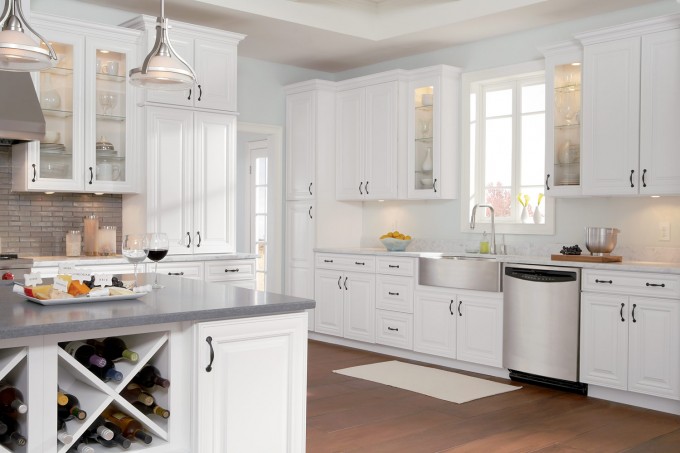 After finalizing the door style and size, the next thing you need to decide is its finish. The finish determines how the cabinet feels. Timberlake offers a wide variety of finishes, but the Value Built series have limited options. They match premium finishes with wood styles flawlessly, so no matter which option you choose, you will end up with a well-crafted cabinet.
You can choose from brushed, glazed, or painted finishes. They include Maple, Cherry, Oak, and white painted finishes. These options are possible only for Portfolio and Portfolio Select series because they are composed of hardwood doors. Value Built series offer veneer, so it has a handful of options. Look for other Timberlake cabinets reviews and analyze which finish lasts longer.
Cabinet Warranty
Timberlake's warranty is determined by the predicted life span of the cabinets. The Portfolio Select and Portfolio ranges have a longer life span as they come with better quality. Therefore, these ranges have a 5-year warranty. At the same time, the Value Built range has a 2-year contract due to its lesser life span predictability. This is not a good number when compared to other companies in the market, but since the cabinetry is low-mid ranged, it is still competitive.
Regional Support
Since Timberlake has been in the market for a long time now, it has an excellent team. They are very good at responding to customer's complaints and handling inquiries. It has a local professional team composed of Sales Representatives that lead project teams and company-customer relationship. Builder service representatives manufacture logistics, so consumers do not have to, and Designers manage layouts and quotes.
Field supervisors serve as job superintendents, that measure and verify the accuracy of orders. Service technicians look after warranty work.
Timberlake Cabinets Reviews
As for every other furniture brand, Timberlake Cabinetry has both positive and negative reviews. However, as mentioned earlier, the majority of people seem to like the brand. Here are some thoughts which may help you decide if you should opt for them or not.
"Beautiful Cabinets/Wonderful Service
My husband just wrote to the company after they helped us replace a drawer that WE broke. Our kitchen is gorgeous with white cabinets everywhere. They are beautiful! The best we have ever owned. Read his letter below because it says it all: Ana, your installer was there today and took care of the drawer replacement. My wife and I want to thank you sincerely from the bottom of our hearts for your assistance in helping us with this issue. The kindness you showed, and that of your supervisor far exceeded that which we could have expected. Thanks again so much for helping us!"
"Beautiful Cabinets
The Sierra Vista cabinets from Timberlake's Portfolio Select line are gorgeous. The quality of the wood, joinery, finish, and hardware exceeded our expectations in our new KB home. The installation was very well done, but I do not know the name of the sub-contractor. The drawers are self-closing and have dovetailed joints. We have the silk color for the main cabinets and the espresso cabinets for the island. They look and perform exceptionally well."
It also has Criticisms, most of them Based on Quality or Customer Services:
"We bought a home from Pulte with upgrade cabinets thru-out from Timberlake. There are problems from day one. The height of the drawers is one inch less than in the model home. Some cooking utensil does not even fit in. Nails are sticking out on the face panel. The fix is painting over the nails. Within one year, the hinges of the cabinet are falling off. One of the doors is half hanging outside of the cabinet. The wood frames where the hinges are attached are damaged. The service person came in and tightened the screws of the hinges, saying that nothing else he can do. Without fixing the frame, I am sure the hinges will fall off soon. We do not have an option to choose the company, but if you consider Timberlake, think twice."
"We recently updated our kitchen cabinets. We ordered Timberlakes top of the line in New Haven with a cream glaze. The glazing on most of the doors is inconsistent, and, in most corners, it is white, not cream colour. Our cabinet distributor told us this is the way it is supposed to be and use a marker that is supplied to fix it. Very upsetting and not happy with the look."
As every detail regarding Timberlake cabinets reviews is mentioned, you can decide for yourself. But in the end, you get as much as you pay for. Timberlake's Portfolio Select series offers higher quality, but other segments being low-mid Value do not promise it. Premium quality should not be expected either.
Timberlake Cabinetry provides budget-friendly storage solutions which can also become part of your home improvement blog that you can write for us. They have proved popular among builders. Since their prices are incredibly competitive, they are a threat to other businesses as well. If you decide to go for Timberlake's, take your time, explore all the options, and do not expect that the cabinets would last forever.