For many people, having a pool day once in a while is nonnegotiable. Spending some time by and in the pool could make people feel calmer, allow them to do all sorts of fun activities with others, let them bond with friends and family, and boost their mood. Something about having a large body of water where one can cool off and swim is highly satisfying to a lot of individuals around the world.
However, over time, having just the pool itself may no longer be as fun as before. With that said, using pool accessories could make your experience more fun and relaxing. There are options that can provide convenience, while others are meant to entertain. But no matter which one you go for, it'll surely help you create a joyful atmosphere in your pool area. The following are some of the top pool accessories for adults you can look into:
1. Pool Floats
Also referred to as floaties or swimming floats, these are floating devices that are perfect for relaxing in a pool. They come in numerous shapes, sizes, and designs or themes, including animals such as swans and giraffes, objects like crowns, and even food such as donuts. Some of these pool floats are unique and seemingly suitable even for children, so they might just make you feel young and fresh. Pool floats allow you to enjoy the pool without necessarily getting into the water right away by lounging on them.
A pool floats can be enjoyed even when the person using it is fully clothed. If you're at a pool party but don't want to swim, you can just lie on a pool float and have conversations with people nearby.
Floats for the pool also grant you the opportunity to get a tan. While using one in the pool, you can wear your swimsuit and take advantage of the sun's rays as well as get some fresh air.
2. Waterproof Floating Speakers
Pool parties can be enjoyable, but they have to be planned well, especially when it comes to where you place the devices you'll use for entertainment. You have to make sure that any speakers you have are far away from the water, especially if they aren't wireless and are prone to damage if they get wet. However, this issue can be avoided altogether simply by purchasing a waterproof floating speaker.
This is a wireless speaker that can be placed on the water to float freely. You can connect your phone, laptop, or any other music device to it via Bluetooth and listen to your favorite music in the pool area. This type of speaker has many different features depending on the brand and model you go for, so you'll definitely love using it for everything from special events to lazy pool days.
3. Floating Cooler Box Or Inflatable Drink Holders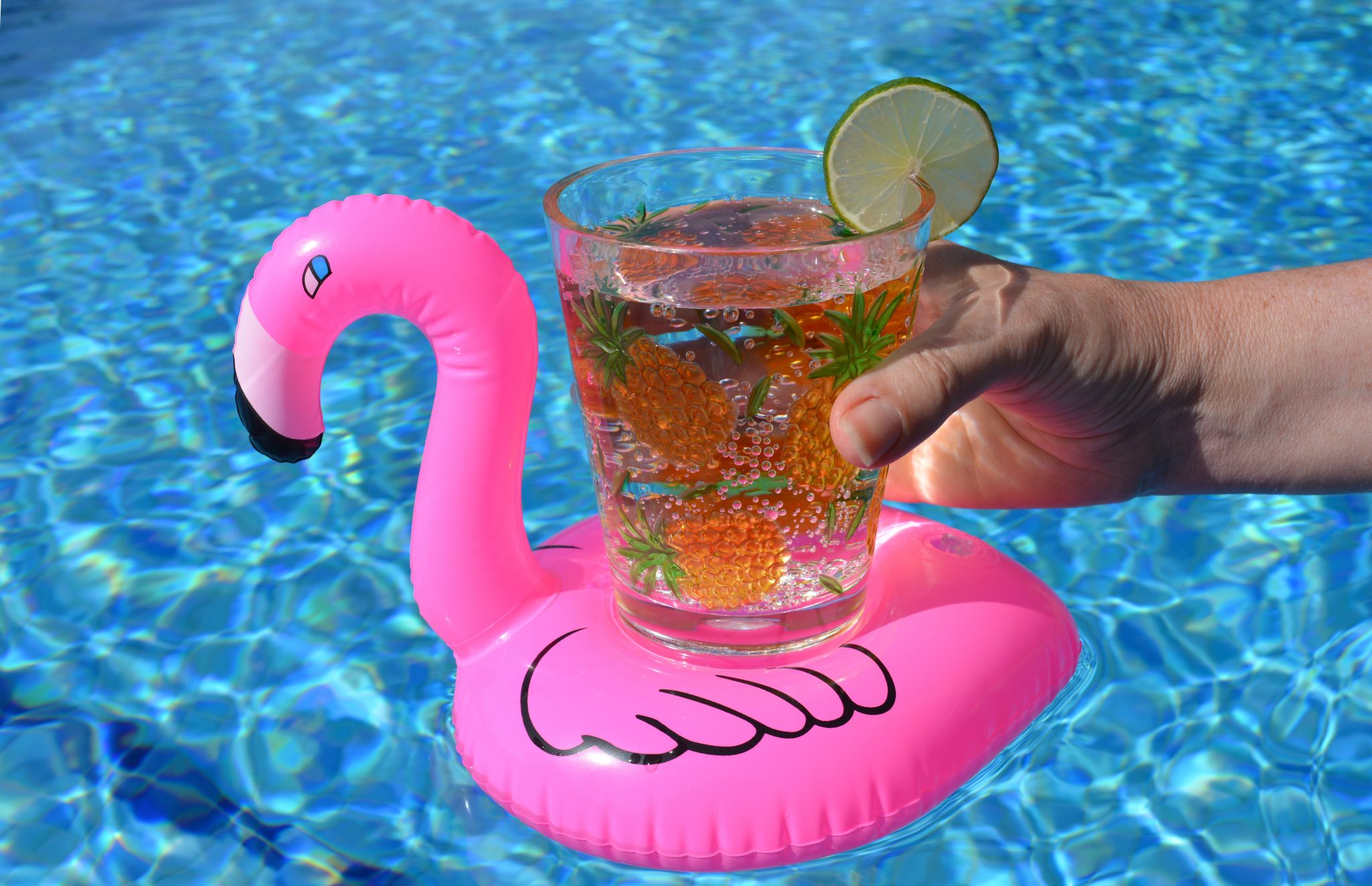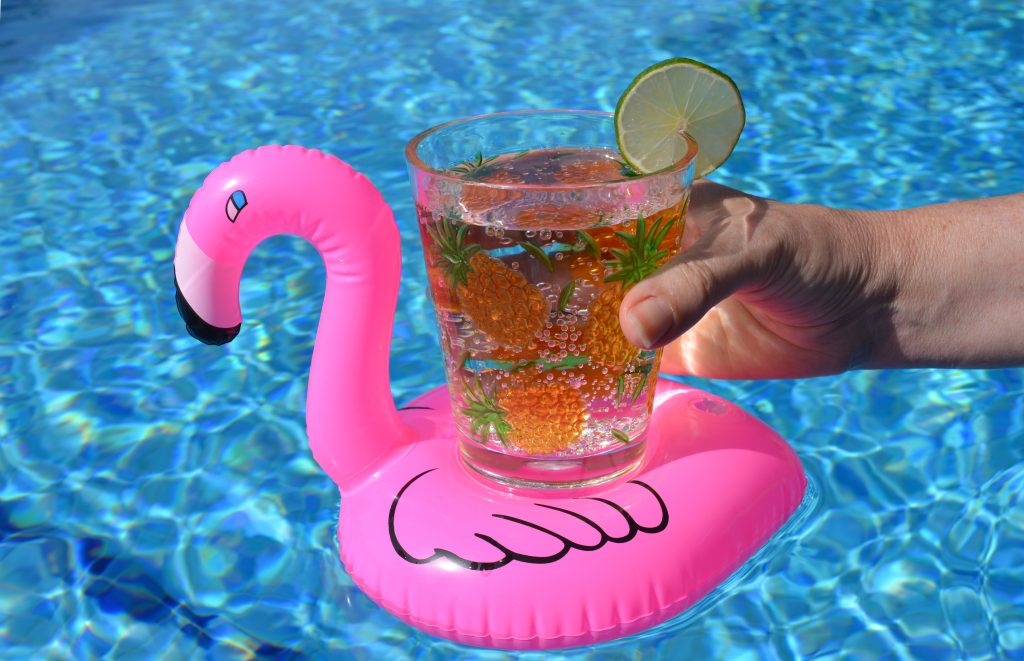 On any calm afternoon, you may want to just hop in the pool, have a refreshing drink, and ease your mind. However, sometimes you may find it hard to consume your cold beverage and relax at the same time because you have to keep the glass or can in your hand. Having to do so when you want to wade in the water or submerge yourself for a moment is far from ideal.
Fortunately, an inflatable drink holder can come to your rescue and help solve that particular problem. This allows you to enjoy a drink in your pool without having to constantly swim to the dry edge of the pool. What's more, it's available in various adorable designs, from flamingos to unicorns to pineapples.
If you're with a group of friends, having over five drink holders in the pool may not be a good idea as they may scatter and get in the way of people swimming or horsing around in the water. In that situation, you may want to consider getting a floating cooler box instead. This accessory could help ensure that everyone gets to have a drink within their reach. If no one has to leave the pool just to stay hydrated, the fun can continue without interruption.
4. Inflatable Movie Screen
Watching movies is one of those activities that make you forget your problems. People watch movies practically everywhere these days. Apart from traditional movie theaters, there are drive-in cinemas and films that can be viewed on online streaming platforms. However, perhaps you haven't heard a lot of people saying that they've watched a movie in their pool. Inflatable movie screens have made that possible.
An inflatable movie screen, also called an inflatable projector screen, allows you to enjoy videos while you're in your pool or within the area. This accessory is ideal for dive-in movies. It's the perfect option for an early night movie with your friends or family. Adults can opt for films that have to do with the sea or water to match the venue. If you're looking for a unique alternative to your television in the living room, you can't go wrong with this innovative pool accessory.
5. Ring Toss Game
Some people say that splashing around in the pool makes them feel young again. To add to that youthful atmosphere, you could set up a ring toss game in your pool. This comes with an inflatable ring toss base and a bunch of floatable rings. To play, one has to stand at a certain distance and attempt to throw each ring around one of the pegs at the base.
This game is great for an afternoon with a few friends or family members. While waiting for the barbecue to cook, you could play several rounds of the ring toss game to kill some time. If you want to make it more exciting, you can put people in different teams and compete with one another for prizes.
Get Yourself Some Pool Accessories
While a pool is already an amazing feature to have in your home, accessories will make your experience more enjoyable by creating a bright atmosphere, allowing for more delightful bonding sessions, and providing entertainment like no other.
The pool accessories for adults mentioned above are growing in popularity as the days go by. Whether you choose among the best pool floats on the market or buy a floating cooler box, you might just wonder how you managed without such items for so long given the benefits they bring to the table, or in this case, the swimming pool.