Tile trends of 2022 are including more authentic textures and materials, helping us create spaces that are a delight for the senses. The focus is on creating comfort and developing a home's design into a relaxing and soothing sanctuary that is comforting and cosy. You will notice more timber textures, concrete surfaces, luxurious natural stones and more being included in upcoming tile trends for the home. These materials are paired with modern patterns and shapes to add a modern touch to traditional designs, bringing these classic materials into the contemporary styled home.
We have stepped in 2022, and every new trend brings new trends with it. The same thing stands true for the tiles and interior designs. It is time to leave the old behind and welcome something new. And what better way than welcoming the new year with an interior renovation. To get the best tiles for your renovation, visit tile store philadelphia.
Patterns & Shapes in Tile Designs
Modern tile designs are making use of various shapes that when placed together create stunning patterns in a design. Tiles with unique shapes such as hexagons, lantern tiles or mosaic tiles for example are accented with different grout colours that will highlight the tile's shape by defining the grout lines around each individual tile.
Creating textures and features in your interior design scheme, there are several different tile shapes and patterns that will be trending through the new year. Kit Kat tiles (also referred to as finger mosaic tiles) are an exciting designer tile option to keep an eye on. These tiles feature small, elongated rectangular shapes that can be laid in a variety of ways to create a wondrous textured surface finish in your design.
Three dimensional tile designs are another intriguing design trend that will continue to rise in popularity through 2022. These exciting tiles feature raised surfaces that create a sense of drama and pattern in your interiors. They are best used as a feature wall tile and can be installed as kitchen tiles or bathroom tiles design or even as a feature wall in other areas of the home such as the living room or bedroom to create a stylish look. These tiles will benefit from the addition of feature lighting that will highlight and accent their raised surfaces to create a show-stopping dramatic element in your design project.
Trending Tile Colours & Materials
The new year will see a range of luxurious materials trending in the world of interior design that have the ability to create a sense of warmth and comfort in a design scheme. These include raw, rustic timbers, soft marbles, rugged concrete textures and deep, charcoal toned slate. All of these materials can be represented in your selection of tiles allowing you to take full advantage of the impressive durability and strength of floor and wall tiles.
Timber textures for example have been recreated in timber-look porcelain tiles. These tiles are specifically designed to simulate the rustic look and texture of natural timber, offering a strong and durable alternative solution to traditional hardwood flooring. These tiles are water, stain and scratch resistant, making them an excellent option for busy homes where natural timber would be susceptible to staining, scratching or water damage. These tiles include the natural variations in colour, tone and texture as you would normally experience with natural timber, making them an excellent choice in recreating that rustic look.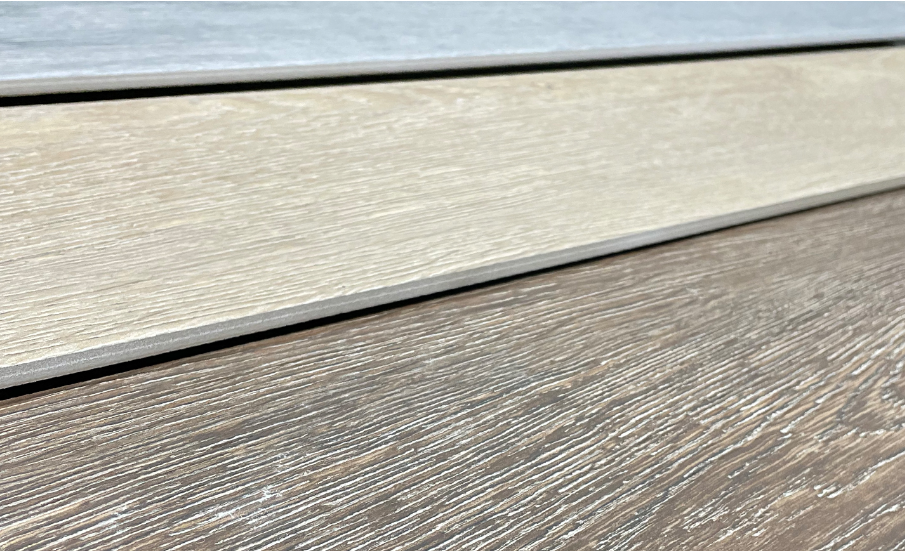 Caption: Timber look tiles will show the same variations in colour and texture that you would expect in traditional hardwood flooring. These tiles offer a stain, water and scratch resistant alternative choice with some collections being suitable for outdoor spaces too, making them an excellent choice for timber decking and outdoor walkways.
Natural stones such as soft marbles and deep, charcoal toned slate tiles are also continuing to be a hot trend in interiors through 2022 thanks to their classic and timeless qualities. Marble tiles are available in a wide range of options, with the most popular choices being Carrara and Calacatta marbles. You will also find other exciting colours becoming more widely available such as rose toned marbles that feature soft, blush tones and deep grey veins as well as jade marble tiles that show a deep, emerald hue with milky white veins.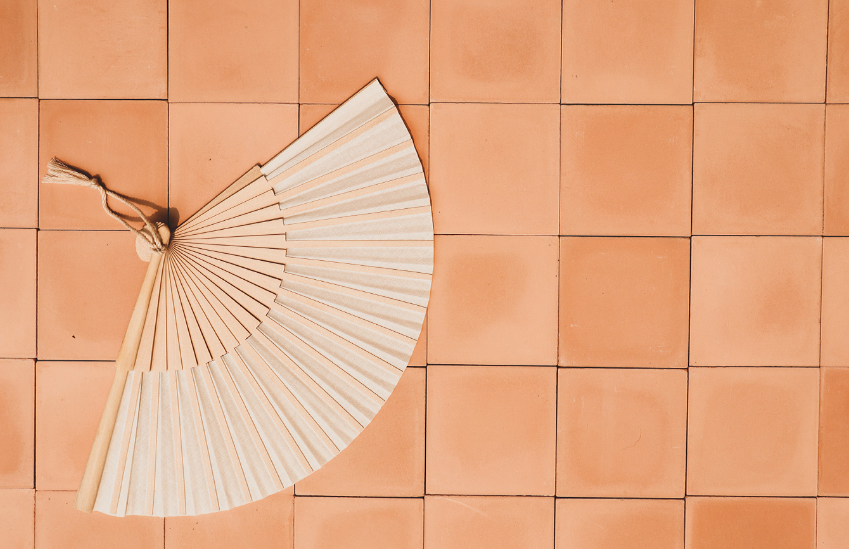 Caption: Traditionally made concrete tiles are often referred to as encaustic tiles. They often feature a smooth, matte surface finish and characteristic dusty colour tones. Encaustic tiles can be found in solid coloured options as in the example above or in incredibly intricate and detailed patterns that can be used to add a bold feature element in your next interior design project.
Concrete tiles also continue to be a hot trend, with options ranging from rustic, raw textured that are perfect for modern or contemporary architectural styles or traditionally made encaustic tiles that feature bold patterns and stylish dusty tones to create a sense of pattern in a design scheme. These tiles are incredibly durable and hard wearing, qualities which have ensured their continued use in indoor and outdoor spaces through the years. It should be noted however that natural stone tiles as well as concrete tiles are porous materials and as such, will require sealing every few years in order to protect them from damage. Their incredible durability, strength and beauty however more than make up for this!
Coming into 2022, we are seeing more and more exciting tile trends emerging! These include experimenting with various shapes and patterns to create a unique look that is true to your own creative flair and personality as well as incorporating a range of rich, earthy textures and materials to create a sense of comfort and warmth in the home. From rich, earthy materials such as natural stone and timber to rustic, industrial options such as concrete, you will find an exciting range of options available!