Sofia Vergara Furniture is all about providing stylish looks and bringing value to your home. It has different and unique specifications, which leads to its growth. It gives a contemporary look to the house incorporated with advance featured furniture. Sofia Vergara Furniture provides a collection of Sofas, Recliners, Loveseats, Tables, and many more other furniture. We will be discussing some of Sofia Vergara Furniture Reviews in this guide.
About Sofia Vergara Furniture
Let us get back to the days when Sofia Vergara Furniture was founded and struggling to include their name in the top-quality furniture list. This was not the first time when a celebrity has partnered with Furniture stores. Rooms to Go took advantage and partnered with Sofia Vergara to give their furniture a big name.
However, Sofia Vergara Furniture is not only popular because of the name associated with it but because of the quality and design which they provide in their furniture products. Rooms to Go has launched Sofia Vergara Furniture, which inculcates unique design, classic style, and good fabric material in the furniture they manufacture
Therefore, now Sofia Vergara Furniture has made its name in the top-quality providers and can be found in thousands of homes in the United States. Rooms to Go provides all types of Sofia Vergara Furniture, and you can visit their store to find great deals. Moreover, if you find it challenging to locate their store, you can also purchase them online.
Types of Sofia Vergara Furniture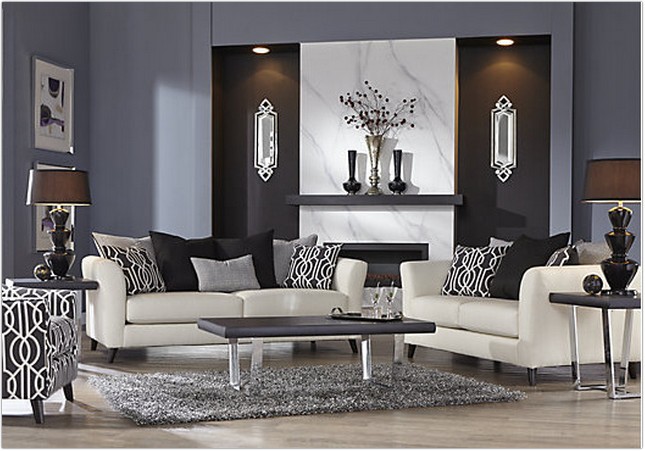 Sofia Vergara Furniture is out in the market through the Rooms to Go Catalogue. They provide more than ten collections of Sofia Vergara Furniture, including living room sets and bedroom sets. Sofia Vergara Furniture provides different collections in different scenarios. For instance, if you are looking to purchase furniture for your living room, you will be needed to check their living room sets.
The Collections of Sofia Vergara Furniture are available with Sofas, Sectionals, Ottoman, Loveseats, tables, side tables, and many other furniture products. Let us have a look at the Sectional products which Sofia Vergara Furniture provides.
Sofia Vergara Capistrano Blue Leather Sectional Living Room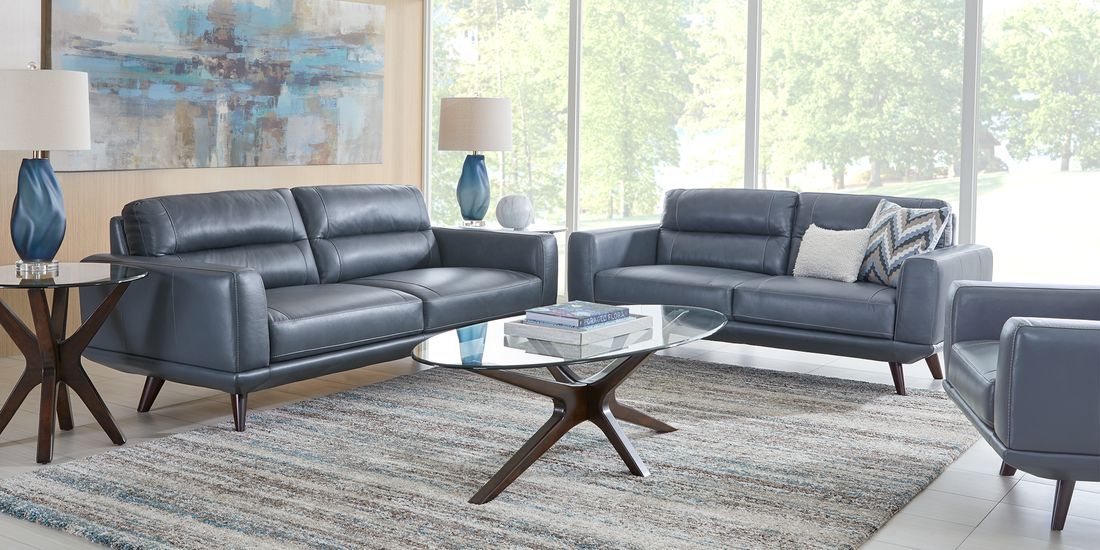 Stunning blue top grey leather seats, which gives a contemporary look to your furniture. Tack arms and Tapered Legs, which makes you feel comfortable when you relax on the Sofa. The leather material is durable and can be used in the long run. It has sleek lines that give a unique and classic look to modern-day homes. High-Quality leather material, easy to clean, gives a modern look. Low maintenance product. Sectional Sofas with 5 Pc for the living room.
Sofia Vergara Zamora White Leather Sectional Living Room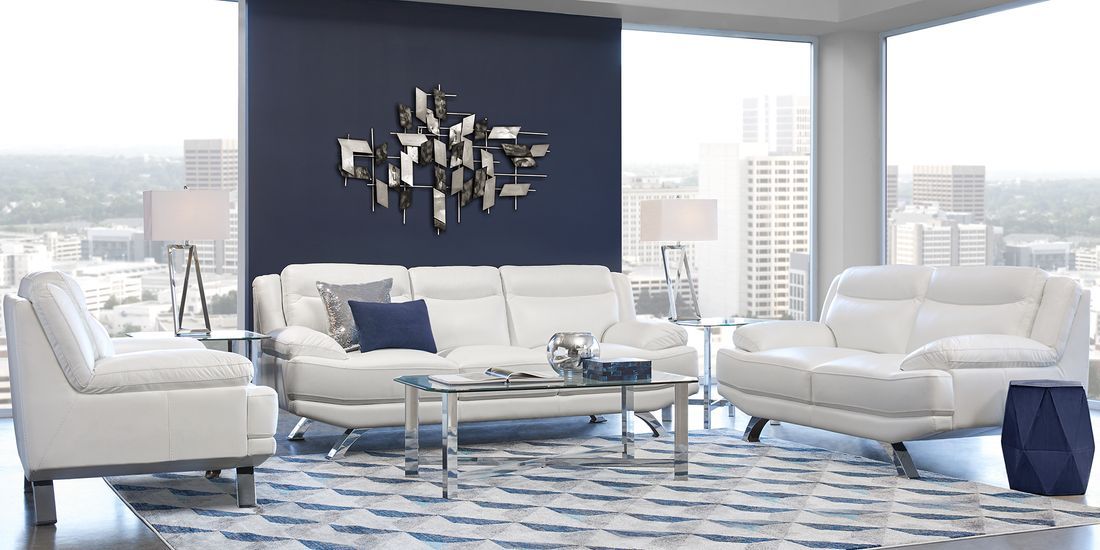 Sectional Sofa for living room with 3 Pc. Sleek and chic, durable, long-lasting product. Supple top grain leather gives a classic style and contemporary look to modern houses.
White covers, easy to clean with any cotton cloth. The long-lasting and durable quality of the material, pure leather. Accent pillows are not included—stylish modern aesthetic arms and legs.
Sofia Vergara Via Sorrento White Sectional Living Room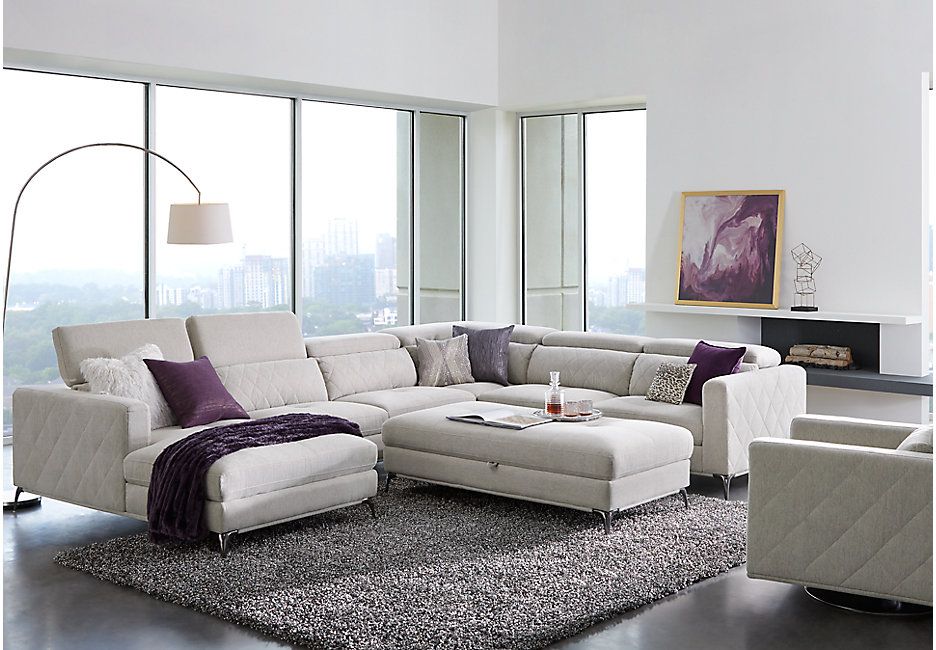 Modern elegance, with a contemporary look, provides comfort. Sectional offers indulgent comfort with long-lasting and durable material—Sofa with 2 Pc Sectional. The material is not leather but Polyester and Polyurethane.
Sleek Chrome and tapered finished arms and legs. Quilted back cushions, comfortable headrests, muscular frame, and legs. White covers give a modern and classy look to the living room.
Sofia Vergara Pacific Palisades Beige Plush Living Room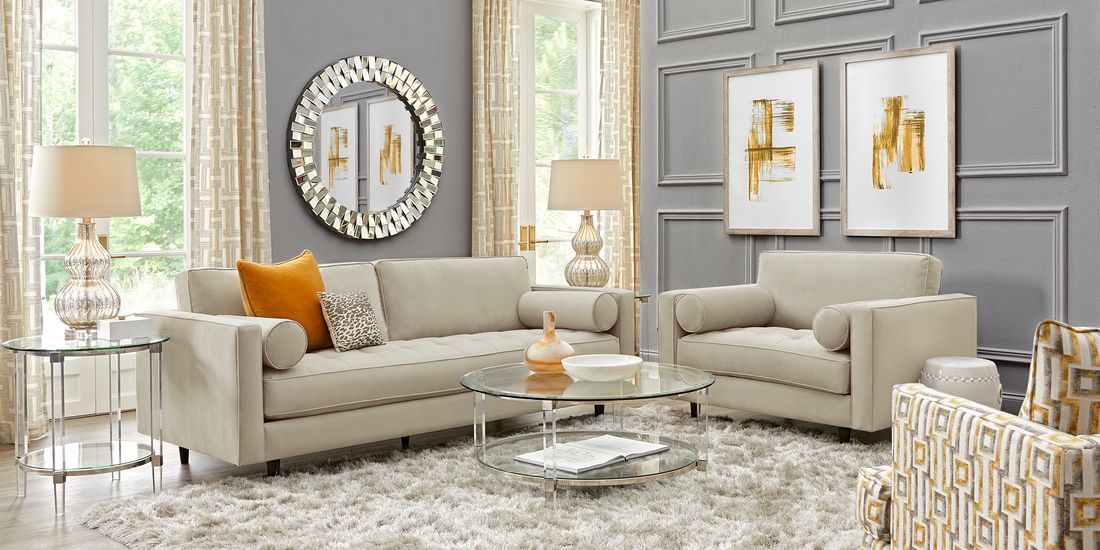 Sofa with 2 Pc Sectional. Glamourous, classy, gives an aesthetic look to your living room. Uncluttered and chic, muscular arms and legs. Gives a mid-century modern appeal, contemporary look. Blend style, perfect look, Polyester material. Easy to wash and clean using mild detergent and cotton cloth. Accent Pillows are not included.
Sofia Vergara Pacific Palisades Scarlet Plush Living Room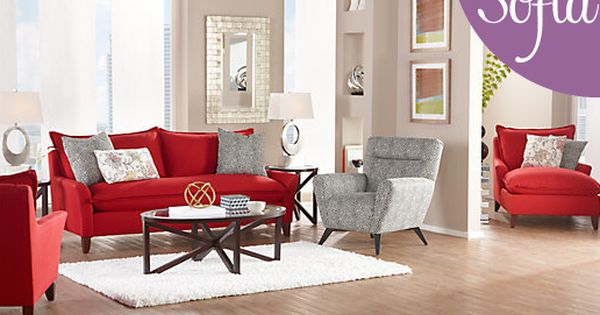 Red covers uncluttered and strong arms and legs. Sofa with 2 Pc Sectional. Gives an aesthetic and classy look. Comfortable headrests, chair feature tufted seats. Tapered wood legs, bolstered arm pillows. They upholstered in plush velvet scarlet fabric, soft and comfortable material. Easy to maintain.
Sofia Furniture Bedroom Sets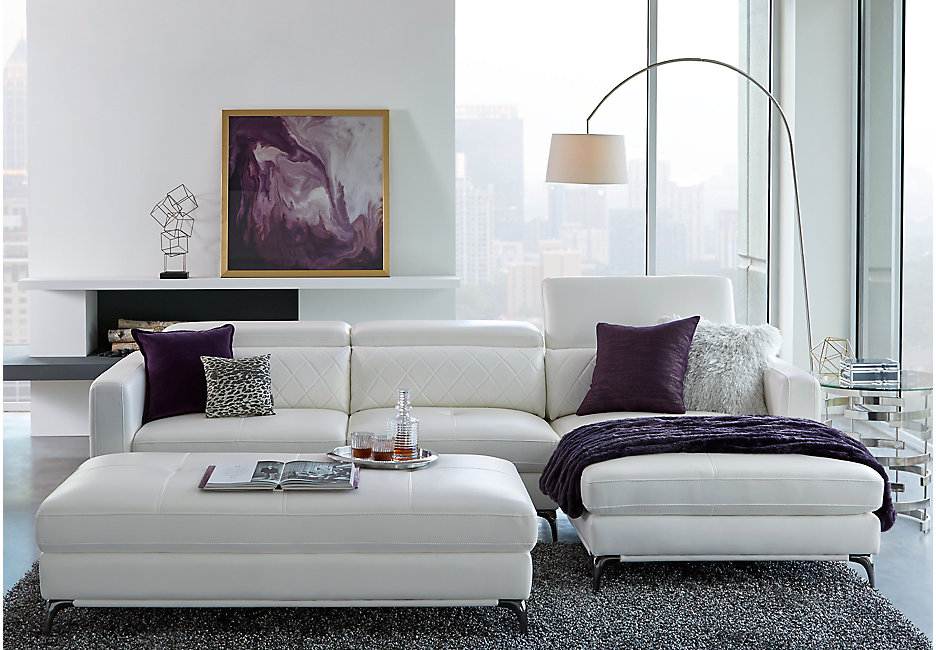 Sofia Vergara Paris Silver Upholstered Bedroom set
Elegant, classy, and glamorous Queen size bed for your bedroom, strong legs, and high maintenance required. Smart organizational features, very comfortable material to make your bedroom a dream room for your home.
Strong frame bed material with Ultra Hyde silver grey fabric, which provides comfort while resting overnight. Each piece is crafted of pine solids and gives a unique and structured view to the bedroom, making it comfortable living.
It has a beautifully tufted headboard with jeweled button detailing, giving it a stunning look. Silver finished materials, mattresses, and foundations are sold separately.
Sofia Vergara Santa Fiora White King Panel Bedroom with Storage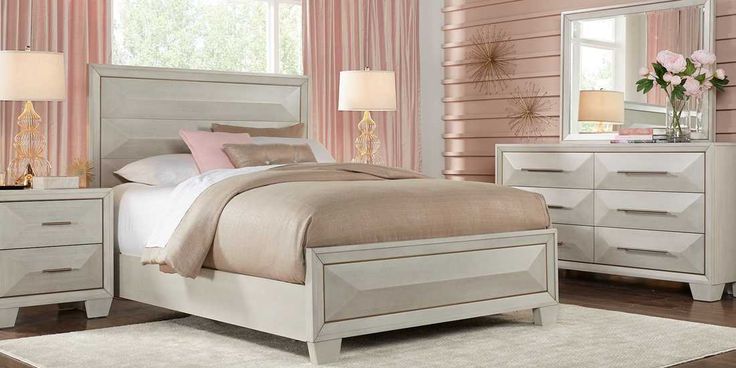 Contemporary glamour with a sleek style, giving it a surprising look and perfect finishing.
Wooden handles with nice sleek texture, strong legs, and comfortable headrest. Crafted wood solids and oak veneers, giving the bed a classy and modern look that adds beauty to your bedroom.
Two roomy drawers for the storage provided in the bed itself with a traditional handle design at the opening of the drawer. Chic environment for lounging, primping, or napping. It provides comfort to a great extent while resting or spending the night—two-tone grey and white finish, with designer touch and modern look.
Sofia Vergara Vegas White 7 Pc King Panel Bedroom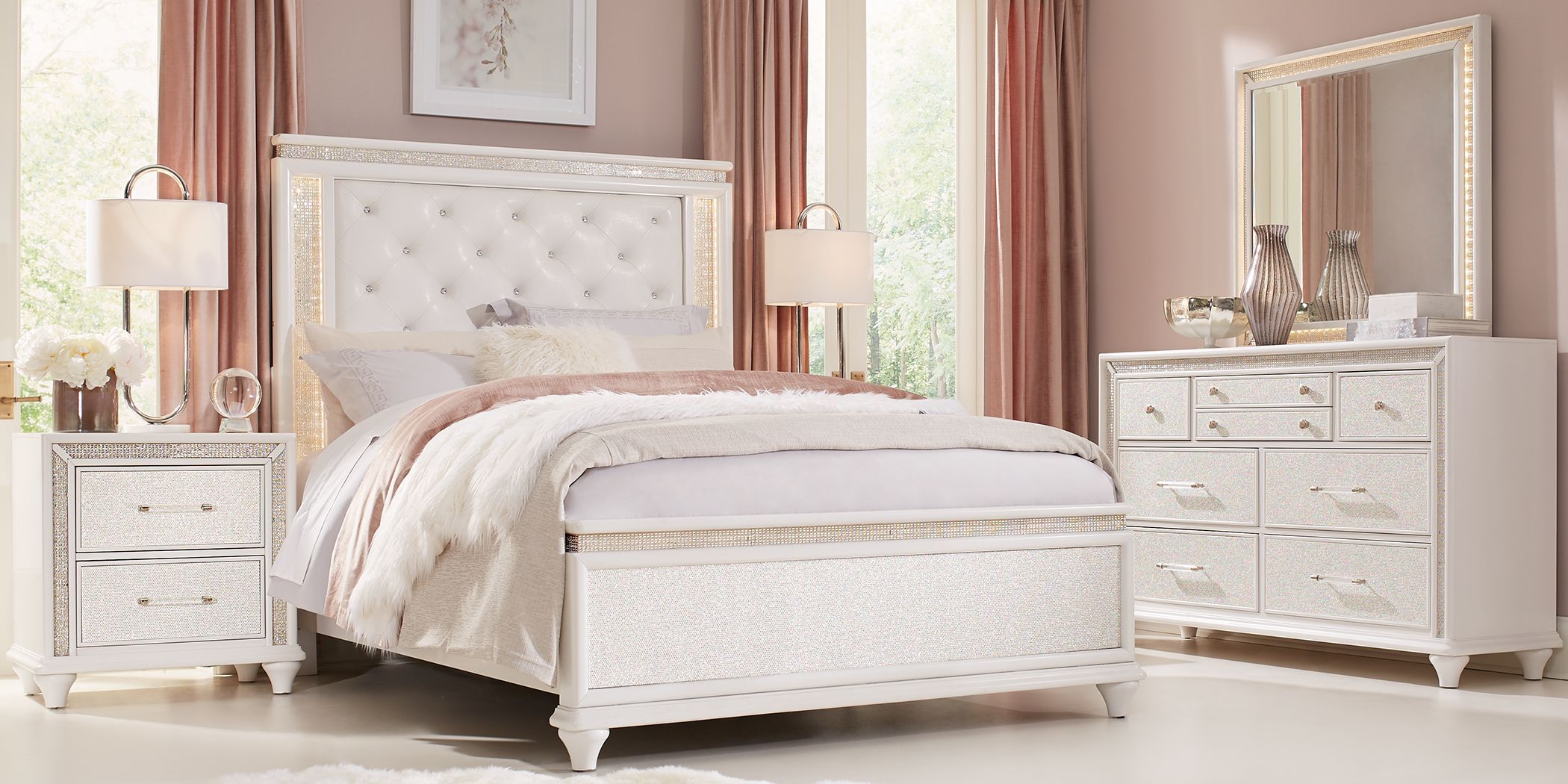 This Sofia Vergara Vegas King Panel Bed is a perfect match for those people who love to have a glamorous bed in their bedroom. It has an embellished border on each piece giving it a stunning and modern look.
Each piece twinkles from every angle and creates a sparkling glow with the headboard mirror and headrest equipped with LED lights. The jewels attached to the frame shine more in the night and gives the room a dim light appearance.
The footboard and drawers are decorated with glittering accents, more sparkle, and a luxurious look and crafted of poplar veneers, chic white finish, sophisticated and smooth.
Sofia Vergara Cambrian Court Chocolate King Panel Bedroom
Contemporary sophistication with a sweet side, giving the room a stylish and modern design. Crafted of wood solids and poplar veneers with white ash color in a rich chocolate finishing. Mattress and foundations are sold separately.
It has gold finished bars that complete the glamorous look of the bedroom. Each piece is trimmed with delicate gold-finished accents. It contains a headrest, foot drawers, and a footboard also. The bed is king size and is perfect for those people who love to have a contemporary bed in their bedroom.
Sofia Vergara Cambrian Court Chocolate 7 Pc Queen Bedroom Panel
This Sofia Vergara Cambrian Court Chocolate Bed gives a stunning look to the bedroom and is relatively comfortable for resting purposes. It also contains foot drawers, footboards, headrests with a traditional handle design giving the whole set a new view.
It allows the mattresses and foundations to be sold together or separately as required.
It also has drawer fonts that add chic elegance with gold-finished bars, easy to maintain and clean. It is relatively affordable for anyone, and it is long-lasting and durable.
Sofia Vergara Dining Room Set
Sofia Vergara Delanco Pewter 5 Pc Counter Height Dining Room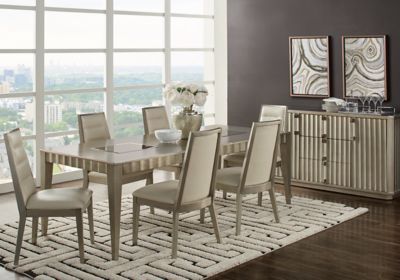 A casual dining table yet giving a prosperous view to the dining room along with classic chairs and cabinets. It gives a traditional as well as modern look at the same time because of its quality and material of the wood.
It has a mirror inset on the tabletop, which adds another unique feature giving the table an additional featured touch. The table has a striking length of 54 inches, giving it a counter height look with counter height chairs to match its classy appearance.
It has easy to wash and easy to clean fabric, which provides you ease in cleaning and maintaining the dining table along with the chairs.
Sofia Vergara Savona Ivory 5 Pc Rectangle Dining Room with Open Bank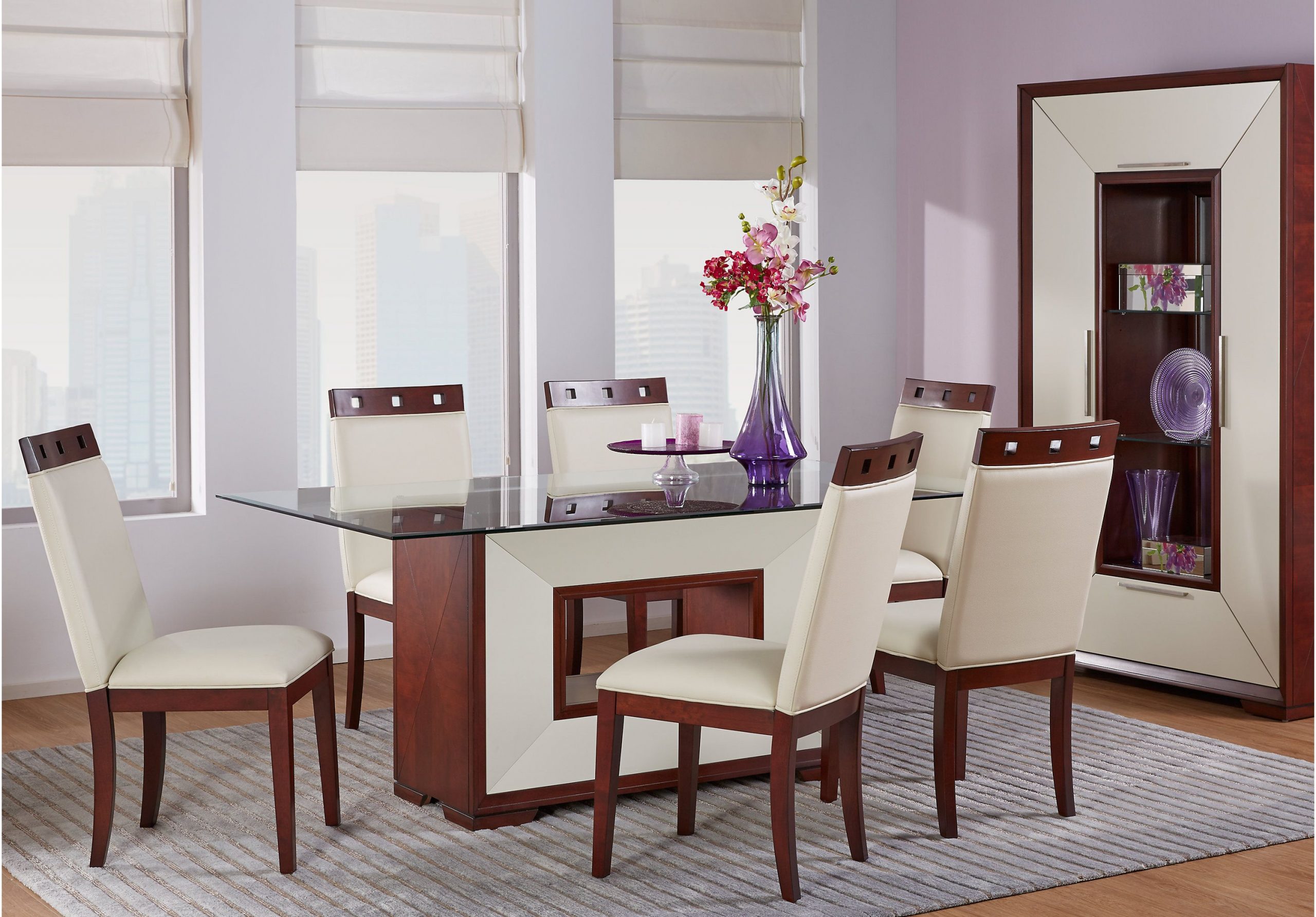 This Sofia Vergara Savona Ivory Rectangle Dining table has sleek lines, contemporary design, and provides high and good quality construction. It has reliable wood quality, which gives an aesthetic look to the dining room, and it has beautiful two-tone cherry finishing, which provides comfort when resting or sitting on the chairs.
It is coordinated with side chairs, which adds extra beauty to the whole dining room set with quality material. It gives a luxurious and modern look to the dining room, and it offers wooden cabinets, a wooden sitting bench along the dining table in case if you need to purchase them.
This dining room set is one of the best choices if you want to have luxurious dining set in your house, which will give your house a classic look and good quality finishing. The material is very soft and smooth, with sleek lines and skillfully combined all of them.
Sofia Vergara Santa Fiora White 5 Pc Dining Room Set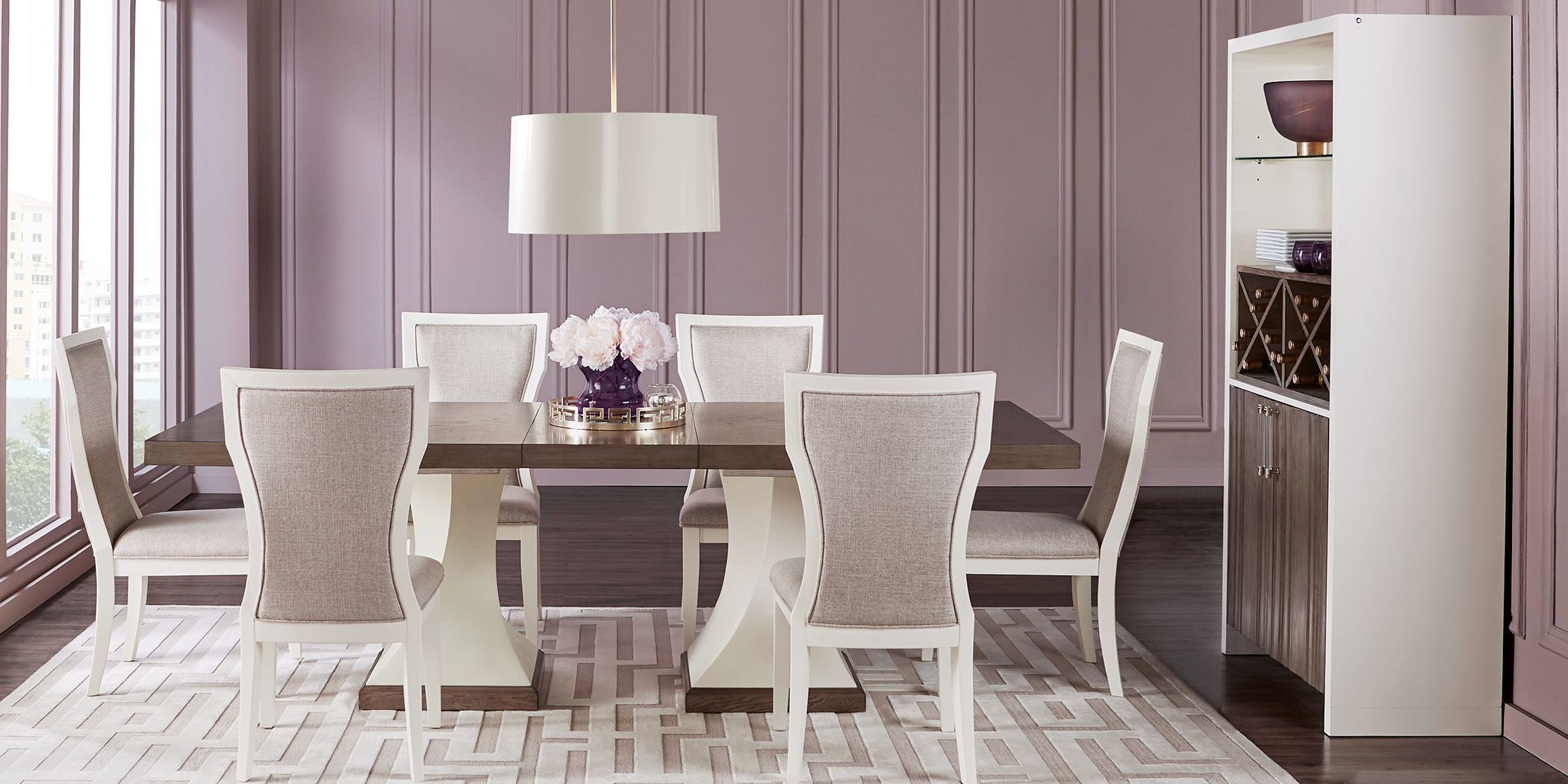 It is a chic collection of Sofia Vergara Santa Fiora, which offers 5 Pc in the dining room set along with other furniture products. The dining table is associated with five chairs. It is crafted with oak veneers and wood solids in a grey ash tone giving the dining room a traditional look that fits in modern-day houses very well.
It provides back chairs that are quite elegant, adding extra beauty to the dining room and the house. It has a round-top table which is manufactured with solid woods bringing life to your living room and providing comfort to a great extent. It is effortless to maintain this Sofia Vergara Santa Fiora solid wood dining table as it can be cleaned with mild detergent and cotton cloth.
Sofia Vergara Cambrian Court-Brown 5 Pc Dining Room Set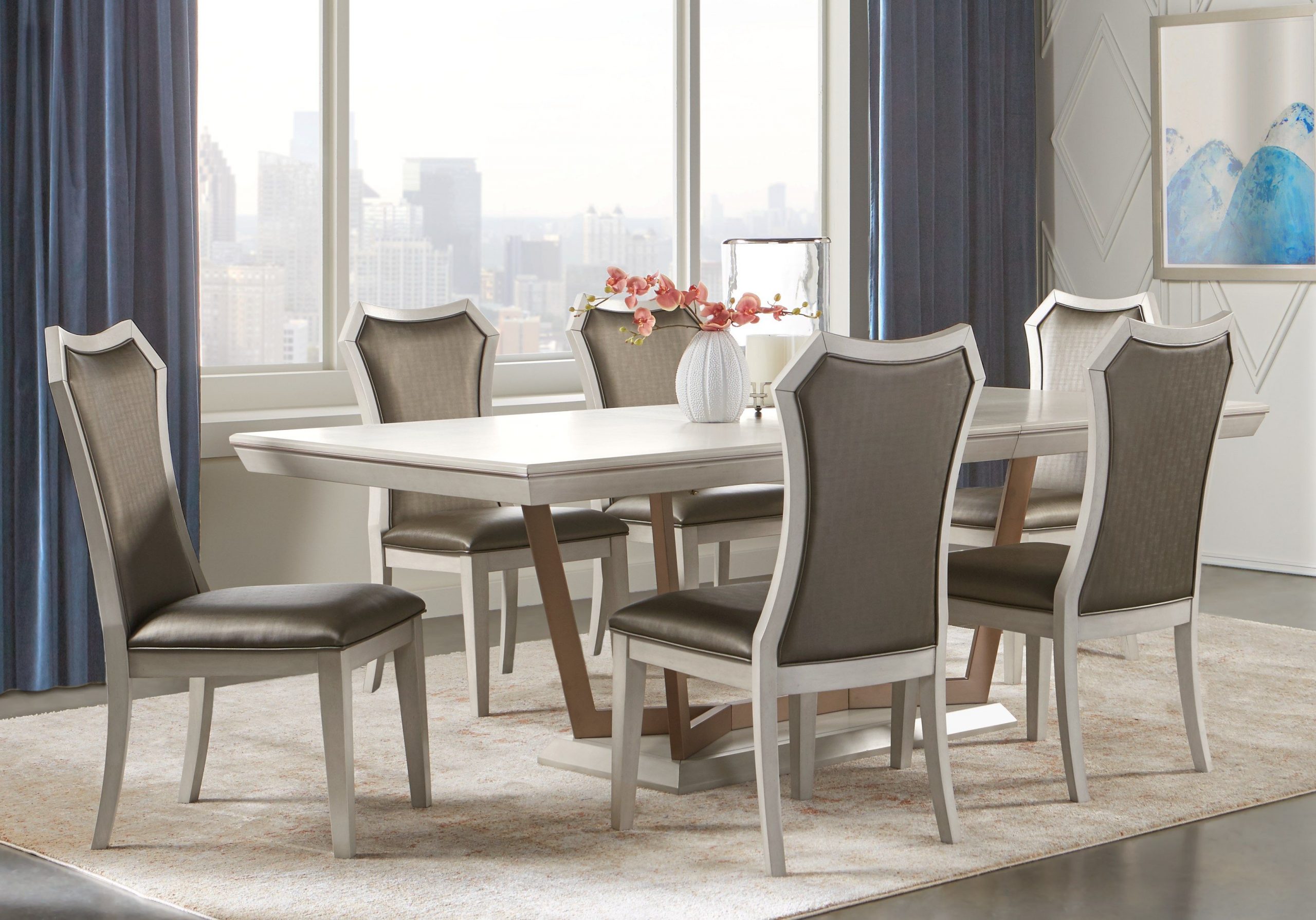 It has modern elegance, chic aesthetic style, and traditional design with a sleek touch of beauty.
It gives the whole dining set a contemporary look associated with all the chairs, and the tabletop view adds another beauty to the dining room set.
The table can be expanded up to 90 inches to accommodate all your guests and creates a sophisticated environment in your house. It has a matching brown finished wood frame that combines its stylish look and comfort.
This Sofia Vergara Cambrian Court dining table is crafted with wood solids and oak veneers, which adds special and unique features to the table itself. It is associated with a setting of 5 chairs along with a rectangular table with a chocolate brown color.
Sofia Vergara Savona Chocolate 5 Pc Rectangle Dining Room with Wood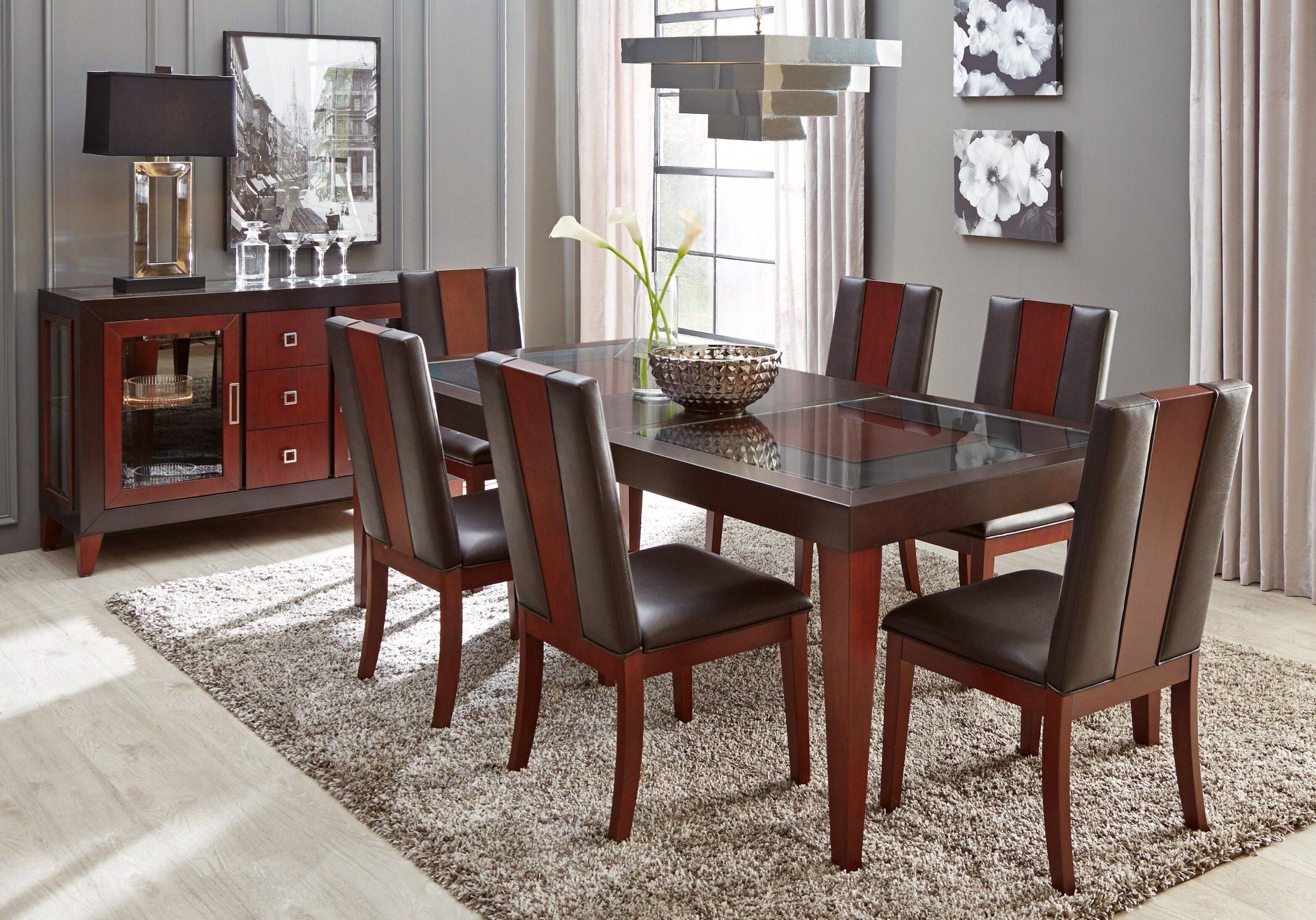 It has cleaned and sleek lines with a contemporary look and quality construction, which provides comfort to your family and guests. The Savona Dining Collection offers a unique and memorable dining room set, which you will love to place in your house by giving your home a luxurious look and view.
It is easy to clean and manufactured with Ultra Hyde material, which provides smooth and reliable touch to the tabletop crafted with a mirror on the top. This mirror on the top of the table gives the table an additional beauty along with the crafted solid woods. It can easily accommodate 4 to 5 guests for dining, and this table will give your home a royal and elegant look.
In the end
Sofia Vergara Furniture is totally about bringing class and luxury to your house by adding value to the furniture products which Sofia Vergara offers.
The quality which Sofia Vergara Furniture provides cannot be compared to any other brand. Not only this but also, they offer additional benefits like warranty period, friendly customer service, which adds another useful feature of Sofia Vergara furniture.
If you are looking to convert your house into a royal house, you can make use of this brand. The fashion style and contemporary look, which Sofia Vergara provides, is optimistic and beautiful.