Do you want to make your home look stunning? Then, you need a buffet! A buffet is a perfect way to display all of your beautiful dishes and offer a place for guests to serve themselves. When looking for the best buffet for your home, there are many things that you can take into consideration. For example, do you prefer vintage or modern furniture? Will it be used as a dining table? What color is in style this year? This blog post will answer these questions and provide ideas on finding an excellent buffet that will enhance the beauty of any room! Let's get to the points.
Decorate Your Buffet with a Beautiful Wreath
One way to give your buffet beautiful decor is by adding a wreath. You can place a large, circular wreath with an oversized bow at the top of mandarin orange-painted shelves or on the door frame leading into your dining area.
A more subtle option would be a simple garland made from leaves and berries hung around the buffet. You can then include contemporary sideboards and a rustic ladder to complete the look. The wreath, whether large or small, is a perfect way of adding natural decor to any room and giving your buffet some additional color. More modern options would be pairing this simple garland with plain silverware that has been placed on top of sleek black shelves for an attractive yet simple look.
Add a Vase of Fresh Flowers to Create an Inviting Atmosphere
Fresh flowers are a great way to add color and make any room look more inviting. There are many ways of incorporating fresh flowers into your buffet area, as well. For example, you could place large bouquets in urns over the shelves or use them at both ends of the table for an elegant feel.
A small arrangement with seasonal flowers might be good for the middle of a table or over an end-table. Either way, fresh flowers make any room look more welcoming and are another excellent idea for decorating your buffet area.
Place Candles on the Table for that Romantic Touch
A buffet is a perfect place for adding some candles. There are many ways to do this, depending on the shape of your table and what you would like it to look like. For example, if your table has an oval top, large pillar-style candlesticks could be placed there with tea lights flickering beneath them. You can also use various candlesticks in different heights to create a more interesting and decorative look.
You can decorate a buffet with large, rectangular shelves by placing several smaller candle holders on the shelf underneath the candles themselves. A nice touch would be using pillar-style or votive candles for this type of arrangement, as it creates an attractive glow that is ideal for a buffet table.
Fill up the Space with Pictures and Family Memorabilia
One of the most beautiful things about buffets is that they provide a lot of shelf space for displaying pictures and memorabilia. This provides an opportunity to reminisce with your guests as you share memories by looking at family photos or favorite items from when you were younger.
A buffet can also be decorated using various trinkets, such as a framed picture of your family's favorite pet or an old toy from childhood. The more you use, the more memories and history that you will bring to mind!
This is a great way to make any room feel inviting as it invites guests into your home while also providing them with some insight on who you are too.
Put Out All your Favorite Dishes for People to Choose From When They Walk In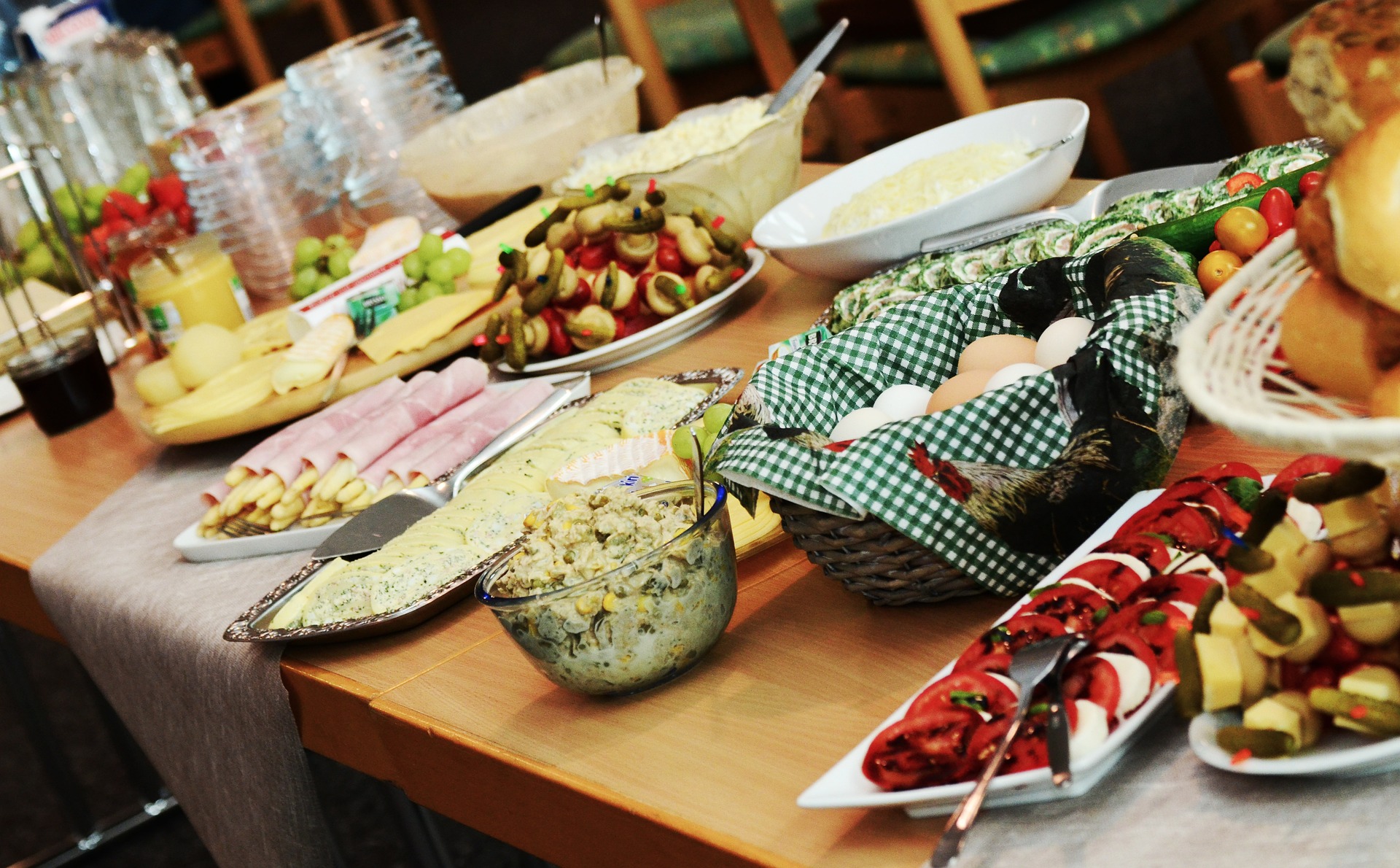 It's always a good idea to have food out for your guests when they walk into the room. To do this, you will need to put all of your dishes on display in the buffet area instead of taking them off after each use.
This allows people who arrive early and those who are more hungry later on in the evening to have access to food. It also means that all of your guests can choose the buffet recipe they want for themselves, and you won't need to worry about catering to everyone's tastes.
This is a good way to save time and money in the long run, as it will allow you more free time instead of having to spend hours cooking just before dinner.
Frame Some Inspirational Quotes or Scripture Verses Around the Buffet as Decoration
Don't forget to add some inspirational quotes or scriptures as a part of your buffet decoration! This is an excellent way of adding color and warmth to the room while also providing guests with something positive.
It's always great to have words that speak directly to you at eye level; this will give guests something uplifting during their time in your home while providing them with an opportunity to be encouraged by what they read. You might want scripture verses or phrases that are more religious in nature, while others might want quotes from their favorite author instead.
Clean up After Yourself As you Go
Another tip for creating an inviting buffet is to clean up after yourself as it goes. This will save time afterward and keep the area looking just how it should be! It's best if this habit starts during your mealtime so that guests don't have to see any dishes out or messy surfaces on their way in. This is especially important if you are regularly entertaining, as it will save time and hassle later when all of the dishes have been cleaned up.
Hopefully, these ideas for decorating your buffet have inspired you to create a more inviting atmosphere in your home. I would love to hear from you about how they worked out! If you'd like help with any of the steps or provide some additional tips and tricks when it comes to styling up your buffet area, please don't hesitate to reach out.