What Are Hand-Tufted Rugs?
Hand-tufted rugs are made by punching wool strands into a canvas backing. The tufts are then held in place by latex rubber, which is usually covered in linen covering. These rugs are less durable than hand-knotted rugs but are easier to make and less expensive. Some hand-tufted rugs even feature fringe.
These rugs can be made in many different colors and designs. Some are made in solid colors, others in stripes, and some are even made with paintings and abstract patterns. They can match different decor styles and are suited to both traditional and modern homes. If you're looking to use a hand-tufted rug in a modern or contemporary home, it's important to choose a color that pops. If you'd prefer a more subtle design, a hand-tufted rug with a neutral background may be a better choice.
Hand-tufted outdoor rugs are less expensive than hand-knotted rugs, but they still have a high level of quality. However, some people argue that hand-tufted rugs are not truly handmade. They're actually made with tufting guns, but they mimic the appearance of a hand-knotted carpet.
Benefits:
Durable
Hand-tufted rugs are made of natural fiber, such as wool or silk. These fibers are extremely durable and withstand wear and tear. They are also easy to maintain. These fibers also have a soft sheen, which makes them very attractive. Wool is also a great insulator and is a fire retardant.
A Great Investment
Hand-tufted rugs are a great investment in any home. These rugs are durable and do not easily get damaged. If you are looking for a unique rug, you should consider a custom-made rug. A good example is MAT The Basics, which produces hand-tufted custom rugs in-house. This company has highly trained and experienced weavers on hand.
Versatility
Another benefit of hand-tufted rugs is their versatility. They can be used in multiple rooms of the house, and they're also perfect for outdoor spaces. Because they are soft and durable, hand-tufted rugs can withstand outdoor conditions and weather changes without getting damaged. The pile height on these rugs is high enough to make them very comfortable to sit on.
Cheaper
Hand-tufted rugs are also cheaper than their hand-knotted counterparts. Their durability and aesthetic appeal have made them popular with many families. These rugs can last decades, and they're often passed down from generation to generation. This makes them an excellent choice for the discerning homebuyer. Most hand-tufted rugs are cheaper because they are light-weighted and are made from quality tencel and cotton sheets.
What Are Hand-Knotted Rugs?
Hand-knotted rugs have a long history and are known for their expert technique. These rugs require months of meticulous work to complete. Thousands of individual knots are tied together to create intricate designs. They are considered to be heirloom-quality rugs, which means they are a worthy investment.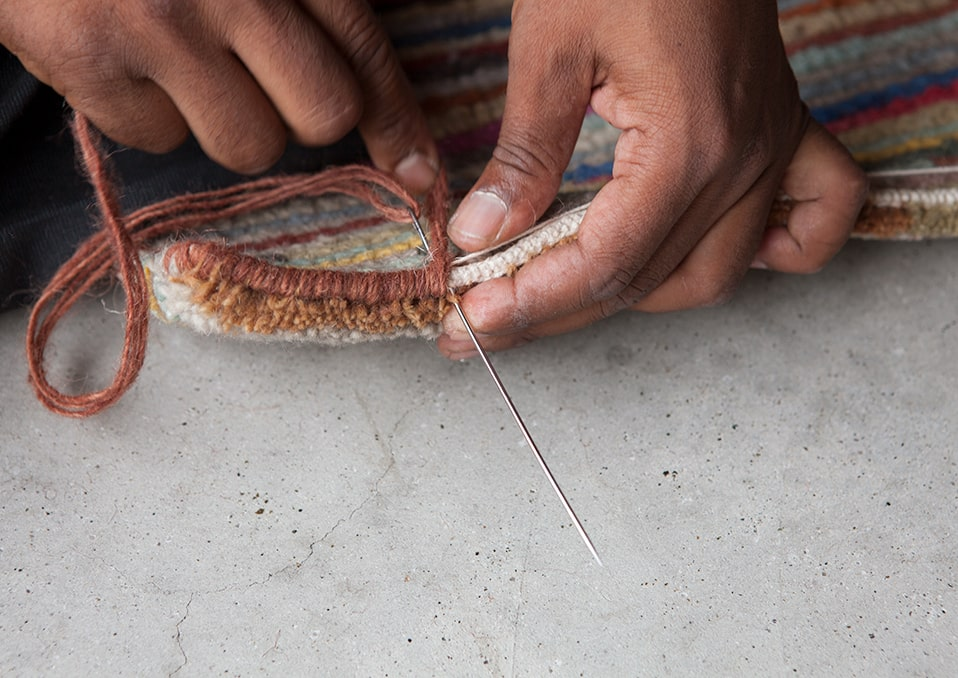 Hand-knotted rugs are generally made of wool. This makes them the softest rugs available, making them perfect eastern king bed rooms and living rooms. These rugs make rooms feel cozy and inviting, and guests will love coming over to admire them.
Benefits
Easily Maintained
Besides being stylish and durable, hand-knotted rugs are also easy to maintain. You only have to vacuum them every once in a while and clean them as and when needed. This type of flooring is more durable than other carpets and will last for years. Hand-knotted rugs also come with a unique character.
Durable
Hand-knotted rugs are handmade, and their intricate patterns and fine tufts make them far more durable than their machine-made counterparts. This means that a hand-knotted rug will keep its original shape for decades to come, unlike a tufted one. You can even pass a hand-knotted rug on to a future generation.
Strong Material
Hand-knotted rugs are made with natural materials and complex weaving techniques. Wool is the most common material used in hand-knotted rugs. It is also the strongest rug material in the world. Its unique texture and durability make it a popular choice for flooring decor in many cultures. Hand-knotted rugs may be slightly more expensive than their machine-made counterparts.
Minimal Environment Impact
Another advantage of hand-knotted rugs is that they have a minimal environmental impact. Because they are handmade, no chemicals or toxins are used to create them. Organic fabric is often used in hand-knotted area rugs. The process is also free of animal cruelty. Sheep are not injured during the shearing process, which is necessary for their health during the warmer months.
Can Be Found In Varied Sizes And Colors
Hand-knotted rugs are available in a variety of sizes and colors. From muted earth tones to vivid jewel tones, you can choose a rug that matches your existing decor or create a brand-new look. These handmade rugs are a great investment and will last for many years.
While Concluding
The difference between hand-knotted and hand-tufted rugs is the method of construction. Knotted rugs are created by placing loops of wool or cloth into a fabric. Hand-tufted rugs, on the other hand, are created by hand. The tufting process can be done by anyone and takes less time than hand knotting.