While much of the fireplace conversion tends to revolve around gas vs. wood, different types of vents, mantel corbels and the like, ensuring that fireplaces are well-maintained is vital to enjoying them year after year.
With winter right around the corner, many are looking forward to cozying up around a crackling indoor fire. But before that can happen, it is advisable to make sure that your fireplace is in proper working order.
The fact is that poorly maintained fireplaces can be outright dangerous, potentially causing house fires, harmful exposure to smoke ruining your furniture, and similar risks.
To make sure that your fireplace is just as safe and enjoyable as you expect it to be during the cold winter months, follow these nine fireplace maintenance tips.
1. Remove Creosote Buildup and Soot
Burning wood in a fireplace can often leave behind residue in the form of creosote and soot.
Creosote is a slightly sticky deposit that is caused from the incomplete combustion of wood. Creosote tends to build up in the chimneys of wood-burning fireplaces and can cause fires if not dealt with on a regular basis. While this material can be relatively easy to clean at first, if left to build up, it can end up turning into a tar-like substance that is much harder to handle.
Soot, on the other hand, is a fine dark brown or black powder which is much softer than creosote but equally dangerous in terms of potential fire hazards. Moreover, soot can easily darken or stain surfaces, so it is essential to clean this material carefully as it can easily dirty your clothes, carpet, floors, antique hardware around the fireplace and other surfaces in which it comes into contact. If necessary, both of these materials can be removed by a professional. More on that later.
2. Regularly Remove Ashes
In the winter months when fireplaces are used more regularly, it is vital to keep an eye on the levels of ash in the firebox. If too much ash builds up, it can cause a fire to burn out more quickly. Therefore, it is essential to remove ash frequently.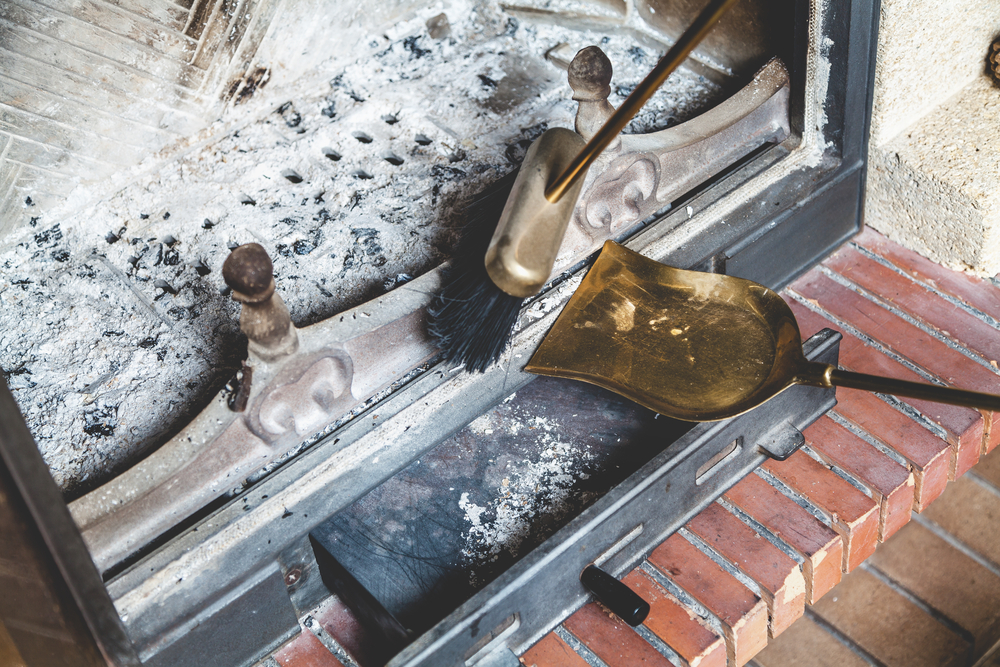 That said, it is wise to leave about an inch of ash in the firebox when a fireplace is seeing heavy usage, as this can make building and maintaining a fire far easier. The ash that does get removed can be sprinkled on concrete to melt ice, used in compost or simply placed in a fireproof container for later use in the fireplace (hint: keep reading).
3. Clean Glass Doors
While not all fireplaces have them, glass doors can attract a considerable amount of soot. Therefore, it is best to keep these clean for both safety and aesthetic reasons even if you stay in a boho dorm room.
Fortunately, there are a variety of ways to clean glass fireplace doors. Homeowners might opt to use a razor blade for thick layers of soot, a vinegar solution for thinner coatings or even dipping a damp towel in leftover ashes.
No matter which method you use, be aware that soot stains, so it might be best to take the doors off and clean them in an outdoor setting.
4. Cleanse the Hearth
Similar to a fireplace's glass doors, the heart of the fireplace can also be stained by soot. In order to keep this surface clean, you will want to give it a good cleansing about every six weeks.
Fireplaces with slate hearths merely require water and a bit of hydrogen peroxide. However, those bricks will demand water and a special brick cleaner, as well as a scrub brush. Similarly, concrete hearths need oxygen bleach to come clean.
5. Look for Potential Damage
One of the major points of fireplace maintenance is to ensure that there are no cracks, loose joints or other damage that could cause a potentially hazardous situation.
If you do come across any issues, depending on the situation, it is advisable to hire a professional mason to repair any brickwork to ensure that the mortar can properly withstand the heat generated from the fireplace.
6. Cap the Chimney
Chimney caps are incredibly useful as they help to prevent animals from nesting inside, block debris from entering and serve to thwart potential water damage.
That said, procuring and installing a chimney cap is essential for maintaining a well-kempt fireplace.
Also, since they go hand-in-hand, it is wise to ensure that your fireplace damper is working properly and that there is no debris that is preventing it from operating correctly.
7. Remove Rubbish from the Roof
Over the course of a year, a considerable amount of detritus can land on a roof, including pine needles, leaves, small tree branches or even little pieces of the chimney's brick and mortar. All of these little bits and pieces can cause a hazardous situation if not properly cleared.
8. Verify Smoke Alarms Are in Working Order
While this isn't exactly a fireplace maintenance tip, ensuring that a home's smoke alarms are working is critical to safely using a fireplace during the winter months.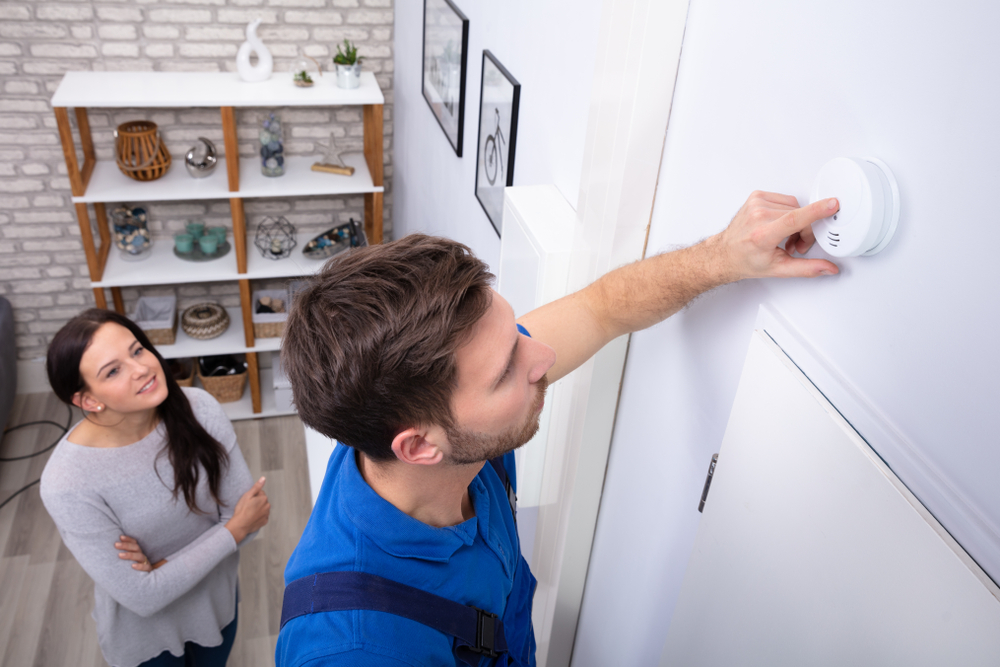 Smoke alarms should live on every level of the home and in each of its various rooms. Be sure that smoke alarms are present in all of the necessary locations and verify that they do indeed work as intended.
9. Hire a Chimney Sweep
Honestly, handling all of these tasks all on your own can be quite a project. If you want to save a bit of time and ensure that some of these chores are performed properly, it can be wise to hire a certified chimney sweep to remove any soot and debris, identify any weak spots in the chimney and its liner or even replace the chimney cap.
Final Thoughts
Fireplaces are sometimes essential (and always enjoyable) during the winter. Keeping them clean and well-kempt will help you to ensure that your fireplace will continue to be a wonderful place to cozy up on cold days for years to come.
Follow the fireplace maintenance tips outlined above for a safe and warm winter season.