What does a palace or a manor represent? It narrates the story of their owner. It reflects the taste, personality, and lifestyles of the owner. Hence every house has a story to tell, only if you listen to it. Your dream house tells your story. So why not tell it in the most fashionable, functional, creative, and elegant way. The most elegant way to write it is through a home decor blog. Write Now
Imagine you have the classiest lawn and a luxurious sterling bathtub for your house, but there are no proper drawers and cupboards for storage. The mess it could make of your dream home is unimaginable.
Whether you are about to make your dream house come true or trying to revamp your house, cabinets and furniture are a significant part of it. Thomasville provides a range of cabinets to choose from. Their design is timeless and elegant.
Let me give you a back story of Thomasville cabinetry to understand it better.
This company started with chairs almost 100 years ago. And the most iconic big chair is displayed in the town square. It has come a long way from chair to the most renowned home furnishing company.
The aim is to provide the most functional, compact, and elegantly designed cabinetries for your kitchen, bedrooms, bathrooms, laundry rooms, and any room of your house. It provides ease and innovative organizing with a timeless and elegant look to your house.
Before heading out to purchase a brand-new look for your kitchen cabinets or other rooms cabinets, important to consider some aspects like this:
Set a Budget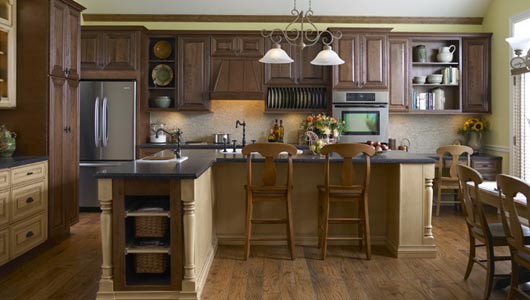 Estimating and setting a realistic budget is the first and foremost step to consider before heading out. 40-50% of your money goes in cabinets. So, you need to set a budget as per your cabinet's requirements and the space of your house.
What kind of cabinets do you want? Manufactured cabinets or customized ones. Manufactured usually cost less, and customized talks all about money.
Do you think preassembled cabinets suit you or are ready to assemble? Unassembled are usually favored by price rather than ready to assemble as the company must invest the time in it.
Also, consider the delivery charges and extras that you may need to pay.
Cabinet Material
Once you are all set with the budget. You can go and look for the material of cabinets. As it is a long-term investment, it must be durable and equally fashionable. Here are a few materials you can choose from:
Solid Wood
The favored one by all of us most of the time. Wood is the most common and preferred for cabinets. I never go out of style. It fits in traditional as well as a modern home. It is an excellent way to appreciate our environment as it is a non-toxic and renewable source.
It is available in a wide variety and easy to clean and take care of. A good quality wood suffices for a long time. However, it needs polishing and termite to be taken care of. A quality wood does not come cheap and a time-consuming material to work with.
Stainless Steel
Durable, sturdy material and last for a long time. Worked steel is rust-resistant and stain-resistant. It gives a unique look to your kitchen. Unlike wood and laments, heat and humidity do not affect it. At the same time, it is quite costly and noisy. It lost its luster and had to be polished from time to time. They are not scratch free too.
Laminates
Laminates are a sandwich of printed paper, think plastic sheet, and a base of tough plastic film. They are often preferred over wood and steel for being cost-efficient. Laminates are also offered in a wide range and give an almost woody look.
They are hassle-free. As no tension of scratches and humid effect. But it is also toxic and non-renewable as plastic is not exactly environment friendly. Few things must be appropriately seen while installing it. If not installed correctly. Its edges start to chip off.
Storage Space
Do you have a lot of stuff and other supplies than normal ones? Or you need everything to be organized and nothing in the open? Do you have a compact space for storage in your house? And need a creative and innovative solution for storage.
It would help if you considered all these questions before purchasing one.
Here are the must-have cabinets you need to see:
Standard Base with Roll-Out Trays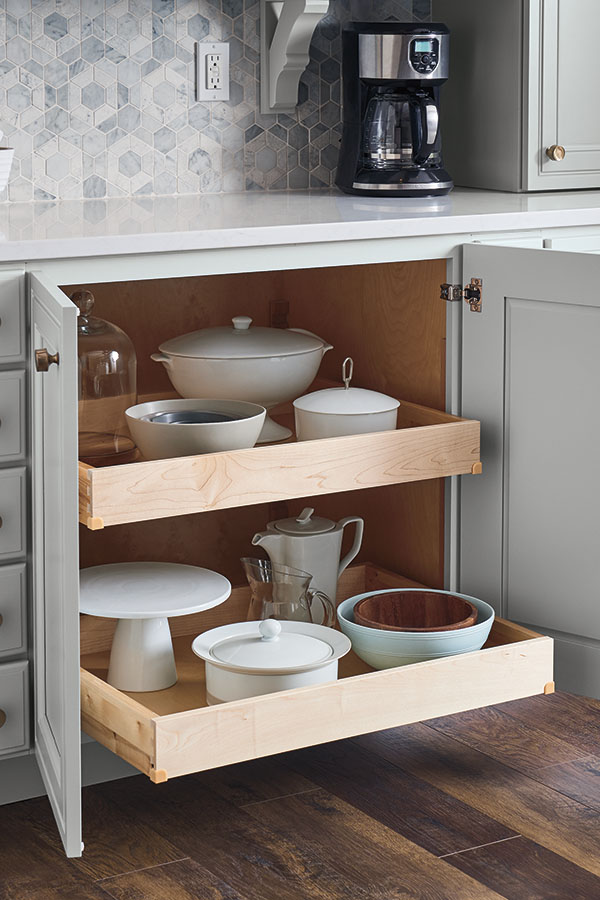 At some point, we all had to empty the whole cupboard for that one thing that is lying in the corner, right! And after that, you will have to reorganize that whole thing. It is such a pain.
For this reason, this roll-out tray is on top of the list of must-have cabinets. Thomasville's motto is that it is not how much you can get into it but how much you can take out. And this is true on so many levels.
This is a standard base tray constructed with hardwood as hardwood provides durability and chic beauty. The joints are as healthy as furniture strength joints. It is easy to pull out is facilitated with epoxy coated steel runners with durable nylon rollers.
This model is not only for the kitchen but is available for bathrooms, pantries, and other rooms. Roll out trays can also be in tall cabinets.
All the trays are custom made to fit your space and needs. The price is above average but below premium cabinets that are available in the market, which seems reasonable for the quality and material provided.
Base Cutlery Insert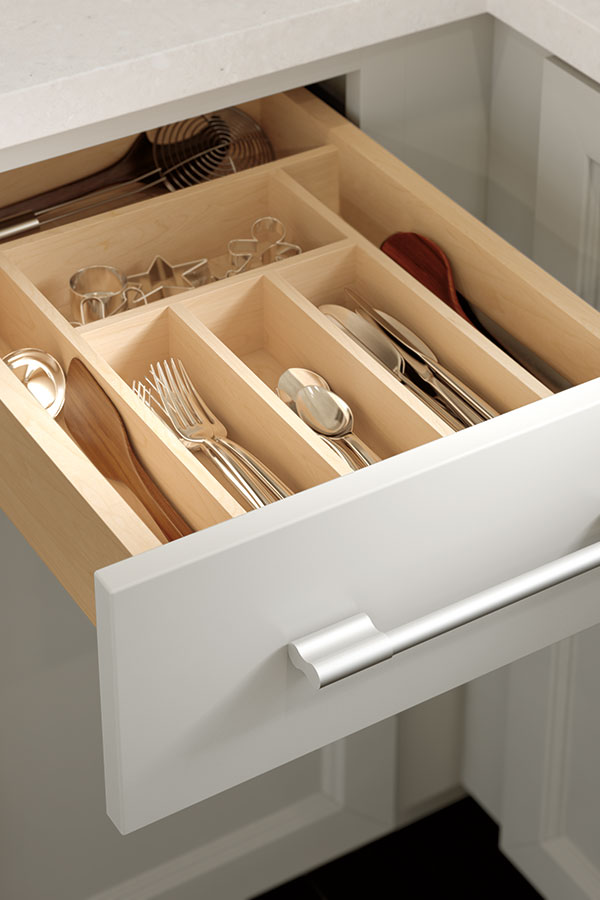 This base cutlery divider is second on the list of must-haves cabinets.it is a hassle to find that one spoon or spatula on time in the kitchen while you are cooking. And when you do find it, it is not the right one, right!
You can customize this Thomasville cutlery divider. It aims to provide maximum capacity with limited space. You can have two to three-tier sections inside the drawers. options are also available for how much width you want for each divider.
This cutlery divider is also constructed with solid hardwood and available in various shades. It is a superb product for organizing your kitchen in a compact space.
Base Lazy Susan Chrome Rails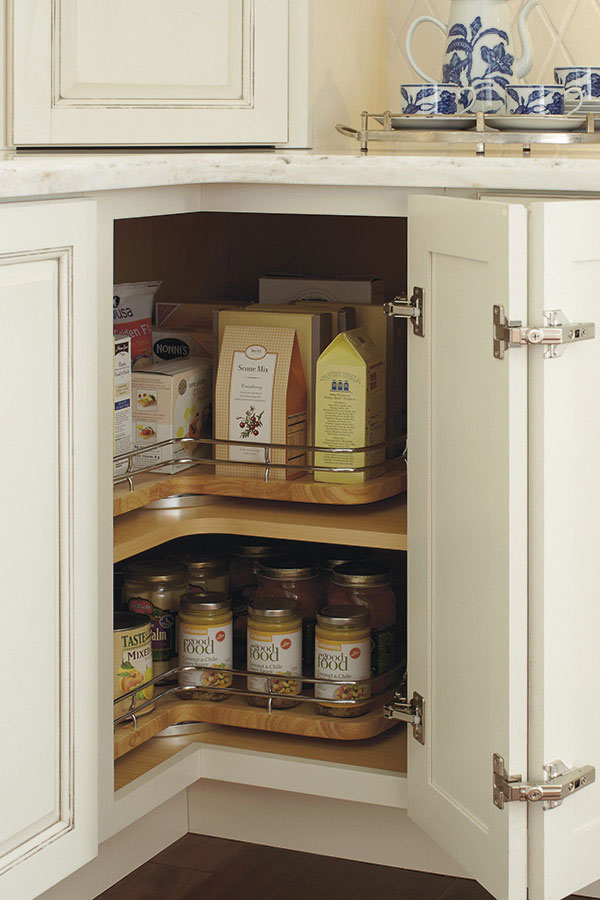 We all have suffered from this. You open your kitchen cupboard door, and all the Tupperware comes right at you. That is why this lazy Susan chrome rail is on number three of our must-have lists.
It provides stability and support while you can browse through your cabinet with ease. It ensures that you get the product as per your requirement and size and visits your nearest home depot store. The base is made from solid hardwood for stability and sturdiness. The rails are heavy-duty chrome plated. It is just one of those things you must have in your kitchen.
Lazy Susan Pull Out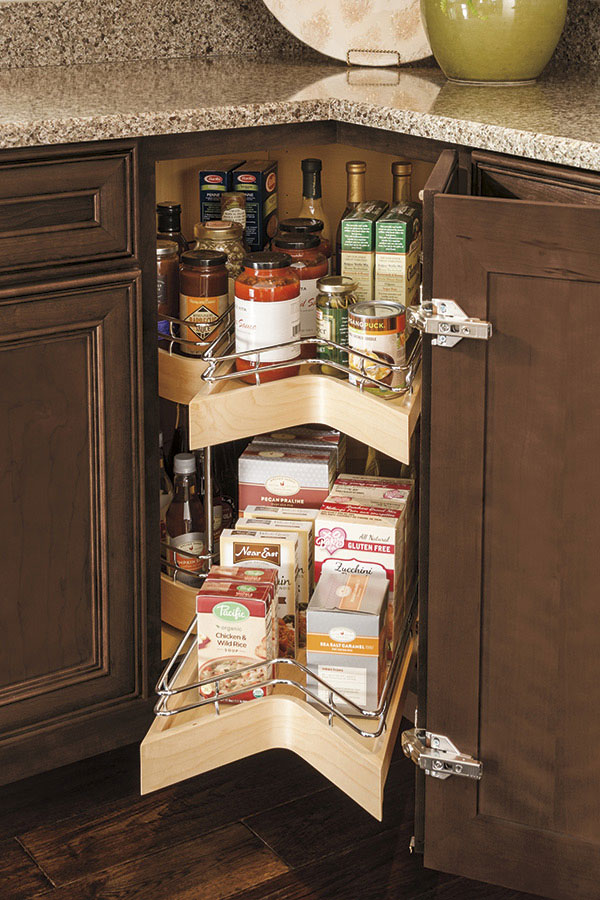 It is aimed at all those corner cabinets where no one has been able to reach. Now you can have a versatile cabinet that saves your space with a fancy outlook.
This revolving lazy Susan pull out drawer is the perfect solution. It is a powerhouse with rotation and center section pull out. This one is number four on our must-have list of cabinets.
In cities, we do not exactly have as much as space we want. This is a perfect solution for all these modern kitchens where you do not have the luxury to waste spaces.
Thomasville gives you the option to customize your blind spot in the kitchen. You can measure up your space and order it according to that. For satisfaction, visit the nearest store and see it for yourself.
Tall Pantry Pullout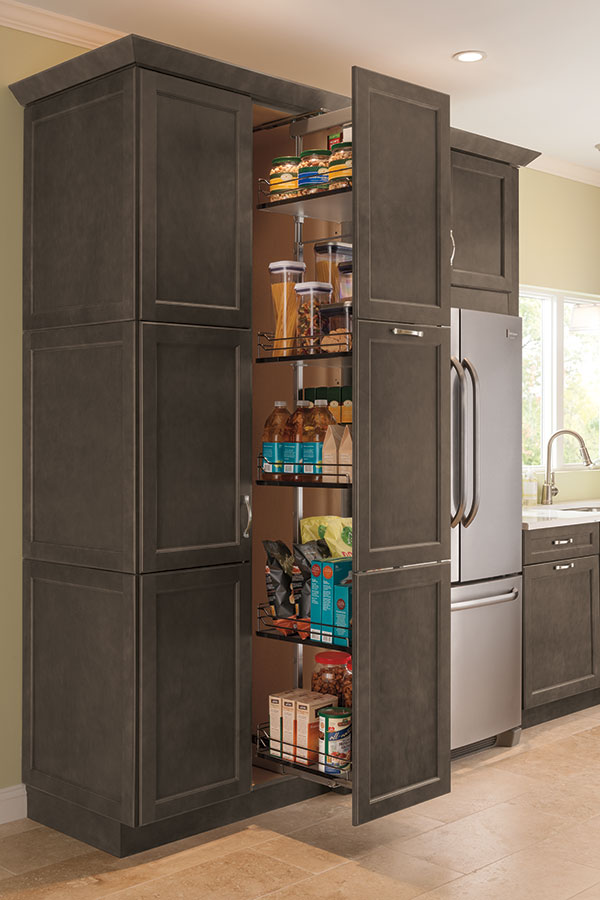 I am a massive fan of this tall pull out tall pantry tray. You do not need to bend down or reorganize your whole cabinet for one jar. A tall pull out pantry tray is the solution.
It is also perfect for all those elderly people who love to cook but have difficulties reaching out to the jars. It saves up your space and time.
Thomasville tall pantry pullout outs are made of hardwood and heavy-duty steel. It is accessible from both sides. You can have it customized. It provides cabinets that are suitable for your kitchen size and the drawers you want.
With this, you will not have to face the problem of opening the cabinet on its own. Thomasville ensures quality above all. With this, the tall panty tray cabinet ends on number five on our list of must-haves.
Frequently Asked Questions
Are Thomasville Cabinets Made of Solid Wood?
Thomasville cabinets provide three kinds of wood for the construction of cabinets. The traditional hardwoods like maple, cherry, oak, and rustic hickory. Second, is the specialty hardwood finished. Its design on woods like quarter sawed oak and bamboo. And the last one is alternative materials.
Therefore, all the cabinets Thomasville makes are standard sizes. They are solid hardwood, ensuring furniture-quality joinery for long-lasting performance.
Are Thomasville cabinets made in the USA?
Masterbrand cabinets manufacture Thomasville cabinets. Masterbrand cabinets are the largest manufacturer in North America. Thomasville products are exclusively sold through the home depot store across the nation.
Masterbrand cabinets Inc. is a division of Fortune Brands Home and Security. The core values of Masterbrand cabinets are to provide value to the customer. The principles they work on is quality construction with a fashionable and sustainable look.
Are Thomasville Cabinets Worthwhile?
Over the years, Thomasville has earned a reputation in the market for its design, quality, and sustainability. It aims to bring your kitchen cabinetry vision to life.
On average it has been rated 4.2 out of 5. Customers highly recommend it for its fine finishing and quality. To find the best design and style suited for your house, it is recommended to visit the nearest store.
The thing is customers either loved it or hated it. It will not be fair if I leave the complaints of the customers. In a wrap-up, visit the store for yourself and ask for help there and select the one suited for you.
Conclusion
What you think is the heart of a house? Where do you spend most of the time in the house?
I think it is the kitchen, right! It is one place where all your family sits together. You know the phrase the family who eats together, stays together.
So, in this piece, we try to give valuable information and reviews regarding the things that make a kitchen more functional. As cabinets are the essentials of your kitchen, you should know what brand to choose before making any investment in it. It is not just the kitchen cabinets that matter the difference and must have cabinets for your bathroom and other rooms are also essential.
In a nutshell, information empowers the consumers. With this information, we are trying to empower you in your cabinetry purchase.