If you have never visited a dude ranch before, it is time to right this wrong as soon as possible. A stay at a western-style resort will allow you to embrace many fun outdoor activities in a natural, open setting. Think fishing, horseback riding, atmospheric BBQs, and cozy campfires.
Perfect for families, couples, and groups of friends, every age will have an enjoyable time. Find out more about the best dude ranches in the USA.
Westgate River Ranch Resort & Rodeo – River Ranch, Orlando
Put on your cowboy hat and visit Westgate River Ranch Resort & Rodeo on your first or next vacation to Central Florida. Offering horseback riding, line dancing, and a Saturday Night Rodeo, you will create many unique memories at this stunning rural resort that overlooks the breathtaking Kissimmee River.
For an authentic dude ranch experience in an untouched area of Central Florida, there is no reason to look beyond Westgate River Ranch Resort & Rodeo. An hour's drive away from Orlando, Florida, you will fall in love with the Sunshine State's natural beauty throughout your stay.
Spread across 1,700 acres of land, you can embrace many outdoor adventures in the wide-open space. Westgate's dude ranch experience has activities for every personality, such as horseback riding, rock climbing, airboat rides, fishing, and guided hunts.
The highlight of your stay will undoubtedly be the Saturday Night Rodeo at the resort's 1,200 Rodeo Arena. You'll watch competitive bull riders battle it out in various events, such as barrel racing and trick riding.
After a day of non-stop outdoor adventures or live entertainment, you can enjoy a good night's rest inside a luxe Conestoga Wagon, a stylish teepee, a luxury glamping tent, or an elegant lodge suite.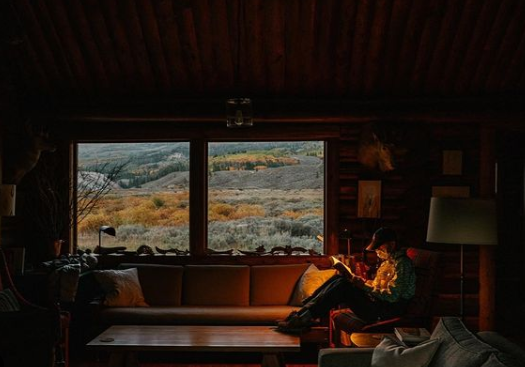 Darwin Ranch – Jackson Hole, Wyoming
The historic yet secluded Darwin Ranch provides a western backdrop, many outdoor activities, and farm-to-table dishes that guarantee a delightful stay. Run by a mother-son team, you can trust you'll receive a personal, family-friendly touch at this idyllic dude ranch, which transforms into a ski resort during winter.
There is nowhere in the country quite like Darwin Ranch. It is the most remote guest ranch found in the lower 48 states, as you'll need to travel down 25 miles of dirt road to reach it. Yet, seclusion doesn't equal boredom, as you can spend your time hiking or horseback riding across its magnificent mountain ridges without encountering a soul for many miles.
Farm-to-table dishes satisfy all rumbling stomachs after a busy day of exploring the vast landscape, as all ingredients are sourced from the family farm. Once a meal has come to an end, you can relax with your loved ones on the main lodge's front porch with a cocktail while enjoying a beautiful view of the Gros Ventre River. If your muscles feel tired after a day of hiking, you'll experience instant relaxation when slipping into a wood-fired hot tub. You can then retire to a 100-year-old hand-built cabin with comfortable beds and modern home comforts.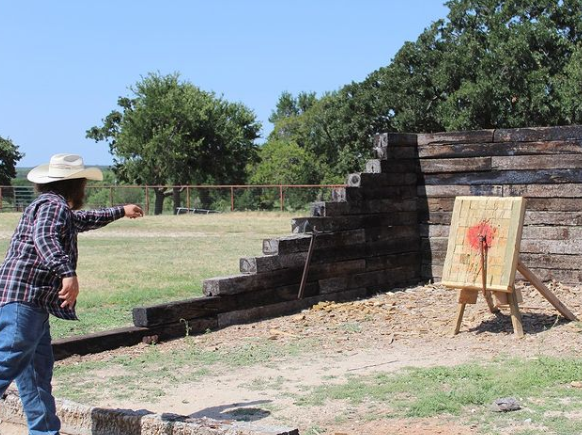 Wildcatter Ranch & Resort – Graham, Texas
The 41-room Wildcatter Ranch & Resort provides many accommodation options to suit different needs, as well as guided lessons from real-life Texan cowboys. Learn how to throw a tomahawk or improve your aim with a bow and arrow.
Wildcatter Ranch Resort is a rural escape from the hustle of Graham, Texas. Set within North Texas Hill Country, you'll be surrounded by nature during a trip at the western-style accommodation near Possum Kingdom Lake.
The one-of-a-kind dude ranch has activities to help you unleash your inner cowboy or cowgirl. You can enjoy guided activities from genuine Texan cowboys, such as mini roping lessons, tomahawk throwing, and archery. Maximise your time in the picture-perfect landscape with horseback riding or a jeep tour of the Kisinger Mountain around the Brazos River.
All that fun will cause you to work up quite an appetite, and you will not need to travel far for a delicious dish. Wildcatter Steakhouse serves perfectly cooked, hand-cut Mesquite grilled steaks bursting with flavour. Alternatively, order delicious Chicken fried steak or another Texan favourite. Once you're all tired out, and your belly is full, you can rest at an upscale cabin suite, guest home, or hotel room at Wildcatter Ranch & Resort. Bliss!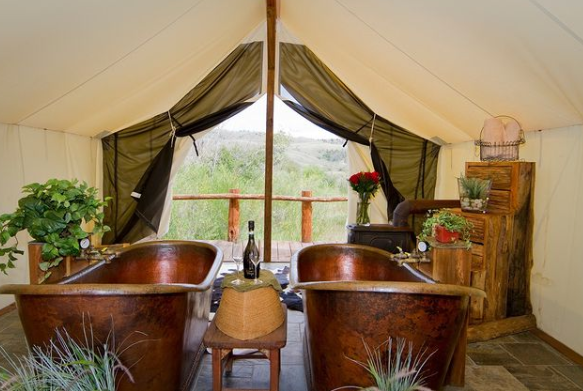 C Lazy U Ranch – Granby, Colorado
C Lazy U Ranch is almost a celebration of the United States, teaching American West traditions and serving authentic, local dishes that linger on the tongue. The 103-year-old dude ranch is a perfect spot for a family getaway, a romantic retreat, or a fun reunion with friends.
It doesn't matter if you hail from a bustling city or a rural destination; you're sure to fall in love with C Lazy U Ranch in Granby, Colorado. The all-inclusive dude ranch has been educating visitors on American West traditions for more than a century. Spend your trip horseback riding surrounded by beautiful wildflowers, catching fish at Willow Creek, or learning to trap-shoot during summer. The mountainsides will become blanketed with snow throughout winter, making the ranch an ideal destination for skiing and tubing.
It will feel hard to take your eyes off the rolling green meadows and vibrant blue skies during a trip, but the accommodations are as impressive. The 103-year-old ranch has more than 38 accommodations, from charming individual rooms to one-to three-bedroom private cabins to suit different guest needs.
Dinner has the wow factor, as you can order elevated dishes at the on-site restaurant. The all-inclusive meals are thoughtfully created by a team of talented chefs, providing farm-inspired, wood-fired flavours you'll remember. Every dish on the menu is a celebration of American fare, as you can enjoy aged beef, a melt-in-your-mouth rack of lamb, or fresh trout.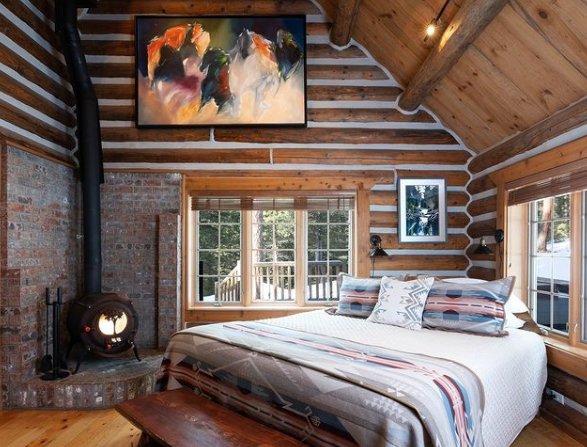 Triple Creek Ranch – Darby, Montana
The 50-acre Triple Creek Ranch is an all-include resort dedicated to providing guests with luxury accommodations, gourmet dining experiences, and off-ranch western adventures, such as horseback riding and sapphire panning.
Tucked inside the Bitterroot Mountains, Triple Creek Ranch has a diverse array of beautiful ranch homes and private log cabins surrounded by a picturesque landscape and ample wildlife.
The rural beauty of Montana will become embedded in your mind, and you'll never forget the many western adventures available at this luxury dude ranch. Many outdoor pursuits are included in your cabin rate, such as horseback riding, mountain biking, archery, tennis, hiking, and sapphire panning.
Executive Chef Jacob Leatherman creates a new dinner menu daily at Triple Creek Ranch. He has delighted guests with exceptional dining experiences at the ranch for more than 15 years. The diverse menus feature the freshest ingredients and creative presentations, ensuring each dish has the wow factor when served at your table. It is a rural experience you will not forget.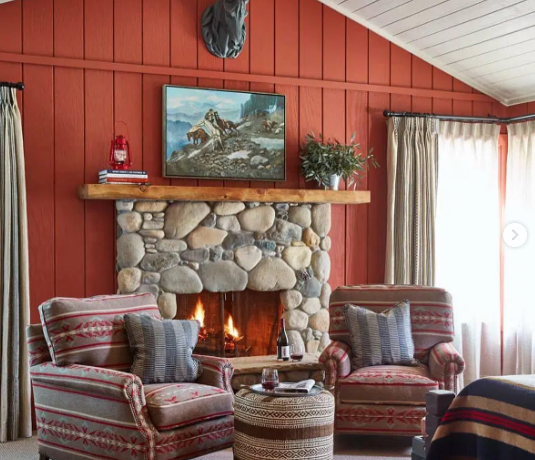 Alisal Guest Ranch and Resort – Solvang, CA
Match great company with a great backdrop by organising a stay at Alisal Guest Ranch and Resort. It is a rural Californian retreat away from atmospheric LA and Santa Barbara, which are a short drive away from the luxurious dude ranch.
Despite being a two-hour drive from Los Angeles, Alisal Guest Ranch and Resort will feel a world away from the sprawling city. The rural backdrop is the best way to escape the hustle and bustle of urban life, offering the beautiful rolling hills of the Santa Ynez Valley, western-style accommodations, and rural activities.
After checking in to Alisal Guest Ranch and Resort, you can enjoy many outdoor activities, such as a ropes course, wrangler skills workshops, and horseback riding. The luxury dude ranch hosts an authentic country fair and rodeo extravaganza every Wednesday at 5.30 pm, which includes barrel racing, roping, and team sorting.
Between activities, you can grab lunch at The Chuckwagon Grill & Waggin' Tongue Bar, which serves burgers you can complement with a local beer on tap or a glass of wine. Once the day turns to night, you and your family can chat about an exciting day at The Ranch Room and Creekside. The menu changes daily, ensuring no two days are the same during your stay, and offers dishes created from fresh ingredients sourced at local farms and ranches. You can finish a fun evening at The Oak Room with a soda, beer, wine, or coffee around the fireplace hearth.
A fun vacation doesn't require you to lounge around a pool in the sunshine. Refresh your mind and body by booking a stay at a luxurious dude ranch in the US. It will offer cosy accommodations, superb dining experiences, and unique outdoor activities you will love to complete with your loved ones, from roping lessons to horseback riding across rolling green hills.