You finally have your own house and can't wait to make it your own, but you don't know where to start? Don't worry, everyone can make their home that special place where they feel cozy and happy through interior décor.
Part of growing up is getting to know yourself better, understanding what's your taste. To decide on your furniture and décor you need to know what style you like and what makes you feel cozy and safe. You can start from the basics: do you prefer it simple and minimalistic, or colorful and decorated? Are you into vintage glamour or are you interested in a contemporary style? You can start from here to understand if you're the industrial type of person, or maybe a French country décor lover. There are many ways you can furnish your house and you can even mix up different styles to reflect your personality and taste.
Once you start decorating your house, no matter which style you have chosen, don't forget one item everyone should have at least one: the vase. It's a must have for every house, because it can be in any shape and color to fit into the rest of the furniture, adds class to the room and can fll an empty space. You can leave them as they are as a decoration piece or to hold a beautiful bouquet of flowers. From very simple to artistic statement pieces, there are billions of options.
A vase can complement the rest of the furniture, draw attention to a painting or a mirror, even make the flowers inside it look more stunning. It always gives off elegance and adds charm to an area. Besides shape and color, vases come in different materials such as ceramic, metal or glass. One type of vase that never fails to be luxurious without being pretentious and can fit into any décor style is the Murano glass vase.
What makes these vases so fascinating is how they are made. Murano glass takes its name from the little island where it is made, which is part of a network of tiny islands in the Venice lagoon. The Murano glass blowing is an art passed from generation to generation since the 13th century and it is still handmade with the same techniques and tools used then. Behind each vase there is an eight hundred years old tradition and techniques the masters have learned and taught for all this time, preserving the authenticity of the work perfected by their ancestors.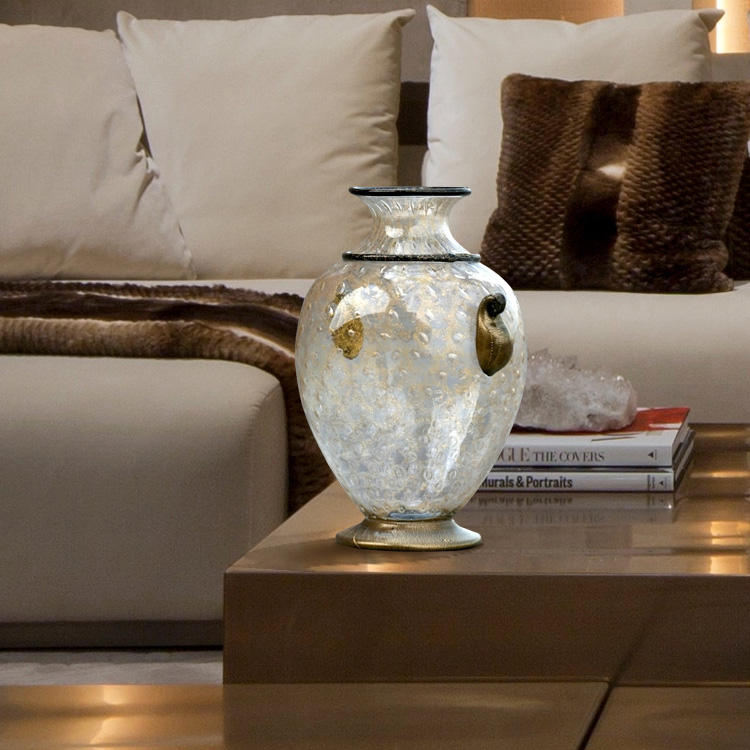 Murano glass is a perfect example of the Made in Italy quality. It can only be made in the little island of Murano and every piece has a trademark that certifies that it was made at a furnace that follows the traditional glass blowing process.
Murano glass vases are famous for their elegant shapes and beautiful colors. The latter are bright, vivid and can create amazing shapes inside the glass. Masters achieve these rich colors by adding different minerals into the mix. Traditionally, gold and silver specks are added into the glass, making the piece even more luxurious. This gives any object a glowing effect, as the specks reflect the light and can bright up the room. There are many different shapes, from classic to modern, to artistic. Being hand-made one by one by the glass masters, every vase is different from another, so you'll have a unique piece that only you own. The shape depends also on the technique used to create the glass. Each one gives the vase a different style and is suitable for a different type of interior.
If you're looking for a vase for your minimalistic apartment, you'd probably prefer something not too colorful. In this case, a black Battuto vase would be perfect for you. It's a process whose name means struck or beaten. Masters use a grinding tool to make this glass look like a fish scale or to give the hammered metal effect. It's simple but still eye-catching. An example of a beautiful Battuto vase suitable for a minimalistic décor is the Ginestra vase.
If you prefer a playful and colorful décor style, you'll love the vases created with the Doublé process. Through this technique golden or silver decorations are added inside the glass. It requires putting multiple layers, meaning engraving the decoration on the initial glass, putting gold or silver on it, and then another layer of transparent glass is put on top of the decoration. One good example is the Flaminia vase, perfect for a colorful and eclectic décor.
A traditional Murano glass vase is timeless, but there are many different designs. If you're looking for a classic Italian vase, a roman shaped one like the Chimera vase could interest you. It's a piece of Italian heritage that gives any house a sense of elegance and class. On the other hand, for modern
industrial lovers, the Zita vase could be a ft. It has simple solid colors, but its frosted glass technique that highlights the details gives the vase a brightness that will light up the room. There's also something for the art lovers who want a special vase that draws attention, and that would be the Laola vase. This abstract cubist artwork will make any environment one of its kind.
There are many more types of Murano glass vases to discover and we recommend certified retailers of authentic Murano glass such as YourMurano.com, where you can find all the vases mentioned above.