Although a mattress is usually a rather durable item, even it needs replacing when it's ran its course. On average a mattress can last anywhere between 7 to 25 years depending on a variety of factors such as what material it's made out of, brand, the way it's used and kept and more. The standard spring mattresses need replacement every 7 or 8 years.
When your mattress becomes uncomfortable and results in a decrease in your quality of sleep you would naturally want to replace it for a better one so you can continue to sleep soundly. Once your new mattress is one the way you would be faced with the task of getting rid of the old one, which can be tricky if you don't know how to dispose of it.
Luckily for you mattresses are mostly made of foam, metal springs and textile, which makes them widely recyclable, so if you want to be eco-friendly you can get it recycled. In this post you can find out everything you need to know about disposing of an old mattress and how to recycle it and here is pro tip to support your sustainability, dceorate your walls of the dorm room from recyclable items.
Is Your Mattress Still Usable?
Before you remove your old mattress you should ask yourself is it still usable? If your mattress can still be used but you want to upgrade to a better one or you're just changing your bed so you need a bigger one, you can do one of these things with the old one:
See if a friend or family member might want it, that way you know your old mattress will be in good hands and will continue to be used;
Donate it to a local charity shop that sells reused furniture, many charity shops are always looking for donations so just ask around; you can get everything from barcalounger to sofa set.
Donate it directly to a charity or homeless shelter – some local charities might even offer to pick up your old mattress for free;
List it for free on a local Facebook group, Gumtree or other site.
How to Recycle Your Mattress?
If your mattress is no longer in good enough condition to be reused you would want to dispose of it and replace it. But what is the eco-friendly way to dispose of your old mattress?
A mattress is fully recyclable, yet the sad news is only a small percentage of mattresses get recycled, most of them are either incinerated or end up decomposing in a landfill.
When buying a mattress from a specialised retailer, they might offer to take away your old mattress, either for a small charge or for free. Large retailers will take your mattress for recycling when you buy a new one from them, for a small fee. You can usually book this service when you order your new mattress.
Other retailers may offer disposal services for your old mattress, but doesn't necessarily mean that it'll be recycled. It'll probably be taken to a landfill, unless specifically stated that it would be recycled.
In case you just need to get rid of an old mattress without purchasing a new one, there are a number of companies that will take away your mattress for free. Some of them specialise in mattress disposal and will state on their website or page whether they send mattresses to a landfill or recycle them.
What Else Could You Do With an Old Mattress?
Another option to get rid of your old mattress is asking your local council to collect it. Normally, they would charge you a fee for this and you'll probably have to leave the mattress outside of your house to be collected. After this your mattress will most likely go to a landfill.
You could also take your mattress to a local household recycling centre yourself, if you can fit it in your vehicle, where again it would probably end up at a landfill.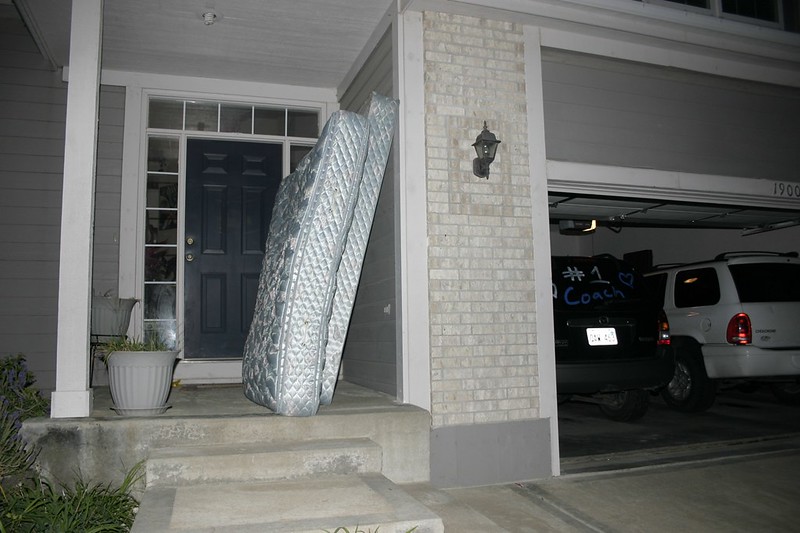 How Are Mattresses Recycled?
When your mattress is recycled it gets taken apart. Usually, this is done by hand, which is a quite labour intensive procedure, hence why it would cost you a bit more to send your mattress to a recycling centre.
After it's been disassembled the springs have to be removed and sent for metal recycling while the foam can be recycled for carpet underlay and other purposes. At present the textile used for the outside of the mattress is not widely recyclable, so generally it'll be used as fuel in energy-to-waste facility.
So, in conclusion, before you get rid of that old mattress, the most environmentally conscious thing to do is ask yourself whether you really need a new one or if you could get a bit more use of this one. If there are springs sticking out of the bottom or your bed feels uncomfortable to sleep in, you should definitely look into replacing your mattress, however, you shouldn't feel obliged to do so just because you were told you need to.