If you're responsible for furnishing a classroom, then it's crucial you choose furniture effectively and carefully. If you buy improper furniture, you can hinder student learning. Improper furniture can also be dangerous. If a student hurts themselves, then you or the educational institution that you represent could end up being in a lot of trouble.
Thankfully, finding furniture appropriate for a classroom doesn't have to be difficult. In fact, it's really quite easy.
In this article, you will find out some tips that should help you to select appropriate and suitable furniture for educational environments:
Research
When you're searching for classroom furniture, you need to do your research. You need to make sure that the furniture manufacturer that you choose creates high quality and durable furniture. You also need to make sure that the furniture is going to last you a long time so that you don't have to keep replacing it. Make sure that you research the manufacturer's guarantees and warranties, in case the furniture does become damaged. You should aim to read reviews, and if necessary, contact previous customers and ask for their opinion.
Shopping Around
Whenever you're shopping for furniture, you need to shop around. This will ensure that you get value for money and that you get the best furniture that you can. With the internet, you have thousands of retailers to choose from. You can shop domestically and internationally. Try to get the best deal that you can, for you and your educational institution.
Flexibility
When you're selecting furniture for a classroom, you need to make sure that the furniture can easily be changed according to the teacher's teaching style. For example, for group work, the teacher might want desks connected to create longer desks, more suitable for several people. Modular furniture and attachable desks are a great investment. Try to find a manufacturer that offers a wide range of classroom furniture, so that you have multiple options and styles to choose from. You might also want to find furniture that can be moved around easily. Some teachers enjoy teaching outdoors in the summer, which means that the classroom furniture will need to be taken outside.
Design Services
A lot of furniture manufacturers offer design services, especially to schools and educational institutions. When you're looking for furniture, try to find a company that will offer you a complimentary design service. They will be able to design your classroom more effectively. This can be very useful, particularly if you have never designed a classroom before.
Sample Furniture
Many companies will also offer furniture samples to you. You will then be able to take this furniture and trial it. This will give you an opportunity to study, examine, and check out the manufacturer's goods at length. If you notice any problems with the sample piece, you can find a new manufacturer without having committed yourself to anything.
Made-to-Order
It might also be worth finding a furniture manufacturer that offers a made-to-order service. This gives you complete control over the type of furniture that you order. You will be able to customize it according to what you want and need. Made-to-order furniture is fantastic. It can be quite expensive, however. You may be able to get finance or loans on made-to-order furniture from the manufacturer. Alternatively, you can just stick with ready-made furniture.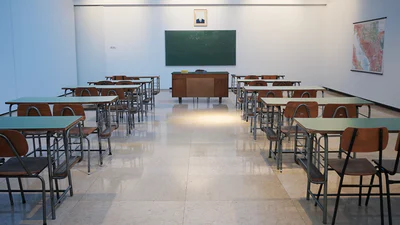 Quality
Ultimately, the most important thing that a furniture manufacturer needs to offer you is quality. Make sure that you're satisfied with the quality of furniture that you are being provided. If you're not, then you should find another furniture retailer. Quality usually means safety. If the furniture is poorly made, your students could injure themselves. This can get you into a lot of trouble and can be the catalyst for lawsuits. Try to invest in anti-tilt chairs, and desks that are made from sturdy materials.
Warranties
As we mentioned earlier, you need to research the warranty that you're offered before you purchase a piece of furniture. If a company doesn't offer any guarantees or warranties, you should avoid them. This is bad business. A warranty will protect you if the furniture you've purchased should break or injure somebody. It will also entitle you to some kind of reimbursement or refund if the furniture breaks.
Size and Height
You need to make sure that the furniture you order is sized according to the students that it will serve. Your students need to be comfortable so that they can study and work. For smaller children, you need smaller furniture. For bigger children and teenagers, you need bigger furniture. If you're ordering ready-made furniture, then there are standardised heights for you to choose from. If you're ordering your furniture from a made-to-order service, you have more control and you're able to customise the height and size of your furniture.
Stock
If you're ordering furniture for the new school year, then you should ideally do this long in advance. This is so that your furniture can be prepared and arrive on time. You also need to research the delivery times that a manufacturer offers you. If they are incredibly long, then you might want to avoid them and find a new retailer. Ultimately, you need your furniture fast, particularly if the furniture that you have is damaged or isn't safe for use anymore. Make sure that the retailer can deliver your furniture on time.
Customer Support
Another important thing to make sure of is that the product manufacturer has good customer support. You don't want to deal with a business that takes forever to get back to you and that won't respond to you for days or weeks. When you're dealing with furniture for your school or college, it's a matter of urgency, especially if there are any problems. When you're initially researching a manufacturer, you'll notice on their reviews if they have poor customer service and support. Only deal with a company that has listed phone numbers, an office, and a dedicated customer support team. Companies that don't have these things can be a nightmare to do business with.
Finding furniture for your educational institution doesn't need to be difficult. Make sure that you take all of the points in this article into consideration when you're buying furniture for your school or college. Choose carefully and ensure your students' needs are met.