American Woodmark is a kitchen and bathroom cabinet manufacturer. Residing in Virginia, the company expanded to 9 different regions across the country from 1980 to now! They are a famous company among households when it comes to cabinet storage solutions.
Their innovative and useful designs have brought them all the fame they needed in these 40 years! There has been a lot of feedback and opinions about this cabinet manufacturer. But this guide is an overview of all the American Woodmark cabinet reviews whether you need them in living room or right beside the sterling bathtub in the bathroom.
American Woodmark is a company that strives to make products combining looks, comfort, innovation, and usefulness. Their quality is the factor that blows every competitor's mind, and that is much of a common thing in a company that is running for four decades. But in contrast with other companies of such prestige, American Woodmark has sustained such popularity because of their quality.
In addition to their devotion to quality, the most beautiful thing about them is that they try to make products that do not leave a substantial carbon footprint. They try to make their products environment friendly, which is not a result of exploited forests. The production values and the detailed design of their products are the souls of their company.
Furniture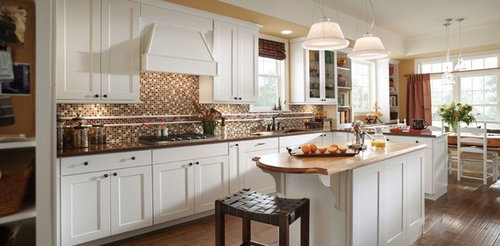 American Woodmark provides furniture for households. The furniture is mostly cabinets that can store your items. The cabinets from bathrooms that can store your brushes, soaps, conditioners, and those cupboards you have will manufacture them.
But their storage solutions are mostly for kitchens! Their kitchen cabinets are the most popular products bought from them! This furniture is custom-built just to fit the customer's home, and these customizations are what made them.
Kitchen Cabinets
American Woodmark kitchen cabinets are pure wooden cabinets that are fit in the kitchen to store the items. Kitchen cabinets need to be wholesome for the quantity of stuff to be stored. These loads of stuff need spacious and innovative cabinets that can smartly fit more than they can. American Woodmark aims to provide such innovative storage solutions with their cabinets.
There are two types of cabinets they offer. One of the types of cabinets is of plywood, and the other is just standard wood. The plywood cabinets are more durable and robust compared to conventional wood. Plywood cabinets are also hard to wear off or have damages.
The standard wood, whereas it is just conventional wood with wooden frames on all sides. Thick wooden panels of at least half-an-inch put up on all sides on the standard wood cabinets. On the web, Most American Woodmark cabinet reviews suggest customers select plywood cabinets for better quality and usage.
Features
Features of these Kitchen cabinets are, as the customer chooses for their household. If the customer wishes for a leg space below the cabinet, the customization is done for them. There are also many built-in features the company promises its customers.
Hidden glides below the draws
Soft-close cushion glides
Toe kick area
Leg space below
Fully concealed hinges
Side-mounted glides
They can add more features if requested by their customers. They offer simple customization and leave the options to the customers. Their quality cabinetry promises new features occasionally, as they are always working on innovations.
Kitchen Cabinet Styles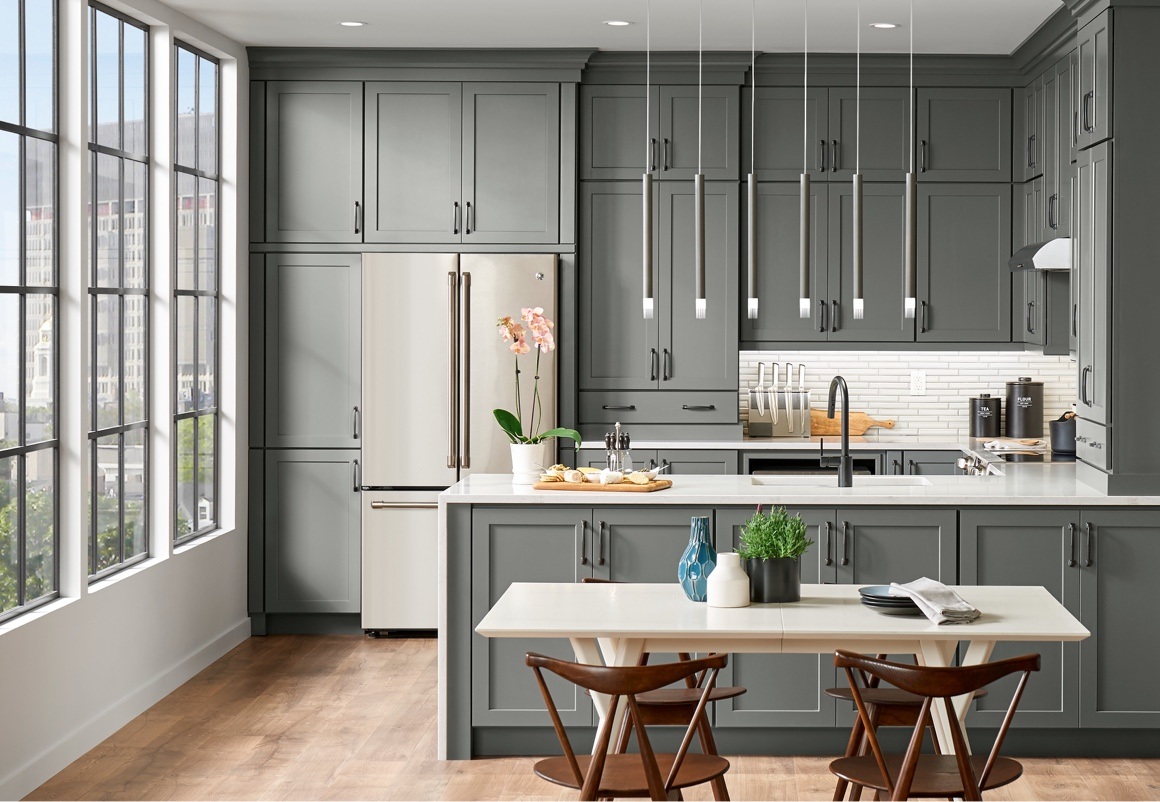 American Woodmark offers ten different styles in kitchen cabinets. These styles are collections of different tastes. To be precise, these styles are genres of aesthetics.
Classic
Modern
Traditional
Rustic
Craftsman
Contemporary
Solid Wood
Veneer
Thermo Foil
Overlay
Along with all these different styles, they also offer different finishes and 35 to be precise. The finishes range from Maple to Silk, and whatever taste you may have. Their choice and quality are so right that no matter which option you choose, the quality is uncompromised, and every one of those finishes gives a premium feel to it.
One of the most mentioned things in the American Woodmark cabinet reviews is their planning tool. Their menu is so extensive that it might confuse anyone browsing through it. They have so many styles and so different collections. So, they created this planning tool, which helps you plan what product you want according to your tastes and likes.
Standard of American Woodmark
American Woodmark is a part of the Kitchen cabinet Manufacturing Association of America. Shortly called KCMA, this association puts up standards for kitchen cabinets. These standards are usually hard to meet, but American Woodmark most easily crosses all those standards with every new cabinetry they launch.
Face Frames
American Woodmark is famous for its beautifully crafted face frames. Face frames are the main front-end of the cabinets. Some face frames are closed and have doors. But many cabinets have glass doors, and these face frames need to be elegant and well crafted.
They make sure that their face frames are appealing and durable. There is no report of bad face frames in any of the American Woodmark cabinet reviews available. The reason for providing such top-class face frames is that unlike other manufacturers, American Woodmark chooses to craft the frame first before they put it in the kiln.
This process prevents the frame from going out of shape and maintains the crafted design. There is also no need to design the material after putting it in the kiln.
Instead of just drilling these frames on to the cabinets, they choose to attach them in a somewhat systematic way. They make sure that the joints of the frames are pressure fitted on to the cabinet. Not just that, but they also use layers of adhesive, and again the frame gets stapled. These steps of attaching the frame to the front-side of the cabinet make sure of the bonding.
The bond is so strong and makes the frame blend with the cabinet; become one with it. This craftsmanship level only proves that American Woodmark is very concerned about customer satisfaction and providing quality content. This process is the reason why they always meet with KMCA's rigorous strength and durability standards.
Beauty Guard
The most talked about quality in American Woodmark cabinet reviews is their beauty guard finish. American Woodmark has a series of functions to coat their products with a guard that prevents damage.
Many trusted customers say it with pride that they can assure the quality of American Woodmark's quality as they have used them for decades. Many people have reported no damage to the quality of the products even after a decade of usage.
To maintain that level of guarding, American Woodmark does sanding, brushing, and cleaning the product. After the cleansing, they use a catalyst that acts as a guard and shields away scratches, physical damage, and protects the wood from any harsh weather.
They call this the beauty guard, preventing any severe condition from damaging the product's appeal. This finish is worth the price and one of the signature qualities of American Woodmark that has made them leaders in the business of cabinetry.
Assurance
Unlike many household manufacturing companies, American Woodmark has decided to extend its products to a lifetime. You do not need to worry about the expiry date of their service.
American Woodmark serves you if you have their products in your home. Many corporate giants do not usually offer this lifetime warranty. It is also one of the original features they proudly show off.
Overview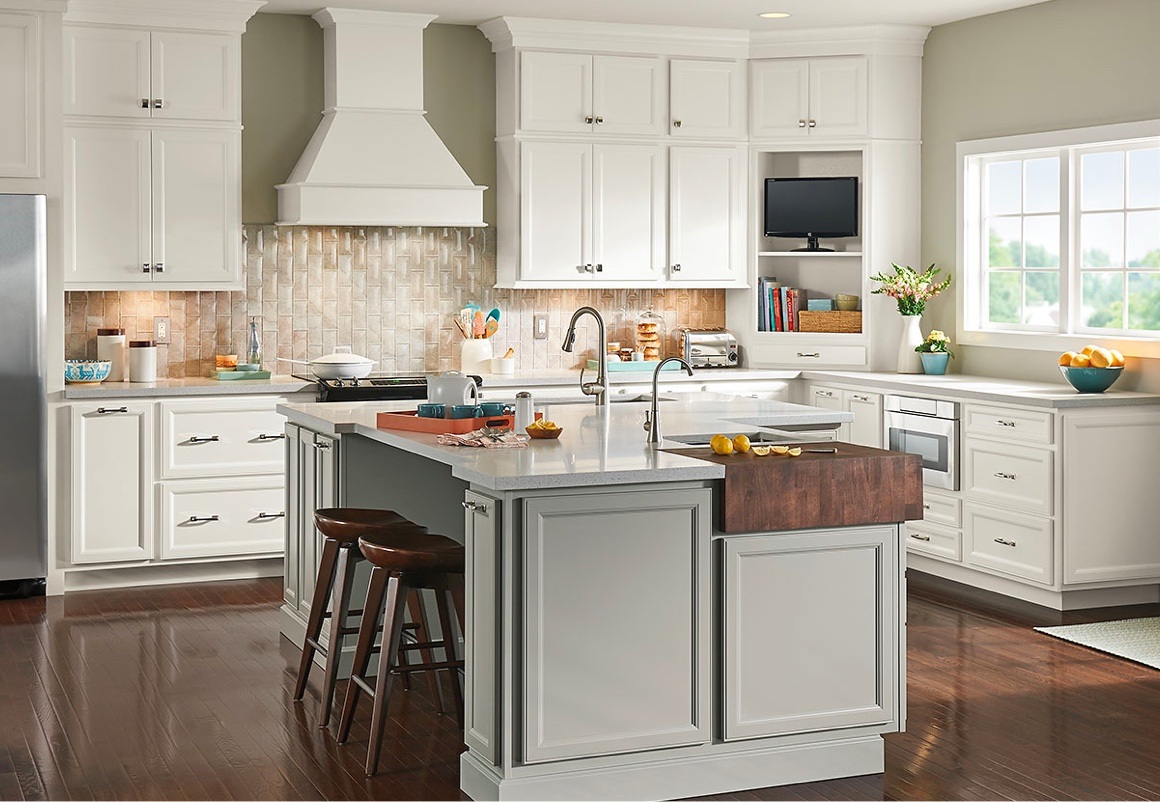 The overall American Woodmark cabinet reviews that you can find anywhere speak nothing but positive about them. These reviews are either in-person conversations or the experiences shared online or multiple sites that offer reviews. If considered online, most of the reviews are positive in terms of American Woodmark.
Packaging and Delivery
The praises were mostly about the package and delivery of these products. People have appreciated how good the way of packaging these cabinets, avoiding all kinds of physical damages.
Missing pieces and faulty products are common problems when it comes to delivering furniture. But this is not the case with American Woodmark. Almost every delivery they make reported no missing pieces and faulty cabinets. Even the quicker installation made customers satisfied.
Durability
The majority of the customers who have given reviews for American Woodmark have stated that they have used their products for more than five years. Their praises were about the durability of these cabinets even after many years. Finishing the product has also seen sober appraisal because of the robust and hard cabinets that do not usually wear off.
Appeal
The style and design have always been their trademark. Customers have always shown interest in their products because of the number of collections and designs they offer. These products are personalized, and customers even have a planning tool to choose the right one for them.
Their motivation to provide stylish and unique designs has given birth to original and authentic designs that come with storage solutions. The majority of the customers applauded their taste of choice in style and design.
Cons
Of course, like any other product manufacturer, they do have their own set of cons. Major companies keep offering more designs and innovations for higher rates. But to not lose the mid and low-tier customers, they think of cheaper alternatives for their high-end products. But the cost of making it should return too. So, cutting off the features is the only solution for their business to run. And it also pleases the low and mid-tier customers.
This price difference is prevalent in American Woodmark too. They started offering cheaper alternatives as their designs grew in number and price. American Woodmark cabinet reviews when it comes to negativity, point out the defects and faults in cheaper products. What exists to satisfy begins to annoy the low-tier customer.
Many reviews stated that the finishes on their cheaper products are not perfect. The packaging was exceptional, but the product itself appears to be faulty in chipping or in shape.
The only solution is to wait, save, and purchase plywood products instead of their cheaper standard wood products. The plywood products have a distinct price range too. Few of their plywood cabinets are more affordable.
Customer Service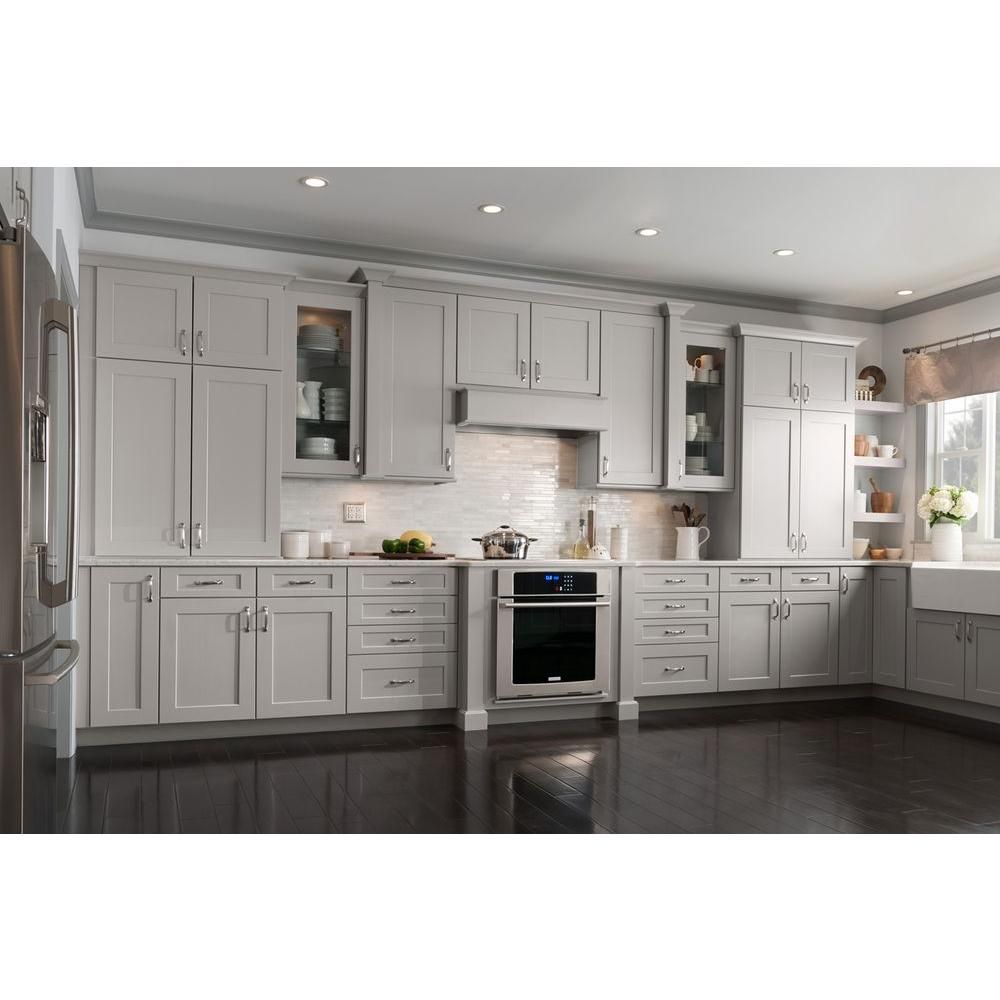 Their other significant negative feedback is about the customer service the American Woodmark provides. Of course, it is the dealer to blame, but it is up to the company to hire such dealers. The response of these dealers triggered and offended many customers. They did not like how the dealers received negative feedback and support.
It is ideal for checking the product thoroughly while purchasing it. It is a definite measure to recheck it during delivery and installation. Suppose you notice a fault while installation; you can demand a replacement and send it back with the team that arrives. The only measure you can take as the American Woodmark cabinet reviews state negatively about their customer support.
Regardless of these cons, American Woodmark sustained for decades, and their positive feedback outnumbers these cons in a vast number. These cons are to be remembered while purchasing as a prevention mechanism but not as a final judgment.
It is not easy to judge a company that is successfully running for four decades! They have solved and bounced over many cons and kept on developing to provide customer satisfaction.
Final Words
As all the American Woodmark cabinet reviews suggest, this company is a reliable establishment that satisfies all customers' tiers. If you ever plan on writing a home decor blog, which you can now by clicking here, this brand can play a good role. Their focus lands upon the mid-level customers, but that has also served well with the high-end customers looking for affordable options.
The most beautiful thing about being their customer is their options and the planner they provide you. A beautiful kitchen only ends with plentiful cabinets. The more you can store, the better the kitchen looks. These cabinets are a mixture of style and storage. If affordable, stylish wooden cabinets are what you are looking for, you need to doubt no more!