When someone walks into your room, the one thing that can make their impression subconsciously is the flooring. The flooring can impact the aesthetics of your room a lot. Want to change the vibe of your room without adding many décor elements? Add some twist to the flooring. The right flooring can instantly make your space more luxurious and cozier.
Allen and Roth are a great brand in this niche. They have been competing with the other flooring brands for quite a while, and the Allen and Roth hardwoodflooring reviews are proof that they have proved themselves to be the best. They have built great trust and credibility throughout these years and have been successful in providing the best quality hardwood and laminate flooring in the market.
Why Allen and Roth are a popular choice when it comes to hardwood flooring?
Allen and Roth have built their brand name in the flooring market and can guarantee the best and most durable products
They provide excellent customer support and ensure that their customers are fully satisfied.
Their distinctive laminate and hardwood flooring have a unique style that can re-invent the entire look of your home and can easily match up with your sofa and other furniture.
Their dark wood flooring comes in the most comprehensive range of options such as oak, mahogany, teak, and other exotic wood that are an excellent choice for any home style.
Allen and Roth Hardwood Flooring Quality
The luxurious vibe and stunning appeal of a hardwood floor are undeniable. Installing hardwood floors can be a bit straining to the budget, but they are evergreen and a timeless beauty inspiration that can level up the entire interior game of your home.
Hardwood flooring can add that touch of elegance and class that makes all the hassle and your money worth it.
Unlike most flooring brands that rely on conventional hardwood, Allen and Roth hardwood flooring reviews have stated that they have a long tradition of using only engineered hardwood.
Engineered hardwood is a much more complex substance composed of multiple layers. The external most layer of this hardwood is a veneer layer, which is a thin slice of the hardwood species, and the internal layers are composed of fiberboard, plywood, and hardwood.
The core layer adds more durability to the flooring than regular hardwood, and the external layer makes it look gorgeous and authentic.
What makes the hardwood flooring of Allen and Roth so unique?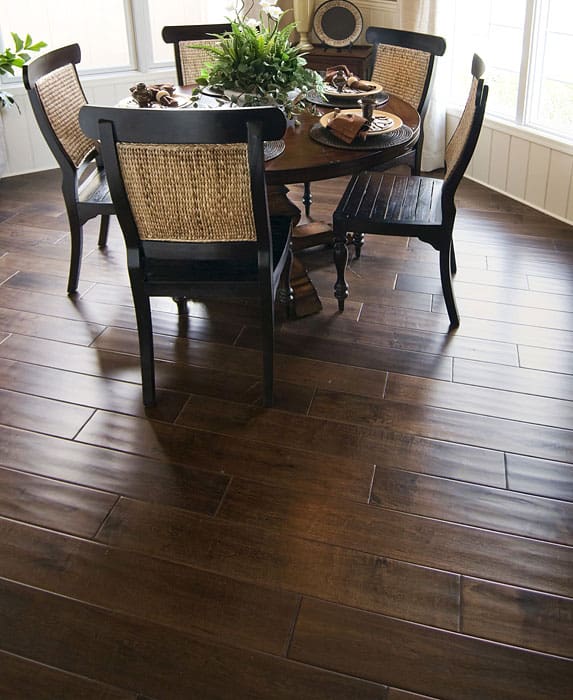 The look and feel of the engineered hardwood of Allen and Roth are much different than the hardwood laminate of any other brand. In the case of hardwood, the surface has real wood on it, but laminate flooring only has high-density fiberboard at its core.
Though laminate flooring is much more affordable as compared to hardwood, the aesthetics and looks of a laminate floor cannot even get close to that of a hardwood floor.
Do you know a unique advantage that an engineered hardwood provides? It is designed to block external moisture so that it doesn't swell or warp. This makes it deficient maintenance and provides additional stability. You know what else? These can become a great content for your home decor blogs. Yes, you can write one too.
Beautiful Hardwood Options by Allen and Roth
Engineered Allen+ Roth Hickory Warm Cherry Hardwood Floor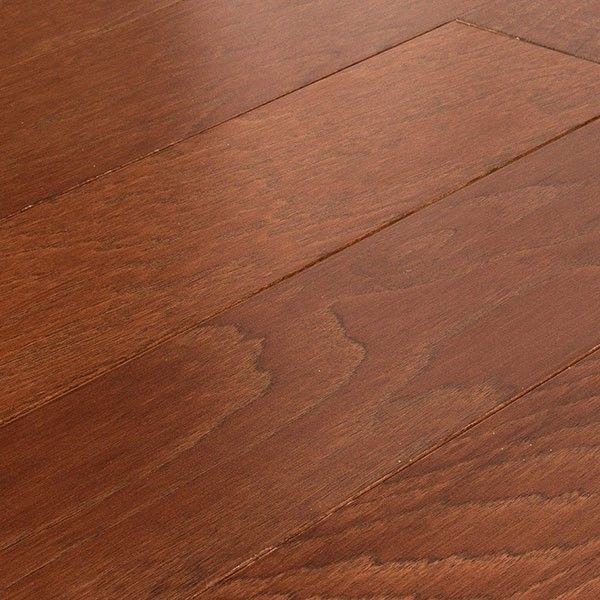 This premium quality hardwood flooring is the perfect pre-finished matte textured flooring that has an ultra-smooth surface and micro-beveled edges. This stunningly crafted masterpiece can make both your interior as well as exterior look gorgeous. The Cherry Wood shade looks beautiful with any décor. The Allen and Roth Hardwood flooring reviews state that this wood material is highly durable and has excellent resistance.
Is your home situated in a region facing extreme temperature conditions? Then this kind of flooring will be an excellent choice for you. This is one such rare type of wood that can resist any extreme climate and still provide the best performance
The red cherry color gives the flooring a warm red hue, and the matte finish makes the flooring skid resistant. It also has a unique glue-free locking installation system so that the installation process becomes much more comfortable.
Barrel Hickory Hand-scraped Flooring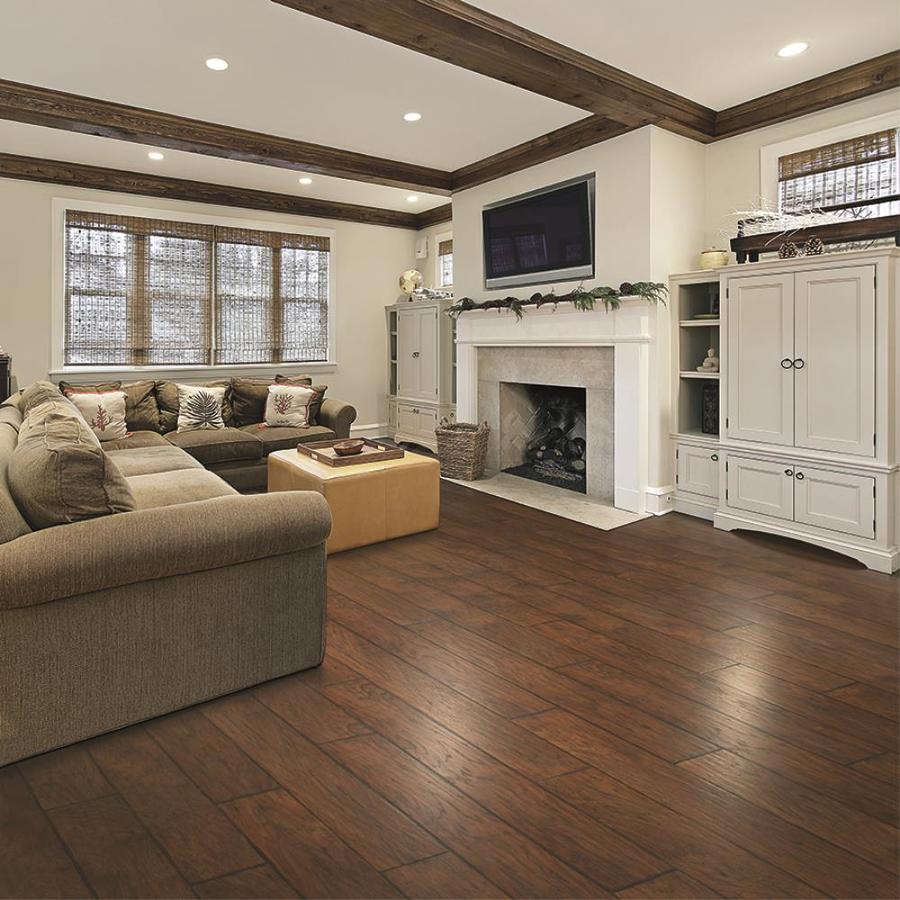 Do you want a natural rusty look for your flooring? Then you have found the one! This Barel Hickory Hand scraped flooring is your perfect choice if you like darker and richer tones that will look better with the pastel-shaded walls of your room. If you want a nice, sharp contrast between your neutral-hued walls and dark-toned flooring, to instantly elevate the décor and aesthetics of your room, look no further.
Are you worried about any sagging and swelling that might occur due to any temperature variations? Don't! The Allen and Roth Hardwood flooringreviews indicate that this board measures almost up to 8 mm in thickness, which prevents any such problems.
This type of flooring is also a perfect choice for your workspace since it provides the best soundproofing and noise control. Although it cannot diminish the noise completely, it can muffle the sounds of footsteps or television or even a music player.
Do you know the best part about this hardwood flooring? It comes with a 30-year warranty, which means investing your dollars is worth it.
However, do remember that this flooring is not waterproof, so you might have to first prep your floor with a moisture barrier. It can easily absorb heavy traffic, which makes it a popular choice for bedrooms and living rooms. You can even purchase a coordinated molding with this flooring.
Harvest Mill Chestnut Flooring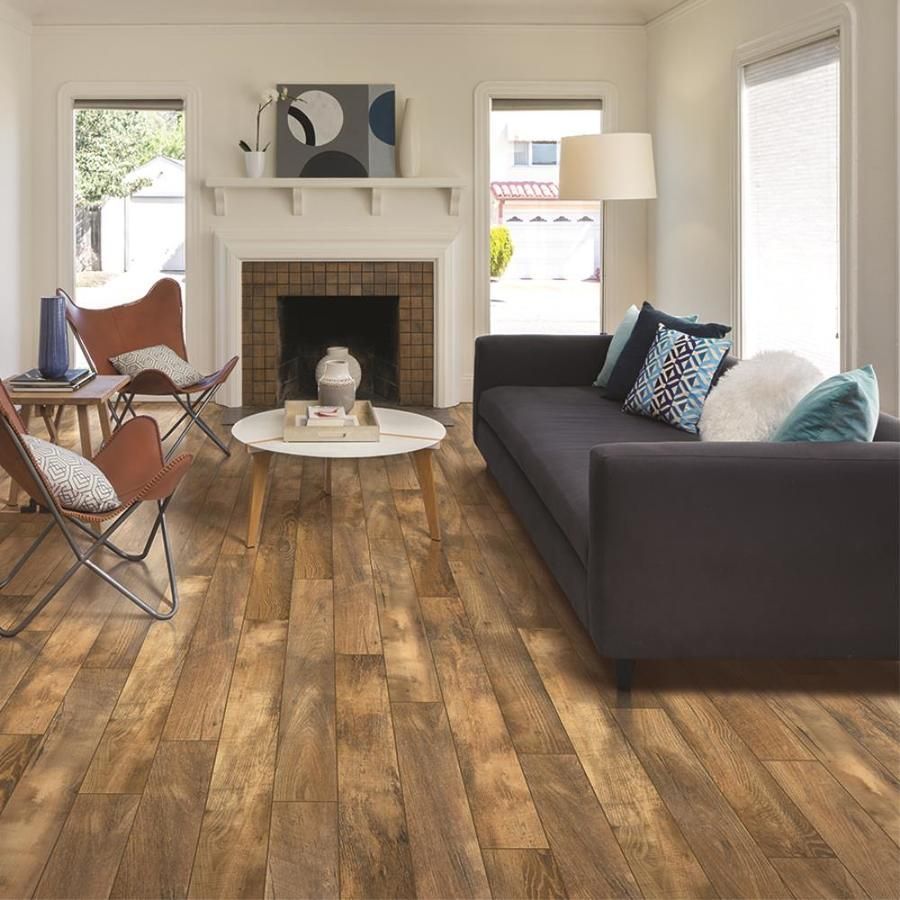 It does not matter whether you live in a home with dark or light-shaded interiors and furniture. This neutral-hued flooring looks excellent with all tones and themes.
This Allen and Roth hardwood flooring reviews indicate that this chestnut-shaded flooring is the brand's most flexible model. You can even install it on your walls to give an enhanced charm to your interior décor.
If your room witnesses heavy traffic, this flooring with its semi-gloss finish is the safest choice.
You can get the advantage of soundproofing whether you install it on your floor or the walls due to its 8 mm thickness.
This flooring will always look as good since it is resistant to warping or sagging.
It features an easy interlocking installation system which helps in super fast and hassle-free flooring installation.
It has a 30-year limited warranty on it, and you will have to install a quality underlay before the flooring installation for heat and moisture barrier.
Pre-finished Maple Hardwood Flooring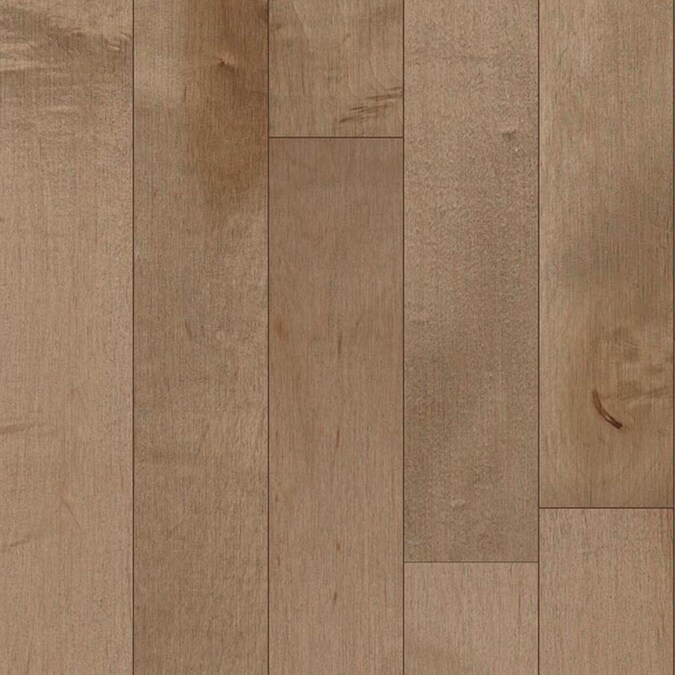 If an understated elegance with a traditional sense of styling is your taste, this pre-finished, semi-gloss Maple Flooring made from the best quality maple hardwood is the one for you.
This solid hardwood flooring will provide your room with a sense of charm and warmth with its timeless beauty and premium quality. This classic, natural beauty offers the broadest range of options when it comes to shades starting from creamy white to reddish-brown.
This flooring has textured graining patterns and a sanded surface, which makes the overall finish look gorgeous.
It is highly durable and has long-lasting protection along with scratch resistance.
This Allen and Roth hardwood flooring reviews also indicate that it is shock and wear-resistant, which makes it an excellent safe choice for your home with children and pets.
This high-quality pre-finished hardwood is coated with several layers of Oxylust and Antimicrobial agents.
European French Oak Hardwood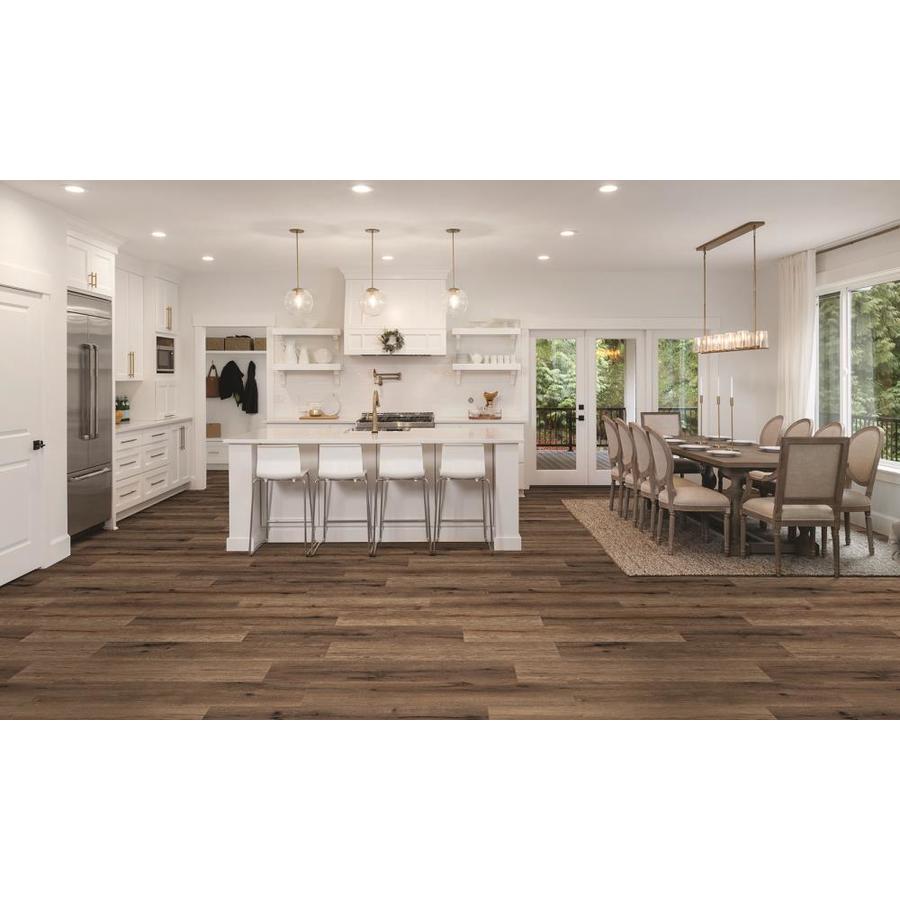 This pre-finished hardwood flooring has got a vintage charm to it and incredibly superior performance. It has a badland, which makes it look good both for the interior and exterior.
It has hand-crafted textures with a scraped design and a smooth wire-brushed finish. The Allen and Roth Hardwood flooring reviews indicate that you are spoilt with choices when it comes to shades of this flooring.
Starting from dark chocolate brown tone for a classic elegance feel to a light wooden hue for a warm vibe, this flooring has all the options when it comes to tones.
It is extremely tough and resistant, which makes it a perfect choice for exterior use.
It has unmatchable looks and designs with excellent durability.
Brazilian Cherry hardwood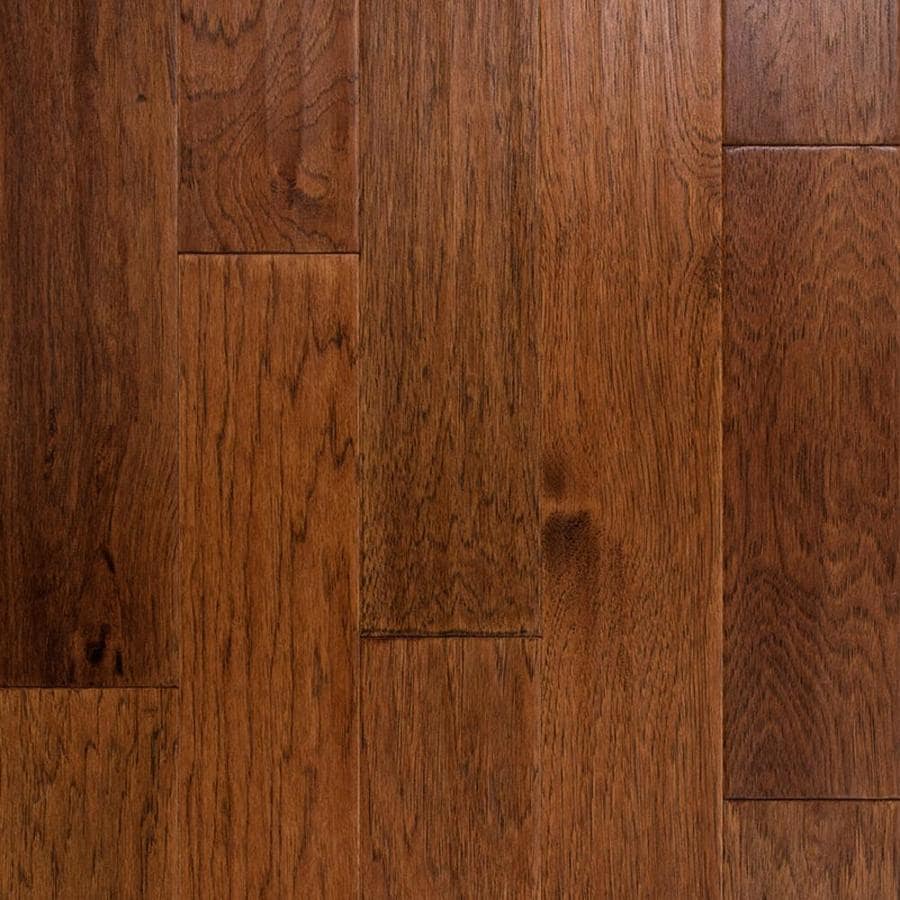 This is one of the most popular options when it comes to hardwood choices by Allen and Roth. Do you desire your flooring to be the perfect blend of great looks and reliability?
This Brazilian hardwood in a smooth velvety cherry shade with it is exotic and elegant look will level-up the aesthetics of a room even with minimalistic designs to yet another level.
This hardwood is specially engineered for excellent finish and unbelievably stunning looks.
This hardwood has a strict performance and exceptional resistance.
It is easy to install this flooring even without the professionals.
Different Hardwood Textures You Can Choose from Allen and Roth
Smooth Hardwood Texture
The most popular hardwood flooring texture is smooth. First, this texture is flattened with sand and then factory finished. This texture has a darker tone to it, which provides it with a vague sense of charming elegance.
The texture is uniform and looks great on dark stained wood. But the Allen and Roth hardwoodflooring reviews have stated that you will have to be very cautious with any scratches and dents on it since this texture will highlight it even more.
Wired Brush Hardwood Texture
This texture can range from moderate to extreme. Here the wood is brushed with steel bristles very delicately to remove the surface of the wood and expose the grained surface to give a minimal scuffed effect. It has a very natural, warm texture due to the sharp contrast in the undertone.
Hand-scraped hardwood texture
This distressed, antique look is created by specialists using metal gouges and chisels to refine the surface until it reaches a velvety smoothness. The layered undertones are very well highlighted to give depth and dimension to the hardwood.
Different Hardwood Finishes you can Choose from Allen and Roth
Water-Based Polyurethane
This is undeniably the most popular hardwood finish due to its traditional look and transparent feel.  This finish gives the engineered hardwood a lustrous look achieved by multiple coatings of super glossy polyurethane.
Hard- Wax Oil
This hardwood, along with providing excellent resilience, also has a warm look due to its low luster finish. The natural finish is maintained by applying and re-applying the hard wax oil again and again.
Aluminum Oxide
This hardwood finish is exceptionally durable and is very beneficial for hardwood materials having a thinner veneer. The Allen and Roth hardwood flooring reviews indicate that it is better to go for pre-finished hardwood for this coating to look good on it.
Allen and Roth Comparison with Other Brands
Engineered hardwood flooring: Unlike most flooring brands that provide solid hardwood flooring, Allen and Roth provide specialized engineered hardwood flooring. Engineered hardwood is of much more premium quality and is not prone to the common definite hardwood problems. Temperature or moisture fluctuations that usually affect the solid hardwood very quickly cannot harm engineered hardwood flooring at all.
Lifetime: Hardwood floors usually have a very long lifetime if appropriate care and maintenance is done. Allen and Roth always try to manufacture highly resistant, extremely tough, and durable hardwood with superior performance. The Allen and Roth hardwood flooring reviews have also stated that their hardwood usually has a 30-year warranty on them, which indicates their long-lasting durability.
Better Core: The core is always the most crucial aspect that determines the actual quality of the hardwood. Allen and Roth always focus on manufacturing hardwood that has an exceptionally high-quality core that is resistant to external conditions. This is the most important factor that indicates why the hardwood flooring of Allen and Roth is better than other brands.
Better Quality Adhesives and finishes: The adhesives used by Allen and Roth are much more environmentally friendly and does not harm the indoor quality, unlike most other brands.
We are sure that this detailed review of Allen and Roth hardwood flooring has convinced you by now that why they are the best flooring brand in the market. You can get in touch with their company for flooring installation in your home soon.