One interior designer claims it's very boring to go to a faded white office. That way, there's no element to energize and refresh you as you sit down to work. But by decorating your office, you leverage the power of color psychology, which boosts your creativity, productivity, and enthusiasm.
While there are many ways to decorate your office, you wouldn't want to miss framed prints, as they're one of the most popular decorations for work environments. This brief guide will give you incredible tips on how to go about styling your home office using framed prints.
Things to frame
There are numerous choices regarding what framed prints you should hang on your home office walls. You'd want to start with calming designs such as aerial photos of forests, waterfalls, and mountains.
Such sceneries impart unto you a considerably calming and comforting sensation, which is critical for productivity. Indeed, as you look at them, your imagination transports you to the places depicted in the framed photographs, and you feel like you're actually relaxing in such serene environments.
Alternatively, you can go for custom framed prints displaying your business logo, ads, or branded posters. Keep in mind that an efficient, recognizable, and well-designed logo boosts your reputation. And you'd also want to have a descriptive logo that properly communicates the kind of product or service you deal with, as these are said to more favorably influence your customers' perceptions.
One more option is to frame your coworkers' portraits. It surely feels a bit lonely when working at home and not being able to physically meet with your team members as often as you should. You can bridge this gap by hanging their portraits in your home office so that you feel their presence whenever your eyes gaze on the walls. Make sure to choose the more smiling and brighter photos that remind you of your camaraderie.
Theme
You'd want to stick to a particular theme with your home office framed prints. When you get to decorating a space, there's always a tendency to want to implement dozens of ideas. If you go that way, you may end up with a cluttered look on the walls. Thus, it's best to pick just a single theme and stick to it.
So if you choose landscapes, include only framed prints of forests, rivers, mountains, waterfalls, and similar sceneries. You don't want to go for a mixed, confused theme filled with animals, coworkers' portraits, company logos, and so on.
Color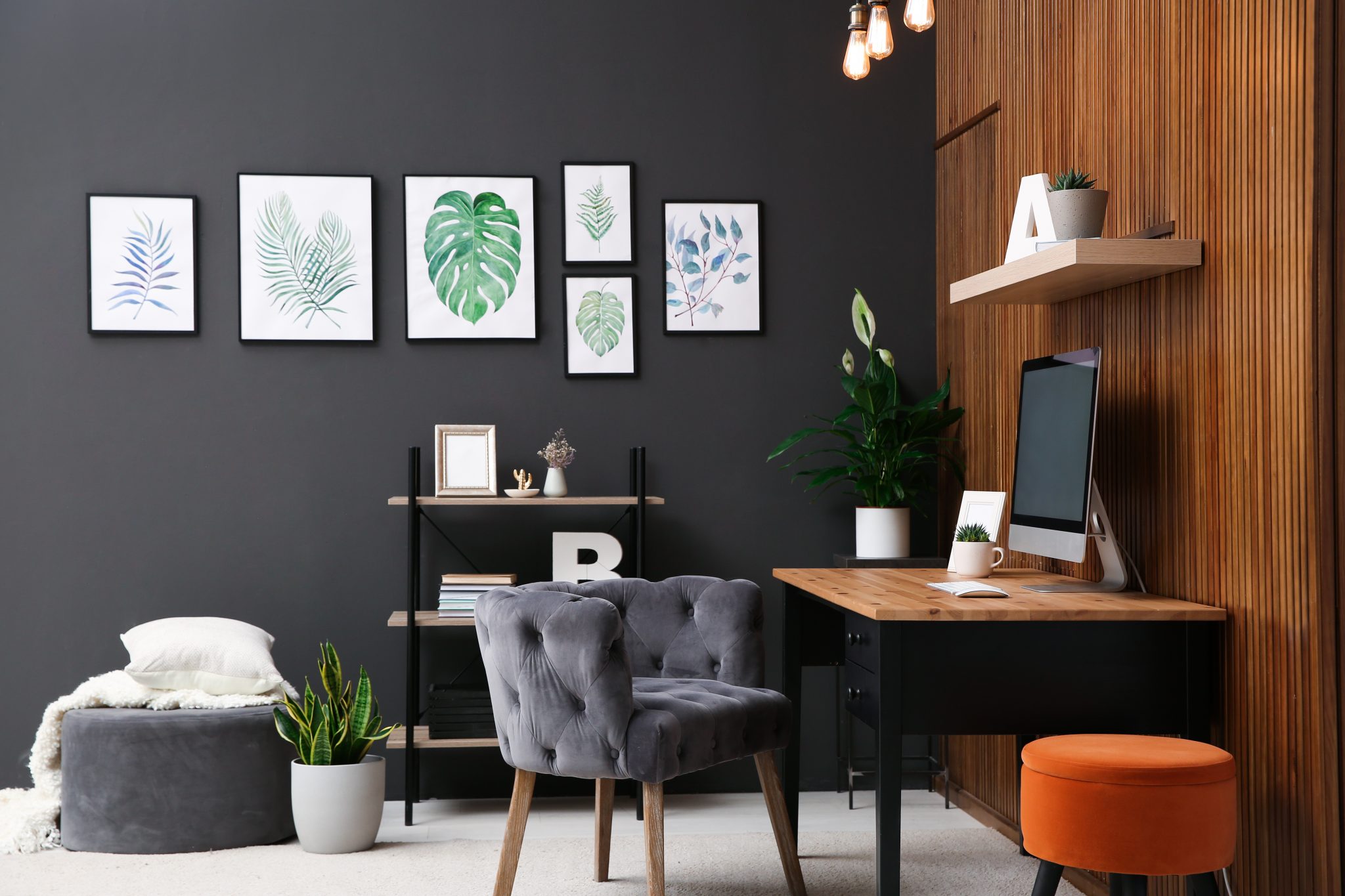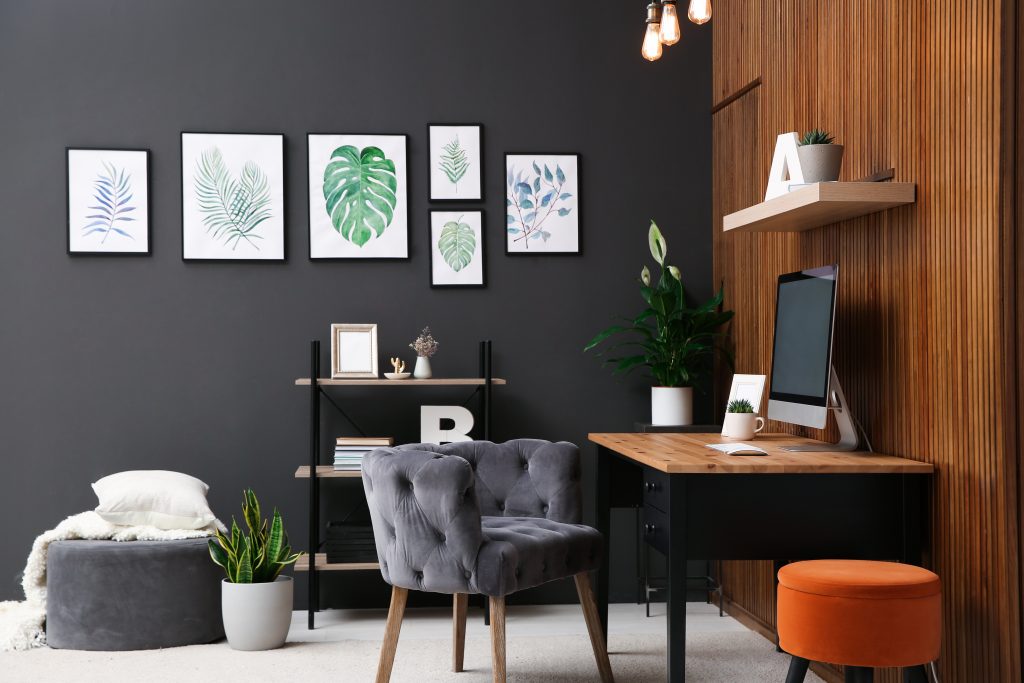 Most probably, your home already has a particular color scheme for the paint, fixtures, fittings, and furniture. Here are some of the most popular ones:
Blue and silver-gray
Purple, green, and pink
White, blue, and green
Blue, black, and brown
Green, purple, and blue
Pink and green
Apple green and robust teal
It's best to choose framed prints that match your color scheme rather than clash with the rest of the deco. You wouldn't want to have brown framed prints on a gray wall or mix other clashing colors, such as red and green, orange and red, green and orange, purple and red, brown and maroon, and more.
Styling
Consider putting up a gallery wall right above your home office desk. You can choose one oversized frame to act as the focal point and then strategically and stylistically place other differently sized frames around it. For the rest of the walls, you can leave them bare so as not to decorate your home office too much.
Another option is to choose only one large frame for that wall right in front of your desk and leave it at that. That's following a minimalist approach, and it tells a lot about your simplistic tendencies. If you have an entire room dedicated to work and there's nothing much on the four walls, you can arrange the framed pieces side by side all around the office. Perhaps three to five medium-sized pieces per wall will work well.
Finally, you can still have tabletop picture frames rather than hanging them on the walls. Alternatively, install a shelf dedicated for art above your desk and place your frames there with other decorative pieces such as antique finds and indoor plants.
Decorate your home office using framed prints
From this brief guide, you realize it's not that hard to style your home office using framed prints. If it's something you want to try, first choose a theme, consider your color scheme, purchase the framed prints, and then arrange them in your preferred layout. You can also write about it in your home decor blog. Above all else, don't compromise on quality as it speaks volumes about your values as an entrepreneur.