Now that more people are working remotely, home office decor has bloomed. When working from home, we need a distraction-free and calming space, and if your home office isn't this just yet, it's time to decorate it. Wall art can help with that.
You don't have to leave the walls of the home office bare as they can actually boost your productivity when decorated and make you feel comfortable. So, let's see some home office wall decor ideas that will spark your creativity.
An Industrial Style Bookcase
If you have an empty wall, you can decorate and utilize it. To achieve that, you can opt for an industrial-style bookcase. Such bookcases can look amazing in any room and fit its style, while they provide much-needed storage.
And who doesn't need extra storage in a home office? You can use your brand new and stylish bookcase to organize your office supplies and use it to prop a few decor pieces, too. Plus, its silhouette is minimalistic, which means it won't disrupt any other decor elements you might already have in the home office.
Custom Posters
On the other hand, if the wall is partially empty, you can consider posters. If you love movies, you can find some amazing vintage posters to frame and hang and provide your home office with a bit more personality. Also, if movie posters are not your niche, you can easily find some great custom-made posters at websites such as posteramo.com.
You can go for minimalist line art, a city map of your favorite city or hometown, or any other soothing and creative poster you like. Just let your creativity loose and you are bound to find an amazing poster to fit right into your home office. You can explore aesthetically using a magnetic poster hanger to preserve and showcase your poster or artwork. With this elegant solution, you can protect your treasured pieces and enhance the overall decor of your home office.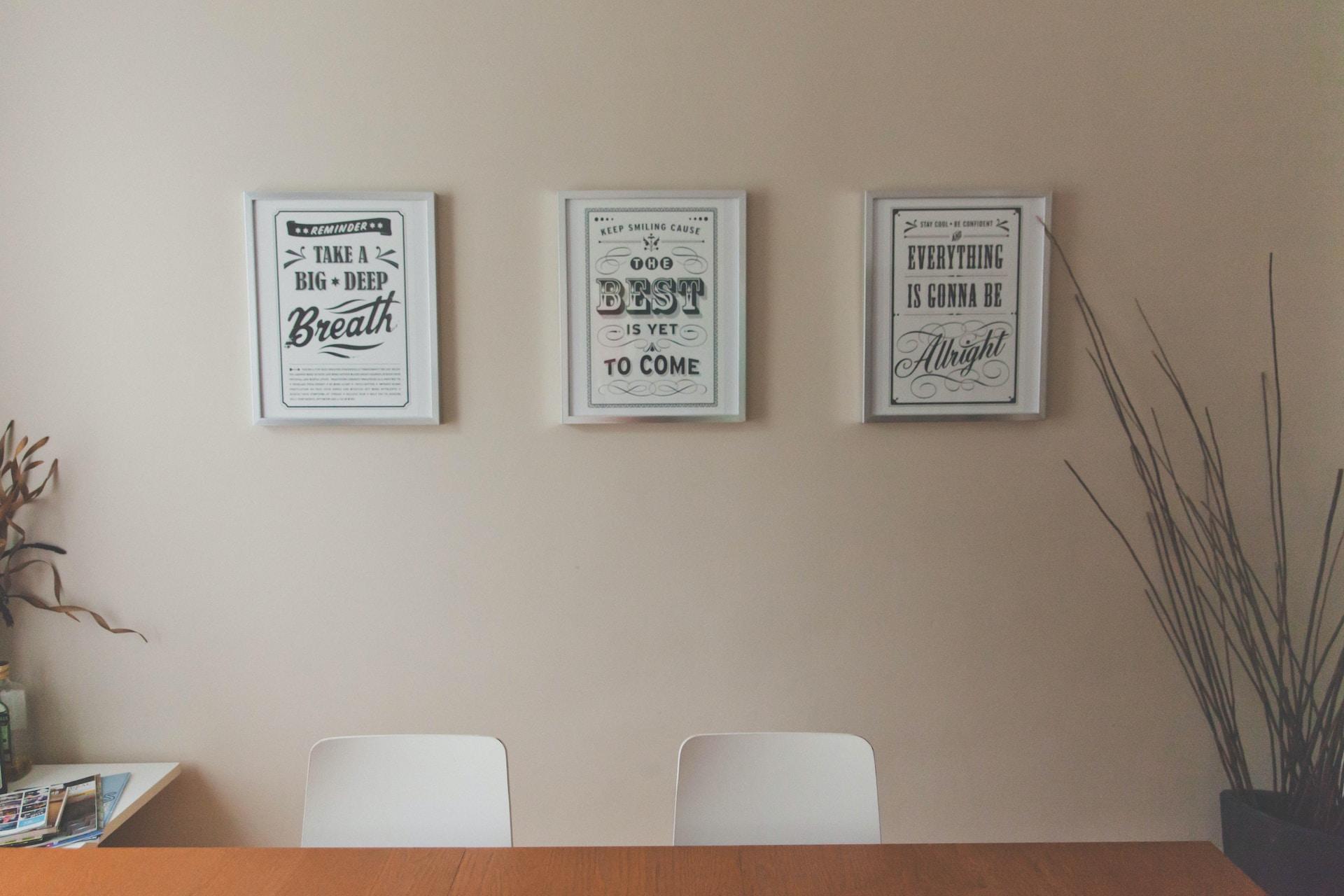 A Big Wall Hutch
There are home offices that are just not big enough. In those cases, you have to really be creative with wall decor and how to maximize your space. A big wall hutch might just do the trick here. You can set it up right where your desk is, and enjoy all that extra storage that you need in a small home office.
Additionally, you can give it a fresh coat of paint in a darker and bolder color, and this hutch will also decorate that empty wall behind your desk.
Stencil Wall Art
When decorating a home office, we often like to go chic. Especially if the rest of the house's interior design is chic. So, if you want to decorate a piece of an empty wall in the home office, you can opt for stencil wall art.
You can, for example, pick that little part of the wall above your shelves and give it a fresh new look with stencil art. This will immediately provide a whimsical character to your home office and make you love spending time there even more.
Minimalist Gray Shiplap
For those of you who love minimalist design, shiplap can do the trick. The wall behind your desk can always use a bit of a decor boost, and to keep it minimalist you can opt for deep green or gray shiplap. Shiplap can look amazing, let you provide a pop of color to the room, and it will provide texture to the decor.
It also allows you to install shelves on it with ease, so you won't lose any storage. What's more, if you opt for those darker and moody tones, you can achieve an elegant look and a truly professional home office atmosphere.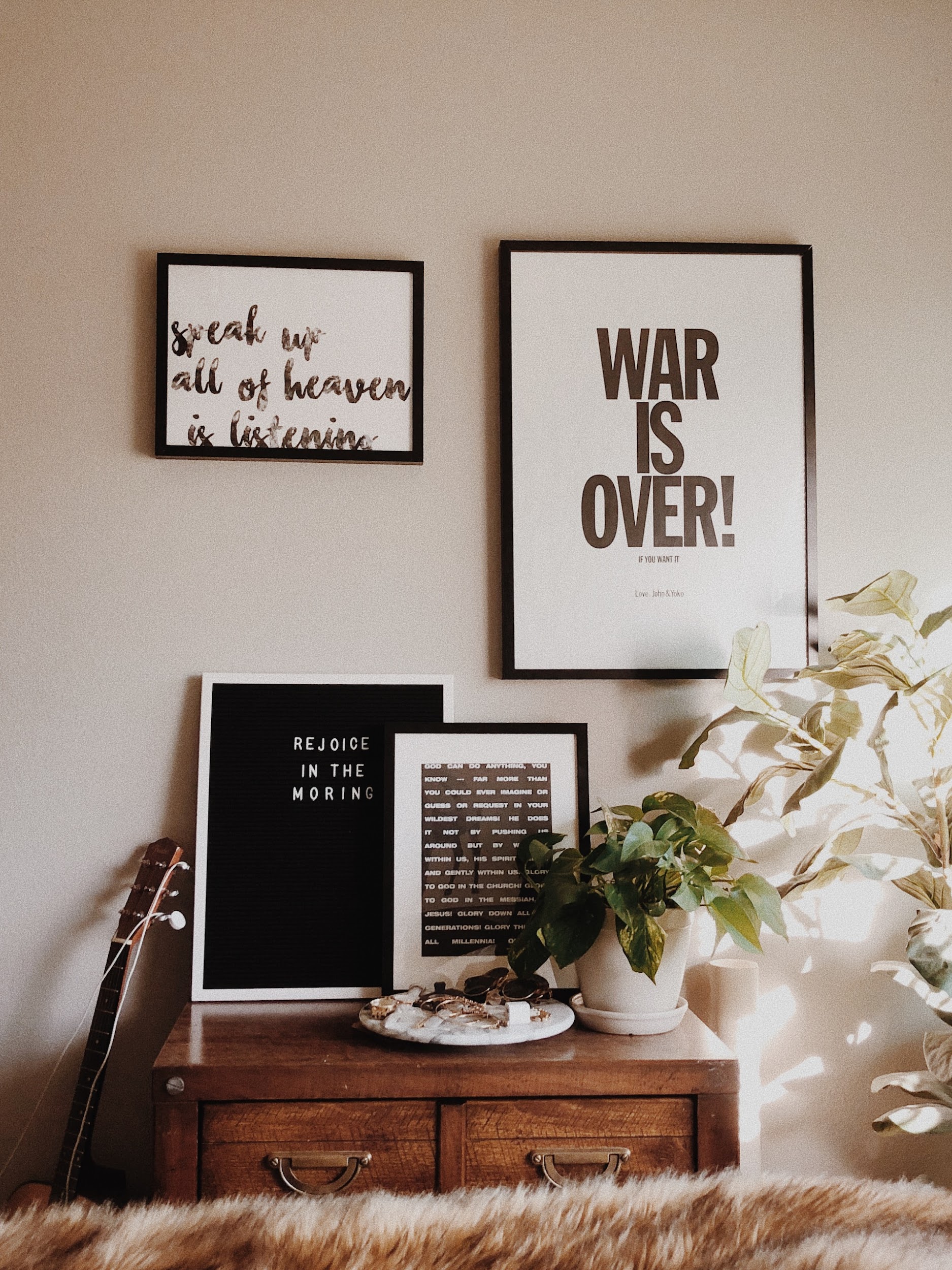 Your home office doesn't have to be sterile. Make it pop and achieve a calming and productive atmosphere there with wall art. Be creative and maximize your storage space, and you will love your new home office.